Saturday, October 28, 2017
Boston College Holds On For 4-3 Win Over Boston University
Freshman forward Daryl Watts scores two goals for Eagles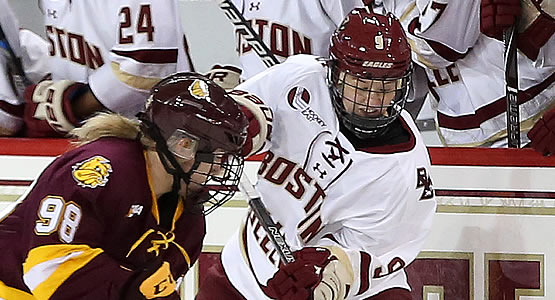 Freshman forward Daryl Watts scored two goals for the Eagles
| | | | | | | |
| --- | --- | --- | --- | --- | --- | --- |
| Prd | Time | Team | Score | Type | Scored By | Assists |
| 1st | 4:56 | BC | 1-0 | EV | Willow Corson (2) | Serena Sommerfield/2, Caitrin Lonergan/8 |
| 1st | 18:31 | BC | 2-0 | PP | Daryl Watts (7) | Makenna Newkirk/7, Caitrin Lonergan/9 |
| 2nd | 10:05 | BC | 3-0 | PP | Daryl Watts (8) | Toni Ann Miano/7 |
| 2nd | 11:14 | BU | 1-3 | EV | Rebecca Leslie (4) | Victoria Bach/5, Abby Cook/3 |
| 3rd | 16:41 | BC | 4-1 | EV GW | Erin Connolly (1) | Willow Corson/4, Daryl Watts/9 |
| 3rd | 17:32 | BU | 2-4 | EV EA | Mary Grace Kelley (2) | Rebecca Leslie/2, Victoria Bach/6 |
| 3rd | 19:17.8 | BU | 3-4 | PP EA | Rebecca Leslie (5) | Jesse Compher/3, Reagan Rust/3 |
| | | | | |
| --- | --- | --- | --- | --- |
| Scoring | 1st | 2nd | 3rd | Final |
| Boston College | 2 | 1 | 1 | 4 |
| Boston University | 0 | 1 | 2 | 3 |
| | | | | |
| --- | --- | --- | --- | --- |
| Shots on Goal | 1st | 2nd | 3rd | SOG |
| Boston College | 8 | 5 | 5 | 18 |
| Boston University | 11 | 15 | 20 | 46 |
| | | | |
| --- | --- | --- | --- |
| Team Stats and Records | PP | PIM | SHGF |
| Boston College (5-0-1) | 2/5 | 8/16 | 0 |
| Boston University (1-5-0) | 1/7 | 6/12 | 0 |
| | | | | | | |
| --- | --- | --- | --- | --- | --- | --- |
| Boston College Goaltending | MIN | GA | 1 | 2 | 3 | Saves |
| Katie Burt (W, 5-0-1) | 60:00 | 3 | 11 | 14 | 18 | 43 |
| | | | | | | |
| --- | --- | --- | --- | --- | --- | --- |
| Boston University Goaltending | MIN | GA | 1 | 2 | 3 | Saves |
| Erin O'Neil (L, 0-5-0) | 56:47 | 4 | 6 | 4 | 4 | 14 |
| Empty Net | 3:13 | 0 | | | | |
BOSTON - Senior Rebecca Leslie recorded three points thanks to two goals and one assist, but the Boston University women's ice hockey team was edged by No. 3 Boston College, 4-3, on Saturday afternoon at Walter Brown Arena.
GOAL-BY-GOAL
- Willow Corson opened the scoring for BC with a goal at the 4:56 mark of the opening period.
- The Terriers outshot the Eagles, 11-8, in the first frame but trailed, 2-0, after 20 minutes thanks to Daryl Watts' power-play strike with 1:29 remaining in the period.
- BC grabbed a 3-0 lead halfway through the second stanza with another power-play goal from Watts.
- The Terriers responded just over a minute later during 4-on-4 action. Sophomore Abby Cook began a 2-on-1 rush with an outlet pass to senior Victoria Bach, who sped up the left wing. After committing the Eagle defender, she slid a pass to Leslie who beat goaltender Katie Burt (43 saves).
- BC took a 4-1 lead with 3:19 remaining in regulation when Erin Connolly got a shot past Erin O'Neil (14 saves).
- The Terriers pulled O'Neil in favor of an extra attacker on multiple occasions in the third period, and twice it proved successful. The first time came with 2:28 to play. Bach slipped the puck to Leslie, who centered the puck towards junior Mary Grace Kelley. She redirected the puck past Burt for her second goal of the season.
- Then, with a 6-on-4 advantage thanks to a BC penalty, Leslie found the back of the net thanks to some hard work in front of the cage. Freshman Jesse Compher tipped junior Reagan Rust's shot from the top of the zone. The puck snuck under Burt's pads and sat in the crease until Leslie pounced on the puck and knocked it home with 43 seconds remaining.
- BU had one last rally to try and secure an equalizer, but the Eagles staved off the attack and escaped with the win.
LESLIE DOESN'T LOSE HER SCORING TOUCH
- Leslie's now has five goals over her last two games after her multi-goal effort on Saturday.
- She previously recorded a hat trick this past Sunday against UConn.
- Leslie has now tallied five goals and two assists for seven points over the past two games, which also accounts for her season total.
SHOOTING GALLERY
- BU recorded a season-high 46 shots on Saturday.
- The Terriers outshot the Eagles by a wide margin, as they held BC to just 18 shots on goal.
- This was the second straight game in which the Terriers tallied over 40 shots on net. They recorded 42 shots in Sunday's win over UConn.
NEW HAMPSHIRE UP NEXT
- The Terriers will have a quick turnaround after Saturday's game, as they travel to New Hampshire for a Sunday showdown with the Wildcats.
- Puck drop in Durham is set for 2 p.m.