New Hampshire Rallies To Tie Vermont, 3-3
Senior forward Jonna Curtis has game-tying goal and assist for Wildcats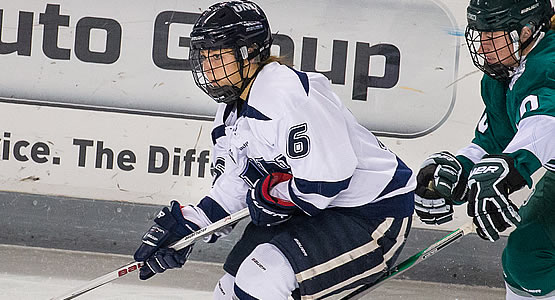 Senior forward Jonna Curtis had the game-tying goal and an assist for the Wildcats
| | | | | | | |
| --- | --- | --- | --- | --- | --- | --- |
| Prd | Time | Team | Score | Type | Scored By | Assists |
| 1st | 14:45 | VER | 1-0 | EV | Saana Valkama (5) | Cassidy Campeau/5, Rachael Ade/5 |
| 1st | 15:33 | VER | 2-0 | EV | Victoria Andreakos (7) | Bridget Baker/4, Rachael Ade/6 |
| 2nd | 7:30 | UNH | 1-2 | EV | Ali Praus (3) | Kate Haslett/3, Devan Taylor/7 |
| 3rd | 10:07 | VER | 3-1 | EV | Ève-Audrey Picard (11) | Saana Valkama/12, Katherine Pate/4 |
| 3rd | 14:49 | UNH | 2-3 | EV | Hannah Touzos (1) | Jonna Curtis/14, Carlee Toews/6 |
| 3rd | 16:09 | UNH | 3-3 | SH GT | Jonna Curtis (17) | Carlee Toews/7, Julia Fedeski/7 |
| | | | | | |
| --- | --- | --- | --- | --- | --- |
| Scoring | 1st | 2nd | 3rd | OT | Final |
| New Hampshire | 0 | 1 | 2 | 0 | 3 |
| Vermont | 2 | 0 | 1 | 0 | 3 |
| | | | | | |
| --- | --- | --- | --- | --- | --- |
| Shots on Goal | 1st | 2nd | 3rd | OT | SOG |
| New Hampshire | 5 | 10 | 8 | 1 | 24 |
| Vermont | 10 | 12 | 7 | 5 | 34 |
| | | | |
| --- | --- | --- | --- |
| Team Stats and Records | PP | PIM | SHGF |
| New Hampshire (11-14-2) | 0/4 | 1/2 | 1 |
| Vermont (11-10-8) | 0/1 | 4/8 | 0 |
| | | | | | | | |
| --- | --- | --- | --- | --- | --- | --- | --- |
| New Hampshire Goaltending | MIN | GA | 1 | 2 | 3 | OT | Saves |
| Hilary Cashin | 19:52 | 2 | 8 | 0 | 0 | 0 | 8 |
| Kyra Smith (T, 1-8-1) | 45:00 | 1 | 0 | 12 | 6 | 5 | 23 |
| Empty Net | 0:08 | 0 | | | | | |
| | | | | | | | |
| --- | --- | --- | --- | --- | --- | --- | --- |
| Vermont Goaltending | MIN | GA | 1 | 2 | 3 | OT | Saves |
| Madison Litchfield (T, 6-3-5) | 65:00 | 3 | 5 | 9 | 6 | 1 | 21 |
BURLINGTON, Vt. - Saana Valkama had a goal and assist, but New Hampshire used a third period pair less than two minutes apart as the Vermont women's hockey team skated to a 3-3 tie on Friday night at Gutterson Fieldhouse before a Hockey East regular season record crowd of 2,136.
The game was played in conjunction with the Pack The Gut Challenge presented by The Windjammer Restaurant and Upper Deck Pub, surpassing the previous Hockey East single-game mark of 2,028. That turnout was posted by Vermont at the Catamounts' inaugural iteration of Pack The Gut on Nov. 8, 2013.
"To break the record for a second time, especially for us seniors, is super special," said Rachael Ade. "The first period and second period and how we came out definitely is a testament to all the people who came out and supported us. To see all those kids who support our hockey is amazing."
Friday's draw puts UVM at 11-10-8 on the season and 7-6-6 in league action. New Hampshire moves to 11-14-2 and 9-8-2 against conference foes. With all four of Friday's Hockey East games now final, there is a four-way tie for third place between Vermont, New Hampshire, Boston University and Providence, all of whom have 20 points.
"(The crowd) definitely gave us a boost," said head coach Jim Plumer. "I want to thank Danielle Rancourt '14 for conceiving this game and am very proud of the community for coming out and supporting us."
Madison Litchfield registered 21 saves for the Catamounts and Kyra Smith made 23 stops for UNH after relieving Hilary Cashin (4 saves) following the first period.
Vermont lit the lamp twice in 48 seconds to grab the lead in the first period. With just over five minutes remaining, Cassidy Campeau received a pass from Ade in the neutral zone. Campeau's initial shot was turned aside by Cashin before Valkama raced in to clean up the rebound at 14:45, securing her fifth goal of the season.
Not long after, the Catamounts doubled their lead to 2-0 on Victoria Andreakos' seventh tally. Bridget Baker corralled the puck in front of her own bench, then darted into the offensive zone and found Andreakos with a centering pass that wound up in the back of the net. Ade received the secondary assist on the play.
UNH got back within one on Ali Praus' third goal in the second period, burying a loose puck that was first jammed at by Kate Haslett.
Ève-Audrey Picard then swelled the UVM advantage back to two in the final stanza. Valkama came away with the puck in the far corner and set up Picard for a one-time opportunity that beat Smith glove-side. The secondary assist went to Katherine Pate and was Picard's 11th tally of her freshman campaign.
In third period a span of 1:20, New Hampshire capitalized on two chances and evened the score at three-apiece. After Hannah Touzos narrowed the score to 3-2 at the 14:49 mark of the frame, Jonna Curtis used a shorthanded tally with just 3:51 remaining in regulation to force overtime.
UVM fired five shots on goal in the extra session and was inches from securing a win with under four minutes left. After Taylor Willard ripped a center point shot that was turned aside by Smith, Picard grabbed the rebound and rang the right post.
The Green and Gold outshot UNH 34-24 and were a perfect 4-for-4 on the penalty kill. The Wildcats held UVM scoreless on the Catamounts' lone power play in the third period.
"We're in a real battle in Hockey East," Plumer added. "Every point is vital and every game is important. I think we have done a great job refocusing on the second day and think we're going to come out hungry tomorrow."
Vermont closes out the regular season series with the Wildcats on Saturday (Feb. 4) with a 4 p.m. tilt at Gutterson Fieldhouse.