Saturday, October 15, 2016
Willard Goal Gives Vermont 2-2 Tie At Robert Morris
Junior defenseman Taylor Willard nets game-tying goal for Catamounts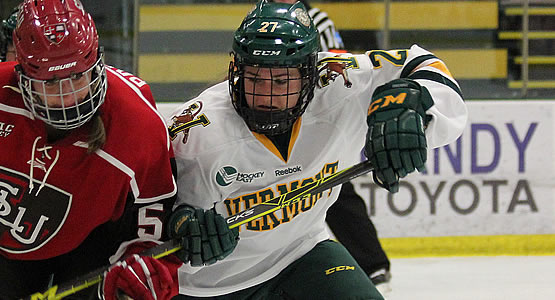 Junior defenseman Taylor Willard nets game-tying goal for Catamounts
| | | | | | | |
| --- | --- | --- | --- | --- | --- | --- |
| Prd | Time | Team | Score | Type | Scored By | Assists |
| 1st | 7:48 | RMU | 1-0 | EV | Brittany Howard (3) | Jaycee Gebhard/5, Amber Rennie/5 |
| 1st | 9:36 | VER | 1-1 | EV | Kourtney Menches (1) | Mackenzie MacNeil/2, Casey Leveillee/1 |
| 2nd | 14:30 | RMU | 2-1 | EV | Brittany Howard (4) | Amber Rennie/6, Jaycee Gebhard/6 |
| 3rd | 15:15 | VER | 2-2 | PP GT | Taylor Willard (2) | Alyssa Gorecki/2, Daria O'Neill/3 |
| | | | | | |
| --- | --- | --- | --- | --- | --- |
| Scoring | 1st | 2nd | 3rd | OT | Final |
| Vermont | 1 | 0 | 1 | 0 | 2 |
| Robert Morris | 1 | 1 | 0 | 0 | 2 |
| | | | | | |
| --- | --- | --- | --- | --- | --- |
| Shots on Goal | 1st | 2nd | 3rd | OT | SOG |
| Vermont | 7 | 5 | 2 | 1 | 15 |
| Robert Morris | 17 | 12 | 6 | 0 | 35 |
| | | | |
| --- | --- | --- | --- |
| Team Stats and Records | PP | PIM | SHGF |
| Vermont (2-1-1) | 1/4 | 5/10 | 0 |
| Robert Morris (4-0-2) | 0/5 | 4/8 | 0 |
| | | | | | | | |
| --- | --- | --- | --- | --- | --- | --- | --- |
| Vermont Goaltending | MIN | GA | 1 | 2 | 3 | OT | Saves |
| Melissa Black (T, 1-0-1) | 64:55 | 2 | 16 | 11 | 6 | 0 | 33 |
| Empty Net | 0:05 | 0 | | | | | |
| | | | | | | | |
| --- | --- | --- | --- | --- | --- | --- | --- |
| Robert Morris Goaltending | MIN | GA | 1 | 2 | 3 | OT | Saves |
| Jessica Dodds (T, 1-0-2) | 64:54 | 2 | 6 | 5 | 1 | 1 | 13 |
| Empty Net | 0:06 | 0 | | | | | |
PITTSBURGH - Taylor Willard scored with 4:45 remaining in regulation to tie things up at two as the Vermont women's hockey team battled to a 2-2 tie with Robert Morris on Saturday at 84 Lumber Arena.
"Credit to Robert Morris for outplaying us for two periods," said head coach Jim Plumer. "We showed a lot of heart to play such a great third and OT. That's the kind of compete level we need to have consistent success."
The Catamounts are now 2-1-1 on the season, while RMU moves to 4-0-2 with the result.
RMU won the race to the scoreboard when Brittany Howard marked the scoresheet 7:48 into the first period. Howard initiated the sequence with a backhanded shot into traffic from the right circle, then jammed the puck home amid a scramble after collecting the rebound.
Kourtney Menches then tied the score at one-apiece at 9:36 of the opening stanza. Mackenzie MacNeil skated around a defender in the neutral zone and continued down the right wing, finding Menches on the doorstep to lift the puck over the right pad of Colonials goalie Jessica Dodds.
Robert Morris regained the lead in the late stages of the second period, grabbing a 2-1 advantage at 14:30 on Howard's second goal of the afternoon. She drove to goal skating around multiple Catamounts, then went top shelf for the goal.
After RMU's Natalie Marcuzzi was sent to the box for tripping, Willard evened the score once again. Willard received a pass at the right point, then skated into the right faceoff circle and sent a wrist shot past Dobbs to move the score to 2-2.
UVM had an offensive opportunity early in overtime beginning when Victoria Andreakos grabbed a loose puck in the slot and put a shot on goal, but Dobbs turned aside the attempt.
Sophomore Melissa Black posted 33 saves on the day, including 16 in the first period of play. UVM also finished the afternoon 5-for-5 on the penalty kill.
The Catamounts take to the ice again on Friday, Oct. 21, beginning a home-and-home series with St. Lawrence at 7 p.m. in Canton, New York.