Vermont Edged By Robert Morris, 3-2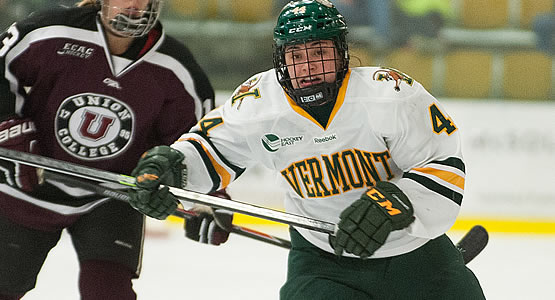 Senior forward Victoria Andreakos scored a goal for the Catamounts
| | | | | | | |
| --- | --- | --- | --- | --- | --- | --- |
| Prd | Time | Team | Score | Type | Scored By | Assists |
| 1st | 1:02 | RMU | 1-0 | EV | Amber Rennie (3) | Jaycee Gebhard/4, Brittany Howard/3 |
| 2nd | 2:13 | VER | 1-1 | EV | Victoria Andreakos (1) | Mackenzie MacNeil/1, Ève-Audrey Picard/2 |
| 2nd | 10:51 | RMU | 2-1 | PP | Jaycee Gebhard (4) | Brittany Howard/4, Maggie Lague/4 |
| 2nd | 17:22 | RMU | 3-1 | EV GW | Kirsten Welsh (2) | Jessica Gazzola/2, Mackenzie Johnston/1 |
| 3rd | 3:07 | VER | 2-3 | EV | Bridget Baker (1) | Cassidy Campeau/1, Rachel Khalouf/1 |
| | | | | |
| --- | --- | --- | --- | --- |
| Scoring | 1st | 2nd | 3rd | Final |
| Vermont | 0 | 1 | 1 | 2 |
| Robert Morris | 1 | 2 | 0 | 3 |
| | | | | |
| --- | --- | --- | --- | --- |
| Shots on Goal | 1st | 2nd | 3rd | SOG |
| Vermont | 12 | 12 | 6 | 30 |
| Robert Morris | 6 | 13 | 11 | 30 |
| | | | |
| --- | --- | --- | --- |
| Team Stats and Records | PP | PIM | SHGF |
| Vermont (2-1-0) | 0/5 | 4/8 | 0 |
| Robert Morris (4-0-1) | 1/4 | 5/10 | 0 |
| | | | | | | |
| --- | --- | --- | --- | --- | --- | --- |
| Vermont Goaltending | MIN | GA | 1 | 2 | 3 | Saves |
| Sydney Scobee (L, 0-1-0) | 58:55 | 3 | 5 | 11 | 11 | 27 |
| Empty Net | 1:05 | 0 | | | | |
| | | | | | | |
| --- | --- | --- | --- | --- | --- | --- |
| Robert Morris Goaltending | MIN | GA | 1 | 2 | 3 | Saves |
| Lauren Bailey (W, 3-0-0) | 60:00 | 2 | 12 | 11 | 5 | 28 |
PITTSBURGH - Victoria Andreakos and Rachel Khalouf scored for the first time this season but a two-goal second period put Robert Morris ahead of the Vermont women's hockey team en route to a 3-2 victory over the Catamounts on Friday at 84 Lumber Arena.
The Colonials are 4-0-1 following Friday's result, while the Catamounts are now 2-1-0.
"It was not the outcome we wanted but there were a lot of learning points," said head coach Jim Plumer. "We showed some resilience after letting the game get away from us late in the second and I'm looking forward to seeing how we respond tomorrow."
RMU opened the scoring early, jumping on the board at the 1:02 mark of the first period. Amber Rennie corralled a rebound following a left-point shot by Jaycee Gebhard, subsequently followed up by Rennie's tally on the doorstep to give the Colonials a 1-0 lead.
The Catamounts tied the score at one-apiece 2:13 into the second period. After Mackenzie MacNeil put a shot on net, Victoria Andreakos followed with a shot of her own, ultimately finding the back of the net for her first goal of the season.
Robert Morris then regained a one-goal lead near the midway point of the middle stanza as Jaycee Gebhard lit the lamp on the power play after being set up by Brittany Howard and Maggie Lague.
The score moved to 3-1 in favor of the Colonials with 2:38 to play in the second period as Jessica Gazzola and Leah Carey set up Kristen Welsh for her second goal of the season.
Vermont began a comeback effort early in the third period when Cassidy Campeau sent a pass across the goalmouth to Khalouf, who buried the puck and narrowed the score to 3-2.
Freshman Sydney Scobee made her collegiate debut for the Catamounts, tallying 27 saves in the setback, while Robert Morris' Lauren Bailey turned aside 28 shots.
The Catamounts wrap up the weekend series with RMU on Saturday at 2:30 p.m. from 84 Lumber Arena.