Saturday, November 12, 2016
Four-Goal Third Period Sends Providence Past Vermont, 5-2
Freshman defenseman Whitney Dove has two goals and assist for Friars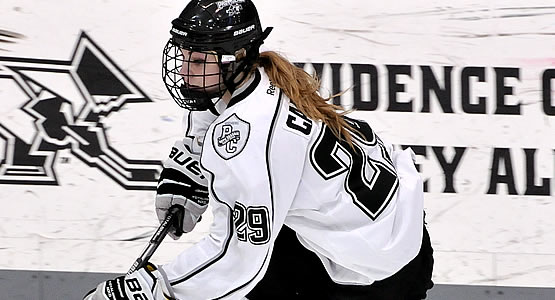 Senior forward Cassidy Carels scored a goal for the Friars
| | | | | | | |
| --- | --- | --- | --- | --- | --- | --- |
| Prd | Time | Team | Score | Type | Scored By | Assists |
| 2nd | 5:02 | PRV | 1-0 | PP | Whitney Dove (2) | Rachel Rockwell/6, Cassidy MacPherson/3 |
| 2nd | 15:45 | VER | 1-1 | EV | Bridget Baker (2) | Amanda Drobot/2 |
| 3rd | 10:37 | PRV | 2-1 | EV | Cassidy Carels (7) | Danielle Hardy/3, Blair Parent/5 |
| 3rd | 15:59 | PRV | 3-1 | EV GW | Whitney Dove (3) | Christina Putigna/8, Meaghan Rickard/3 |
| 3rd | 17:21 | VER | 2-3 | EV | Saana Valkama (2) | - |
| 3rd | 19:02 | PRV | 4-2 | PP | Brooke Boquist (7) | Whitney Dove/8 |
| 3rd | 19:29.9 | PRV | 5-2 | EV EN | Kate Friesen (4) | - |
| | | | | |
| --- | --- | --- | --- | --- |
| Scoring | 1st | 2nd | 3rd | Final |
| Vermont | 0 | 1 | 1 | 2 |
| Providence | 0 | 1 | 4 | 5 |
| | | | | |
| --- | --- | --- | --- | --- |
| Shots on Goal | 1st | 2nd | 3rd | SOG |
| Vermont | 8 | 12 | 6 | 26 |
| Providence | 13 | 16 | 12 | 41 |
| | | | |
| --- | --- | --- | --- |
| Team Stats and Records | PP | PIM | SHGF |
| Vermont (3-5-1) | 0/8 | 9/18 | 0 |
| Providence (6-7-0) | 2/9 | 8/16 | 0 |
| | | | | | | |
| --- | --- | --- | --- | --- | --- | --- |
| Vermont Goaltending | MIN | GA | 1 | 2 | 3 | Saves |
| Melissa Black (L, 1-3-1) | 59:40 | 4 | 13 | 15 | 8 | 36 |
| Empty Net | 0:20 | 1 | | | | |
| | | | | | | |
| --- | --- | --- | --- | --- | --- | --- |
| Providence Goaltending | MIN | GA | 1 | 2 | 3 | Saves |
| Alanna Serviss (W, 4-3-0) | 60:00 | 2 | 8 | 11 | 5 | 24 |
PROVIDENCE, R.I. - The Providence College women's hockey team defeated the Vermont Catamounts, 5-2, at Schneider Arena on Nov. 12. The Friars tallied three goals in the final five minutes of regulation to defeat the Catamouts. Providence improves to 6-7-0 (3-3-0 HE) and Vermont moves to 3-5-1 (2-2-0).
Neither team was able to score in the first period and Alanna Serviss (Chicago, Ill.) made eight saves. Providence registered 13 shots, all turned aside by Catamount goaltender Melissa Black.
Just over four minutes into the second period Whitney Dove (Port Moody, British Columbia) tallied her first goal of the game and the Friars' first power play goal of the game. She was assisted on the play by Rachel Rockwell (Broadview Heights, Ohio) and Cassidy MacPherson (Oakville, Ontario). MacPherson carried the puck out of the corner and move it to Rockwell on the point, who fed Dove for a quick point-shot that made its way through traffic and past Black.
Vermont evened the score ten minutes later by way of Bridget Baker.
In the third period, Cassidy Carels (Bruxelles, Manitoba) scored her seventh goal of the season (10:37). Danielle Hardy (Naniamo, British Columbia) moved the puck across the neutral zone to Carels, who then skated the puck into offensive territory. Carels took a hard shot that banged off the post and then bounced off of Black's back and over the goal line for a 2-1 Friar lead.
The Friars extended their lead to 3-1, with 4:01 remaining in regulation. Dove scored her second of the game in a three-on-one opportunity with Christina Putigna (Grimsby, Ontario) and Meaghan Rickard (Coventry, R.I.). A series of tic-tac-toe passes gave Dove the puck at the top of the slot to beat a sprawling Black. Putigna's assist pushes her to a ten-game point streak, amassing 13 points.
Vermont tightened the Friar lead to one goal with 2:38 remaining in the third period in an unassisted tally from Saana Valkama.
The Friars struck for a second time on the power play with just under a minute in regulation. Brooke Boquist scored her fifth of the season and Dove assisted. The assist marked Dove's third point of the game and a career high.
Providence finished the scoring with an unassisted empty net goal for sophomore defender Kate Friesen (Altona, Manitoba). Friesen forced a Vermont turnover at the Providence blue line and skated through the Catamount defense to score her fourth of the season.
The Friars and Catamounts will faceoff again on Nov. 13, at 2:00 p.m. at Schneider Arena.