Providence College Edged By Robert Morris, 3-2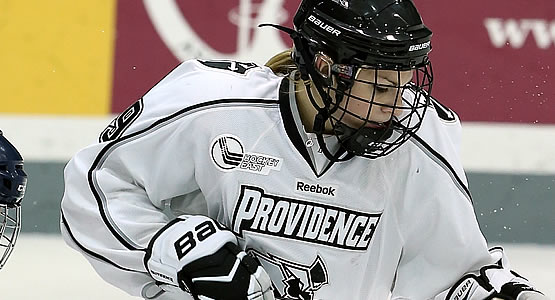 Senior forward Cassidy Carels scored a goal for the Friars
| | | | | | | |
| --- | --- | --- | --- | --- | --- | --- |
| Prd | Time | Team | Score | Type | Scored By | Assists |
| 2nd | 4:15 | PRV | 1-0 | PP | Cassidy Carels (3) | Blair Parent/1 |
| 2nd | 12:49 | RMU | 1-1 | PP | Maggie LaGue (1) | Amber Rennie/2, Jaycee Gebhard/2 |
| 2nd | 14:13 | RMU | 2-1 | PP | Brittany Howard (1) | Jaycee Gebhard/3, Maggie LaGue/2 |
| 2nd | 19:05 | RMU | 3-1 | EV GW | Brittany Howard (2) | Katherine Murphy/1 |
| 3rd | 4:39 | PRV | 2-3 | EV | Emily Landry (1) | Whitney Dove/1 |
| | | | | |
| --- | --- | --- | --- | --- |
| Scoring | 1st | 2nd | 3rd | Final |
| Robert Morris | 0 | 3 | 0 | 3 |
| Providence | 0 | 1 | 1 | 2 |
| | | | | |
| --- | --- | --- | --- | --- |
| Shots on Goal | 1st | 2nd | 3rd | SOG |
| Robert Morris | 6 | 8 | 5 | 19 |
| Providence | 11 | 9 | 12 | 32 |
| | | | |
| --- | --- | --- | --- |
| Team Stats and Records | PP | PIM | SHGF |
| Robert Morris (2-0-0) | 2/8 | 7/25 | 0 |
| Providence (0-3-0) | 1/7 | 8/16 | 0 |
| | | | | | | |
| --- | --- | --- | --- | --- | --- | --- |
| Robert Morris Goaltending | MIN | GA | 1 | 2 | 3 | Saves |
| Jessica Dodds (W, 1-0-0) | 60:00 | 2 | 11 | 8 | 11 | 30 |
| | | | | | | |
| --- | --- | --- | --- | --- | --- | --- |
| Providence Goaltending | MIN | GA | 1 | 2 | 3 | Saves |
| Madison Myers (L, 0-3-0) | 59:02 | 3 | 6 | 5 | 5 | 16 |
| Empty Net | 0:58 | 0 | | | | |
PROVIDENCE, R.I. - The Providence College women's ice hockey team was defeated by the Robert Morris Colonials, 3-2. The Friars move to 0-3-0 and the Colonials improve to 2-0-0. Emily Landry (Orangeville, Ontario) scored her first collegiate goal.
The Friars and Colonials finished the first period scoreless, with Providence leading in shots, 11-6.
Providence started the scoring with a Cassidy Carels (Bruxelles, Manitoba) power play goal. Carels took a hard shot to the top shelf after a give-and-go with Blair Parent (Blaine, Minn.) in the slot and give the Friars a 1-0 lead just over four minutes into the second period.
Robert Morris responded at the 12:49 mark of the second period with a power play goal from Maggie LaGue and then took the lead less than two minutes later with another power play goal by way of Brittany Howard. The Colonials extended their lead to 3-1 with a second Howard goal with 55 seconds remaining in the second period.
Providence cut the Colonial lead to 3-2 when Emily Landry found the back of the net for the first time as a Friar nearly five minutes into the final period. Whitney Dove (Port Moody, British Columbia) picked up her first collegiate point when she collected the puck on the Friars' offensive blue line and fed Landry who's shot beat Robert Morris' Jessica Dodds top shelf.
The Friars were unable to tie the game despite outshooting the Colonials 32-19. Madison Myers registered 16 saves in the game.
Up Next for the Friars is another non-conference match-up in Rochester, N.Y against the RIT Tigers on Oct. 7 and 8, both at 2:00 p.m.