Friday, November 18, 2016
Northeastern Rallies To Tie Vermont, 3-3
Sophomore forward Kasidy Anderson scores game-tying goal for Huskies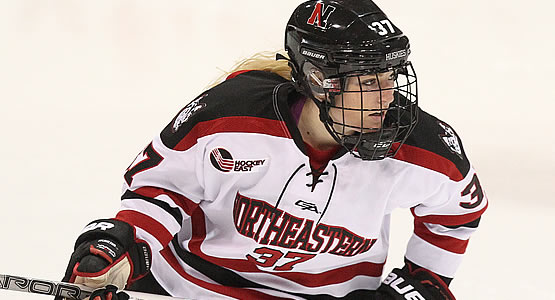 Sophomore forward Kasidy Anderson scored the game-tying goal for the Huskies
| | | | | | | |
| --- | --- | --- | --- | --- | --- | --- |
| Prd | Time | Team | Score | Type | Scored By | Assists |
| 1st | 8:13 | VER | 1-0 | PP | Alyssa Gorecki (2) | Sammy Kolowrat/1, Saana Valkama/6 |
| 2nd | 8:33 | NOE | 1-1 | EV | Heather Mottau (3) | - |
| 2nd | 16:36 | VER | 2-1 | EV | Alyssa Gorecki (3) | Daria O'Neill/4, Bridget Baker/2 |
| 2nd | 17:52 | VER | 3-1 | EV | Cassidy Campeau (1) | Sarah Kelly/1 |
| 3rd | 8:53 | NOE | 2-3 | EV | Hayley Scamurra (4) | Denisa Křížová/12, Heather Mottau/6 |
| 3rd | 11:03 | NOE | 3-3 | EV GT | Kasidy Anderson (4) | Ainsley MacMillan/3, Matti Hartman/4 |
| | | | | | |
| --- | --- | --- | --- | --- | --- |
| Scoring | 1st | 2nd | 3rd | OT | Final |
| Northeastern | 0 | 1 | 2 | 0 | 3 |
| Vermont | 1 | 2 | 0 | 0 | 3 |
| | | | | | |
| --- | --- | --- | --- | --- | --- |
| Shots on Goal | 1st | 2nd | 3rd | OT | SOG |
| Northeastern | 8 | 10 | 8 | 1 | 27 |
| Vermont | 2 | 10 | 10 | 1 | 23 |
| | | | |
| --- | --- | --- | --- |
| Team Stats and Records | PP | PIM | SHGF |
| Northeastern (10-3-2) | 0/2 | 7/14 | 0 |
| Vermont (3-5-3) | 1/7 | 2/4 | 0 |
| | | | | | | | |
| --- | --- | --- | --- | --- | --- | --- | --- |
| Northeastern Goaltending | MIN | GA | 1 | 2 | 3 | OT | Saves |
| Brittany Bugalski (T, 10-2-2) | 65:00 | 3 | 1 | 8 | 10 | 1 | 20 |
| | | | | | | | |
| --- | --- | --- | --- | --- | --- | --- | --- |
| Vermont Goaltending | MIN | GA | 1 | 2 | 3 | OT | Saves |
| Madison Litchfield (T, 2-1-2) | 64:50 | 3 | 8 | 9 | 6 | 1 | 24 |
| Empty Net | 0:10 | 0 | | | | | |
BURLINGTON, Vt. - Alyssa Gorecki scored for Vermont in each of the first two periods but No. 10 Northeastern used a two-goal third to even things up in a 3-3 tie at Gutterson Fieldhouse on Friday afternoon.
The Catamounts' second consecutive draw puts the squad at 3-5-3 on the season and 2-2-2 in Hockey East play. Northeastern is now 10-3-2 and 6-1-1 in Hockey East.
"I'm really pleased that we were able to get untracked early today and score some goals," said head coach Jim Plumer. "It's important to get any point we can in Hockey East and we certainly battled hard today. Northeastern is an excellent team and once again we showed that we can play with anyone in our league."
Gorecki's first of the afternoon came midway through the first period on a power play feed from Sammy Kolowrat. The sophomore wristed the puck through traffic, seeing it deflected on the doorstep by Gorecki to give the Catamounts a 1-0 lead at 8:13. Saana Valkama also received a secondary assist on the play.
After Heather Mottau tied the score at one for the Huskies in the second, UVM used a pair just 1:16 apart to grab a 3-1 advantage. The Catamounts notched their second goal at the 16:36 mark when Gorecki played the carom after Bridget Baker fed Daria O'Neill's for a shot that was ultimately blocked. Gorecki then tucked the puck inside the right post.
Cassidy Campeau then doubled Vermont's lead with 2:08 remaining in the middle frame. Amid a scramble in the neutral zone, Sarah Kelly bounced the puck off the boards and set up Campeau to receive the pass. She skated along the right wing and fired a wrist shot from the faceoff circle.
Hayley Scamurra brought the Huskies back within one with just over 11 minutes remaining in regulation on a goal that was confirmed after video review.
Northeastern then tied the score at three-all when Ainsley MacMillan wristed the puck from the right point and setting up a redirection by Kasidy Anderson. The puck then trickled home on an odd bounce.
Both teams had opportunities in the extra session. The Catamounts mustered two shots on a late power play, while Northeastern had a chance via Hayley Masters after her penalty expired with mere seconds remaining.
Madison Litchfield made 24 saves for Vermont while Brittany Bugalski turned aside 20 shots for the Huskies in the tie.
UVM now faces a quick turnaround, preparing to drop the puck against UConn on Sunday (Nov. 20) at Gutterson Fieldhouse. Opening draw will be at 2 p.m.