Taylor Lifts New Hampshire to 3-2 Overtime Win At Northeastern
Sophomore forward Devan Taylor scores 2:12 into overtime for Wildcats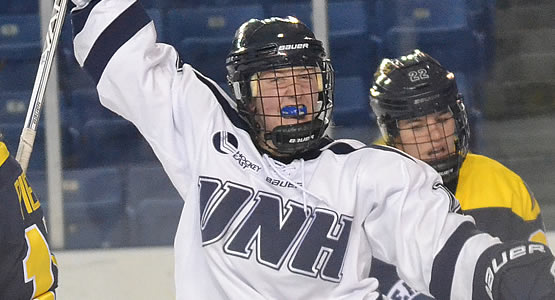 Sophomore forward Devan Taylor scored 2:12 into overtime for the Wildcats
| | | | | | | |
| --- | --- | --- | --- | --- | --- | --- |
| Prd | Time | Team | Score | Type | Scored By | Assists |
| 1st | 3:16 | NOE | 1-0 | EV | Matti Hartman (5) | Heather Mottau/8, Codie Cross/6 |
| 1st | 14:38 | UNH | 1-1 | EV | Jonna Curtis (12) | Marie-Jo Pelletier/6 |
| 2nd | 4:10 | NOE | 2-1 | PP | Kasidy Anderson (5) | Lauren Kelly/6, Ainsley MacMillan/7 |
| 2nd | 8:59 | UNH | 2-2 | EV | Abby Chapman (1) | Amy Schlagel/4 |
| OT | 2:12 | UNH | 3-2 | EV GW | Devan Taylor (2) | Julia Fedeski/5 |
| | | | | | |
| --- | --- | --- | --- | --- | --- |
| Scoring | 1st | 2nd | 3rd | OT | Final |
| New Hampshire | 1 | 1 | 0 | 1 | 3 |
| Northeastern | 1 | 1 | 0 | 0 | 2 |
| | | | | | |
| --- | --- | --- | --- | --- | --- |
| Shots on Goal | 1st | 2nd | 3rd | OT | SOG |
| New Hampshire | 6 | 5 | 5 | 2 | 18 |
| Northeastern | 13 | 11 | 5 | 1 | 30 |
| | | | |
| --- | --- | --- | --- |
| Team Stats and Records | PP | PIM | SHGF |
| New Hampshire (9-11-1) | 0/1 | 4/8 | 0 |
| Northeastern (12-7-3) | 1/2 | 3/6 | 0 |
| | | | | | | | |
| --- | --- | --- | --- | --- | --- | --- | --- |
| New Hampshire Goaltending | MIN | GA | 1 | 2 | 3 | OT | Saves |
| Hilary Cashin (W, 8-4-1) | 62:12 | 2 | 12 | 10 | 5 | 1 | 28 |
| | | | | | | | |
| --- | --- | --- | --- | --- | --- | --- | --- |
| Northeastern Goaltending | MIN | GA | 1 | 2 | 3 | OT | Saves |
| Brittany Bugalski (L, 12-6-3) | 62:11 | 3 | 5 | 4 | 5 | 1 | 15 |
| Empty Net | 0:01 | 0 | | | | | |
BOSTON - Despite outshooting New Hampshire (9-11-1, 7-6-1 WHEA) by a 30-18 margin, the Northeastern women's hockey team (12-7-3, 8-5-2 WHEA) was unable to find the winning combination in a 3-2 overtime loss to the Wildcats on Friday evening at Matthews Arena.
The Huskies held leads of 1-0 and 2-1, but UNH was able to respond on both occasions, before sealing the win in overtime courtesy of a Devan Taylor breakaway.
Freshman Matti Hartman and sophomore Kasidy Anderson scored for Northeastern, while sophomore Brittany Bugalski made 15 saves.
Northeastern nearly took a 3-2 lead late in the third period when sophomore Maddie Hartman's shot squeezed through the five-hole of UNH netminder Hillary Cashin (28 saves), but the puck died on the goal line and the Wildcats were able to clear the danger.
Goal Recaps
- Northeastern struck first at the 3:16 mark of the first period when senior Heather Mottau's centering pass pinballed off the skate of two UNH defensemen and landed on the stick of Matti Hartman at the right of the net for her fifth goal of the season.
- UNH answered at 14:38 of the first period when Marie-Jo Pelletier sprung Jonna Curtis on a breakaway. Curtis skated in and made a nifty move, before tucking the puck inside the left post to tie the score at 1-1.
- The back-and-forth action continued in the second period when Northeastern regained the lead through an Anderson power-play goal at the 4:10 mark. Senior Hayley Scamurra dug the puck out of the right corner and tossed the disc back to the right point for junior Ainsley MacMillan, who quickly cycled it to the opposite point to classmate Lauren Kelly. Kelly then fired a quick shot at the net for Anderson to redirect home in traffic to make it 2-1 Huskies.
- The Wildcats responded again at 8:59 of the second stanza when Abby Chapman fired home a rebound in the low slot to make it 2-2.
- After a scoreless third period, UNH won the game at 2:12 of overtime when Julia Fedeski chipped the puck by two NU players to spring Taylor on a breakaway. Taylor skated in and buried a wrister under the crossbar to give the visitors the 3-2 victory.
Noteworthy
- Northeastern held a 30-18 advantage in shots on goal.
- New Hampshire snapped a five-game losing streak against the Huskies.
- The Huskies scored a power-play goal for the second straight game.
- Northeastern is now 5-7-2 at home compared to 7-0-1 on the road.
- NU is 0-3-3 in overtime games this season.
Up Next
The Huskies will look to bounce back on Saturday when they travel to New Hampshire for a 4 p.m. contest.