Friday, September 23, 2016
Northeastern Blanks Toronto In Exhibition, 3-0
Senior Hayley Masters, freshman Codie Cross and senior Hayley Scamurra score goals for Huskies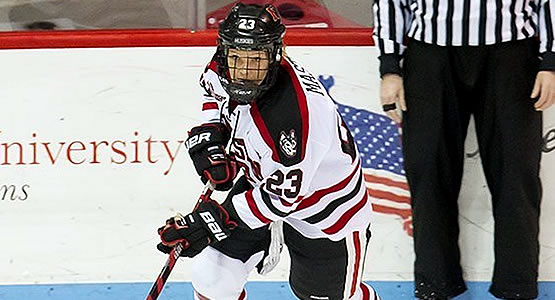 Senior forward Hayley Masters scored a goal for the Huskies
| | | | | | | |
| --- | --- | --- | --- | --- | --- | --- |
| Prd | Time | Team | Score | Type | Scored By | Assists |
| 1st | 4:55 | NOE | 1-0 | EV GW | Hayley Masters | Bailey Coyne |
| 2nd | 12:18 | NOE | 2-0 | PP | Codie Cross | Denisa Křížová, McKenna Brand |
| 2nd | 19:47 | NOE | 3-0 | PP | Hayley Scamurra | Paige Savage, Denisa Křížová |
| | | | | |
| --- | --- | --- | --- | --- |
| Scoring | 1st | 2nd | 3rd | Final |
| Northeastern | 1 | 2 | 0 | 3 |
| Toronto | 0 | 0 | 0 | 0 |
| | | | | |
| --- | --- | --- | --- | --- |
| Shots on Goal | 1st | 2nd | 3rd | SOG |
| Northeastern | 11 | 12 | 10 | 33 |
| Toronto | 2 | 5 | 2 | 9 |
| | | | |
| --- | --- | --- | --- |
| Team Stats and Records | PP | PIM | SHGF |
| Northeastern | 2/3 | 3/6 | 0 |
| Toronto | 0/3 | 3/6 | 0 |
| | | | | | | |
| --- | --- | --- | --- | --- | --- | --- |
| Northeastern Goaltending | MIN | GA | 1 | 2 | 3 | Saves |
| Sarah Foss (W) | 20:00 | 0 | 2 | 0 | 0 | 2 |
| Brittany Bugalski | 20:00 | 0 | 0 | 5 | 0 | 5 |
| Brianna Storms | 20:00 | 0 | 0 | 0 | 2 | 2 |
| | | | | | | |
| --- | --- | --- | --- | --- | --- | --- |
| Toronto Goaltending | MIN | GA | 1 | 2 | 3 | Saves |
| Valencia Yordanov (L) | 60:00 | 3 | 10 | 10 | 10 | 30 |
TORONTO - The Northeastern women's hockey team opened the 2016-17 season in winning fashion with a 3-0 victory over the University of Toronto in exhibition play on Friday evening at Varsity Arena.
Senior Hayley Masters, freshman Codie Cross and senior Hayley Scamurra scored for the Huskies, while goaltenders Sarah Foss (2 saves), Brittany Bugalski (5 saves) and Brianna Storms (2 saves) combined for the shutout.
The Huskies scored two power-play goals and held the Varsity Blues to just nine shots on goal, while firing 31 shots at the Toronto net.
Goal Recaps
- Northeastern grabbed the lead at the 4:55 mark of the first period when freshman Bailey Coyne forced a turnover in the right corner and centered for Masters to fire home in the low slot.
- The Huskies doubled the advantage on the power play at 12:18 of the second period when Cross wristed a shot from between the circles that found its way through traffic and into the back of the net.
- NU tacked on another power-play goal with 13 seconds left in the second period when senior Paige Savage gathered the puck along the left-wing boards and found Scamurra open at the right of the net for a wrister that beat Toronto netminder Valencia Yordanov.
Noteworthy
- Freshmen Bailey Coyne (assist) and Codie Cross (goal) each notched points for the first time in a Huskies' uniform.
- Junior Denisa Krizova dished out assists on both power-play goals.
- The Huskies killed off all three Toronto power plays.
- Junior McKenna Brand led all players with four shots on goal.
Up Next
The Huskies will open the regular season next weekend with a pair of games against St. Lawrence at Matthews Arena, beginning Friday at 7 p.m.