Saturday, October 15, 2016
Bugalski's 27 Saves Backstop Northeastern To 1-0 Win Over Syracuse
Sophomore goaltender Brittany Bugalski posts fifth career shutout with 27 saves for Huskies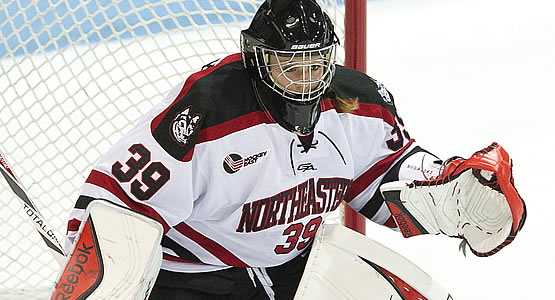 Sophomore goaltender Brittany Bugalski made 27 saves for the Huskies
| | | | | | | |
| --- | --- | --- | --- | --- | --- | --- |
| Prd | Time | Team | Score | Type | Scored By | Assists |
| 1st | 9:44 | NOE | 1-0 | PP GW | Heather Mottau (2) | Denisa Křížová/4, McKenna Brand/3 |
| | | | | |
| --- | --- | --- | --- | --- |
| Scoring | 1st | 2nd | 3rd | Final |
| Syracuse | 0 | 0 | 0 | 0 |
| Northeastern | 1 | 0 | 0 | 1 |
| | | | | |
| --- | --- | --- | --- | --- |
| Shots on Goal | 1st | 2nd | 3rd | SOG |
| Syracuse | 8 | 10 | 9 | 27 |
| Northeastern | 8 | 7 | 6 | 21 |
| | | | |
| --- | --- | --- | --- |
| Team Stats and Records | PP | PIM | SHGF |
| Syracuse (0-3-1) | 0/5 | 7/14 | 0 |
| Northeastern (3-2-1) | 1/6 | 6/12 | 0 |
| | | | | | | |
| --- | --- | --- | --- | --- | --- | --- |
| Syracuse Goaltending | MIN | GA | 1 | 2 | 3 | Saves |
| Abbey Miller (L, 0-2-1) | 58:40 | 1 | 7 | 7 | 6 | 20 |
| Empty Net | 1:20 | 0 | | | | |
| | | | | | | |
| --- | --- | --- | --- | --- | --- | --- |
| Northeastern Goaltending | MIN | GA | 1 | 2 | 3 | Saves |
| Brittany Bugalski (W, 3-1-1) | 59:44 | 0 | 8 | 10 | 9 | 27 |
| Empty Net | 0:16 | 0 | | | | |
BOSTON - Brittany Bugalski made 27 stops and Heather Mottau netted a power play goal to lead the Northeastern women's ice hockey (3-2-1) team to a 1-0 shutout victory against Syracuse (0-3-1) on Saturday afternoon at Matthews Arena. With the win, the Huskies are now unbeaten in four straight games (3-0-1), outscoring its opponents 12-3 during the run.
Bugalski was solid in goal from start to finish to collect her second shutout in four games, and fifth of her career. The defensive corps also turned in a strong effort for the Huskies, blocking 14 shots and holding the Syracuse power play to an 0-of-5 showing.
The game was scoreless until Mottau broke the deadlock with a power play tally 9:44 into the contest on a shot from the point that got through traffic and past Orange goaltender Abbey Miller (20 saves) for Mottau's second goal of the year.
Syracuse, which blocked 25 Northeastern shot attempts throughout the game, outshot the Huskies 27-21 on the day while NU converted on one of its six opportunities on the power play.
Goal descriptions:
- Northeastern struck first near the midway mark of the first period on Heather Mottau's second goal of the year. With the Huskies on an abbreviated power play, McKenna Brand sent a pass from behind the cage over the Denisa Krizova along the left wall. Krizova then spotted Mottau open at the point and fed her with a pass. Mottau took a couple strides towards the net and ripped a low shot through traffic that beat Avery for the score.
Stats of the game:
- Northeastern is now 3-1-3 all-time against Syracuse
- Both Krizova (four goals, four assists) and Brand (four goals, two assists) extended their point streaks to five games on Saturday.
- Mottau has two goals and three assists in her last five games
- Bugalski collected her second shutout in her last four outings, and fifth of her career.
The road ahead:
Northeastern will conclude its brief three-game home stand on Tuesday night when the Huskies host rival Boston University at Matthews Arena. Puck drop is slated for 7 p.m.