Saturday, November 5, 2016
Northeastern Holds On To Defeat Maine, 3-2
McKenna Brand, Paige Savage and Denisa Krizova each record goal and assist for Huskies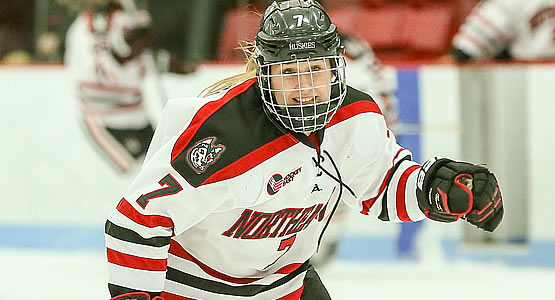 Junior forward McKenna Brand had a goal and an assist for the Huskies
| | | | | | | |
| --- | --- | --- | --- | --- | --- | --- |
| Prd | Time | Team | Score | Type | Scored By | Assists |
| 1st | 5:17 | NOE | 1-0 | PP | Denisa Křížová (7) | Paige Savage/8, Shelby Herrington/2 |
| 2nd | 1:24 | NOE | 2-0 | PP | Paige Savage (3) | Shelby Herrington/3, McKenna Brand/5 |
| 3rd | 3:00 | NOE | 3-0 | EV GW | McKenna Brand (7) | Hayley Scamurra/7, Denisa Křížová/9 |
| 3rd | 13:45 | MNE | 1-3 | EV | Catherine Tufts (4) | Emilie Brigham/3, Lydia Murray/2 |
| 3rd | 19:03 | MNE | 2-3 | EV EA | Brooke Stacey (3) | Morgan Sakundiak/2, Tereza Vanišová/5 |
| | | | | |
| --- | --- | --- | --- | --- |
| Scoring | 1st | 2nd | 3rd | Final |
| Maine | 0 | 0 | 2 | 2 |
| Northeastern | 1 | 1 | 1 | 3 |
| | | | | |
| --- | --- | --- | --- | --- |
| Shots on Goal | 1st | 2nd | 3rd | SOG |
| Maine | 6 | 9 | 11 | 26 |
| Northeastern | 11 | 16 | 8 | 35 |
| | | | |
| --- | --- | --- | --- |
| Team Stats and Records | PP | PIM | SHGF |
| Maine (2-9-0) | 0/5 | 4/8 | 0 |
| Northeastern (7-3-1) | 2/4 | 5/10 | 0 |
| | | | | | | |
| --- | --- | --- | --- | --- | --- | --- |
| Maine Goaltending | MIN | GA | 1 | 2 | 3 | Saves |
| Carly Jackson (L, 1-8-0) | 58:31 | 3 | 10 | 15 | 7 | 32 |
| Empty Net | 1:29 | 0 | | | | |
| | | | | | | |
| --- | --- | --- | --- | --- | --- | --- |
| Northeastern Goaltending | MIN | GA | 1 | 2 | 3 | Saves |
| Brittany Bugalski (W, 7-2-1) | 60:00 | 2 | 6 | 9 | 9 | 24 |
BOSTON - Junior Denisa Krizova, senior Paige Savage and junior McKenna Brand each tallied a goal and an assist to help the Northeastern women's hockey team (7-3-1, 3-1-0 WHEA) hold off Maine (2-9-0, 1-6-0), 3-2, on Saturday afternoon at Matthews Arena.
The Huskies used two power-play goals-one by Krizova and one by Savage-to build a 3-0 lead midway through the third period. Maine did not go quietly, however, as Catherine Tufts made it 3-1 with just under seven minutes to play, before Brooke Stacey cut the deficit to one with an extra-attacker goal in the final minute.
Sophomore goaltender Brittany Bugalski (24 saves) held the fort from there, making several key stops late in the game, including a diving save on Morgan Sakundiak with 90 seconds remaining.
Goal Recaps
- The Huskies took the lead on a power-play goal by Krizova at 5:17 of the first period. After some good work to win the puck in the corner by Savage and junior Shelby Herrington, the disc squirted into the low slot for Krizova to blast home from close range.
- Northeastern doubled the advantage 1:24 into the second period on another power-play goal. Senior Heather Mottau started the play at the left point with a pass to junior McKenna Brand along the half-wall. Brand quickly moved the puck in front to Herrington for a one-timer that was kicked away by Maine netminder Carly Jackson (32 saves). The rebound was not cleared, however, and Savage found the disc first, shoveling a shot over the outstretched pad of Jackson at the left of the cage to make it 2-0.
- Brand added a third goal three minutes into the third period when she capped a 3-on-2 break with a rebound finish at the right of the cage after Jackson had initially stopped a Hayley Scamurra shot.
- Maine made it 3-1 at 13:45 of the third period when Emile Brigham found Tufts open between the circles for a shot that whizzed over the blocker of Bugalski.
- The Black Bears cut it to 3-2 at 19:03 of the final frame when Sakundiak found Stacey alone in front for a one-timer inside the left post.
Noteworthy
- The Huskies held a 35-26 shot advantage.
- Northeastern earned its fourth straight win over Maine.
- With two points, Denisa Krizova extended her point-streak to 10 straight games.
- Krizova has 12 points in six career games vs. Maine.
- With two points, McKenna Brand surpassed the 50-point plateau for her career.
- Shelby Herrington posted her second multi-point game of the season (Oct. 18 vs. BU).
- NU improved to 7-0-1 this season when scoring the first goal.
Up Next
Northeastern will look to finish the weekend strong when it hosts Providence on Sunday at 2 p.m.