Merrimack College Holds On For 3-2 Win At Northeastern
Sophomore forward Emily Volpe scores game-winning goal for Warriors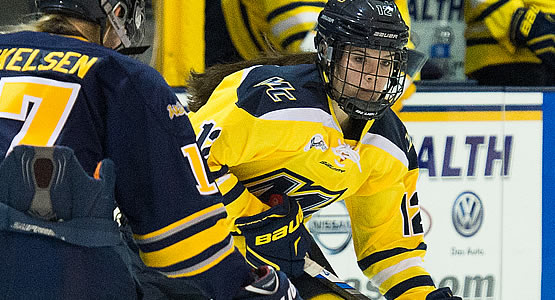 Sophomore forward Emily Volpe scored the game-winning goal for the Warriors
| | | | | | | |
| --- | --- | --- | --- | --- | --- | --- |
| Prd | Time | Team | Score | Type | Scored By | Assists |
| 1st | 9:30 | MER | 1-0 | EV | Felila Manu (1) | Annie Boeckers/2, Marie Delarbre/1 |
| 2nd | 9:35 | MER | 2-0 | EV | Paige Voight (3) | Jessica Bonfe/2, Allison Sexton/6 |
| 2nd | 13:48 | MER | 3-0 | PP GW | Emily Volpe (1) | Mikyla Grant-Mentis/6, Chloe Cook/2 |
| 3rd | 7:13 | NOE | 1-3 | PP | Codie Cross (1) | Denisa Křížová/8, Paige Savage/7 |
| 3rd | 19:57 | NOE | 2-3 | EV EA | Matti Hartman (3) | Lauren Kelly/4, Hayley Scamurra/6 |
| | | | | |
| --- | --- | --- | --- | --- |
| Scoring | 1st | 2nd | 3rd | Final |
| Merrimack | 1 | 2 | 0 | 3 |
| Northeastern | 0 | 0 | 2 | 2 |
| | | | | |
| --- | --- | --- | --- | --- |
| Shots on Goal | 1st | 2nd | 3rd | SOG |
| Merrimack | 16 | 11 | 4 | 31 |
| Northeastern | 8 | 11 | 18 | 37 |
| | | | |
| --- | --- | --- | --- |
| Team Stats and Records | PP | PIM | SHGF |
| Merrimack (4-4-1) | 1/6 | 5/10 | 0 |
| Northeastern (6-3-1) | 1/5 | 6/12 | 0 |
| | | | | | | |
| --- | --- | --- | --- | --- | --- | --- |
| Merrimack Goaltending | MIN | GA | 1 | 2 | 3 | Saves |
| Léa-Kristine Demers (W, 4-4-0) | 59:54 | 2 | 8 | 11 | 16 | 35 |
| Empty Net | 0:06 | 0 | | | | |
| | | | | | | |
| --- | --- | --- | --- | --- | --- | --- |
| Northeastern Goaltending | MIN | GA | 1 | 2 | 3 | Saves |
| Brittany Bugalski (L, 6-2-1) | 56:05 | 3 | 15 | 9 | 4 | 28 |
| Empty Net | 3:55 | 0 | | | | |
BOSTON - The visiting Merrimack Warriors (4-4-1, 2-1-0 WHEA) jumped out to a 3-0 lead in the second period and held off a furious third-period rally by Northeastern (6-3-1, 2-1-0 WHEA) to emerge with a 3-2 victory on Friday evening at Matthews Arena.
Freshmen Codie Cross and Matti Hartman scored for Northeastern, while sophomore Brittany Bugalski turned aside 28 shots.
Goal Recaps
- Using a 16-8 shot advantage in the first period, Merrimack pushed out to a 1-0 lead at the 9:30 mark of the frame when Felila Manu's point shot snuck through traffic and into the back of the cage.
- Merrimack doubled the lead at 9:35 of the second period when Jessica Bonfe threw the puck across the crease and off the skate of Paige Voight and into the back of the net.
- The Warriors added to the scoreline just over four minutes later when Emily Volpe jammed home a rebound at the right of the cage after Brittany Bugalski had initially stopped a redirection from point-blank range.
- Northeastern got on the board at 7:13 of the third period when Cross blasted a low, hard shot inside the right post from the point on the power play.
- The Huskies cut the deficit to one with three seconds remaining when Hartman redirected a Lauren Kelly point-shot into the back of the net with an extra attacker on the ice.
Noteworthy
- Northeastern had its seven-game unbeaten streak snapped.
- The Huskies fell to Merrimack for the first time in program history (3-1-0).
- Codie Cross scored her first collegiate goal.
- Denisa Krizova extended her point streak to nine games with an assist on Cross' goal.
- Northeastern outshot Merrimack by a 37-31 margin, including an 18-4 advantage in the third period.
- Both NU goals were scored by freshmen.
- The Huskies fell to 2-3-1 at home compared to 4-0-0 on the road.
Up Next
The Huskies are off until next weekend when they host Maine (Saturday, 2 p.m.) and Providence (Sunday, 2 p.m.) at Matthews Arena.