Sunday, November 20, 2016
UConn Huskies Play To 1-1 Tie With Vermont Catamounts
Junior forward Justine Fredette scores game-tying goal for Huskies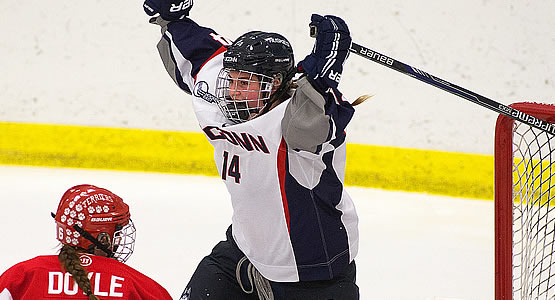 Junior forward Justine Fredette scored the game-tying goal for the Huskies
| | | | | | | |
| --- | --- | --- | --- | --- | --- | --- |
| Prd | Time | Team | Score | Type | Scored By | Assists |
| 1st | 10:03 | VER | 1-0 | EV | Rachael Ade (1) | Saana Valkama/7 |
| 1st | 12:07 | CON | 1-1 | PP GT | Justine Fredette (2) | Theresa Knutson/9, Leah Lum/6 |
| | | | | | |
| --- | --- | --- | --- | --- | --- |
| Scoring | 1st | 2nd | 3rd | OT | Final |
| Connecticut | 1 | 0 | 0 | 0 | 1 |
| Vermont | 1 | 0 | 0 | 0 | 1 |
| | | | | | |
| --- | --- | --- | --- | --- | --- |
| Shots on Goal | 1st | 2nd | 3rd | OT | SOG |
| Connecticut | 15 | 6 | 7 | 4 | 32 |
| Vermont | 11 | 7 | 9 | 0 | 27 |
| | | | |
| --- | --- | --- | --- |
| Team Stats and Records | PP | PIM | SHGF |
| Connecticut (8-4-2) | 1/5 | 5/10 | 0 |
| Vermont (3-5-4) | 0/5 | 5/10 | 0 |
| | | | | | | | |
| --- | --- | --- | --- | --- | --- | --- | --- |
| Connecticut Goaltending | MIN | GA | 1 | 2 | 3 | OT | Saves |
| Annie Belanger (T, 5-4-2) | 65:00 | 1 | 10 | 7 | 9 | 0 | 26 |
| | | | | | | | |
| --- | --- | --- | --- | --- | --- | --- | --- |
| Vermont Goaltending | MIN | GA | 1 | 2 | 3 | OT | Saves |
| Madison Litchfield (T, 2-1-3) | 65:00 | 1 | 14 | 6 | 7 | 4 | 31 |
BURLINGTON, Vt. - Rachael Ade along with UConn's Justine Fredette scored the game's only goals just 2:04 apart in the first period as the Vermont women's hockey team skated to a 1-1 tie with the Huskies on Sunday afternoon at Gutterson Fieldhouse.
With UVM's third consecutive tie, the squad now sits at 3-5-4 on the season and 2-2-4 against Hockey East foes, while UConn is now 8-4-2 and 3-2-1 in league contests.
"This game was another great Hockey East battle," said head coach Jim Plumer. "Our conference has as much parity as its ever had and every point is important."
Ade put the Catamounts on the board at 10:03 of the opening frame on a set up from Saana Valkama. Ade corralled the puck just outside the blue line and skated into the offensive zone, dishing to Valkama in the right circle. Valkama then sent the puck back to Ade on the doorstep where she used a nifty move to find the back of the net.
The 1-0 advantage was short lived, however, as Fredette soon thereafter found the power play equalizer for UConn. Theresa Knutson fired a shot from the top of the left circle, then Fredette cleaned up the rebound.
Vermont had one final opportunity for the game-winner in the third period while on the man advantage. Taylor Willard received a pass in the left circle and fired from the faceoff dot but the attempt was blocked, allowing the Huskies to clear the zone.
UVM also had chances in overtime, stringing together three shots, while Madison Litchfield turned aside four pucks at the other end in the extra five minutes.
Litchfield made 31 saves on the afternoon, while her counterpart, Annie Belanger, tallied 26 stops for UConn.
The Catamounts will now prepare for the second annual Windjammer Classic at Gutterson Fieldhouse, beginning on Friday (Nov. 25) when UVM hosts St. Cloud State at 4 p.m.