Providence Sweeps Weekend Series With 4-1 Win Over UConn
Sophomore forward Cassidy MacPherson records goal and assist for Friars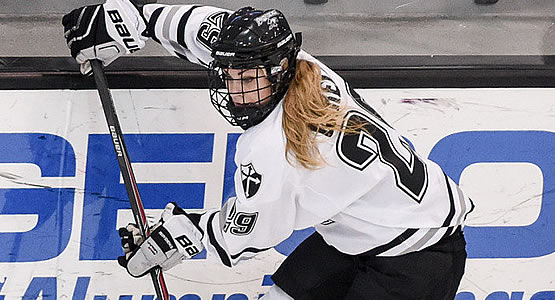 Senior forward Cassidy Carels scored a goal for the Friars
| | | | | | | |
| --- | --- | --- | --- | --- | --- | --- |
| Prd | Time | Team | Score | Type | Scored By | Assists |
| 1st | 19:11 | PRV | 1-0 | PP | Cassidy MacPherson (6) | Meaghan Rickard/6, Rachel Rockwell/10 |
| 2nd | 11:36 | PRV | 2-0 | EV GW | Brooke Boquist (13) | Kathleen McHugh/2, Christina Putigna/12 |
| 3rd | 0:27 | PRV | 3-0 | EV | Cassidy Carels (14) | Avery Fransoo/9 |
| 3rd | 10:18 | CON | 1-3 | EV EA DP | Justine Fredette (4) | Cydnee Cook/2, Nora Maclaine/4 |
| 3rd | 13:13 | PRV | 4-1 | EV | Lauren Klein (1) | Avery Fransoo/10, Cassidy MacPherson/9 |
| | | | | |
| --- | --- | --- | --- | --- |
| Scoring | 1st | 2nd | 3rd | Final |
| Connecticut | 0 | 0 | 1 | 1 |
| Providence | 1 | 1 | 2 | 4 |
| | | | | |
| --- | --- | --- | --- | --- |
| Shots on Goal | 1st | 2nd | 3rd | SOG |
| Connecticut | 11 | 2 | 9 | 22 |
| Providence | 6 | 11 | 8 | 25 |
| | | | |
| --- | --- | --- | --- |
| Team Stats and Records | PP | PIM | SHGF |
| Connecticut (11-10-3) | 0/7 | 7/22 | 0 |
| Providence (12-11-1) | 1/5 | 8/16 | 0 |
| | | | | | | |
| --- | --- | --- | --- | --- | --- | --- |
| Connecticut Goaltending | MIN | GA | 1 | 2 | 3 | Saves |
| Morgan Fisher (L, 3-2-0) | 59:47 | 4 | 5 | 10 | 6 | 21 |
| Empty Net | 0:13 | 0 | | | | |
| | | | | | | |
| --- | --- | --- | --- | --- | --- | --- |
| Providence Goaltending | MIN | GA | 1 | 2 | 3 | Saves |
| Madison Myers (W, 6-8-1) | 59:52 | 1 | 11 | 2 | 8 | 21 |
| Empty Net | 0:08 | 0 | | | | |
PROVIDENCE, R.I. - The Providence College women's hockey team defeated the University of Connecticut, 4-1, on Sunday, Jan. 15 at Schneider Arena in Providence, R.I. With the win, the Friars improved to 12-11-1 (7-6-1 WHEA), while the Huskies moved to 11-10-3 (6-7-1 WHEA).
Providence took a 1-0 lead at 19:11 of the first period with a power play goal from Cassidy MacPherson (Oakville, Ontario). Rachel Rockwell (Broadview Heights, Ohio) sent a bouncing puck in to the slot, where Meaghan Rickard (Coventry, R.I.) chipped the puck across the crease to a wide open MacPherson at the back door.
Brooke Boquist (Thunder Bay, Ontario) extended her point streak to five games with a top shelf goal at 11:36 of the second period to give the Friars a 2-0 lead. Christina Putigna (Grimsby, Ontario) broke out the puck to Kathleen McHugh (Billerica, Mass.) in the neutral zone. McHugh fed Boquist, who deked between two Connecticut defenders to give herself a one-on-one opportunity with goaltender Morgan Fisher and scored just under the cross bar.
After two periods, Providence outshot UConn, 17-13, holding the Huskies to just two shots in the second period.
Providence took a 3-0 lead just 27 seconds into the third period when Cassidy Carels (Bruxelles, Manitoba) scored her 14th goal of the season. Carels picked up a breakout pass from Avery Fransoo (North Battleford, Saskatchewan) and skated into the offensive zone and wristed a shot top-shelf.
UConn cut Providence's lead to 3-1 at 10:18 with a goal from Justine Fredette, assisted by Cydnee Cook.
The Friars scored the final goal of the game at the 13:13 mark with a slapshot from the point from Lauren Klein (Shoreview, Minn.). Fransoo and Macpherson were credited with the assists on the goal to record two points each in the game.
The Friars will return to action with a home game versus Boston University at 2:00 p.m. on Saturday, Jan. 12 at Schneider Arena in Providence, R.I.