Saturday, October 22, 2016
New Hampshire Downed By Clarkson, 3-1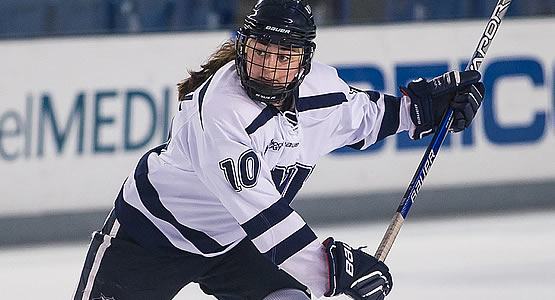 Junior defenseman Amy Schlagel scored a goal for the Wildcats
| | | | | | | |
| --- | --- | --- | --- | --- | --- | --- |
| Prd | Time | Team | Score | Type | Scored By | Assists |
| 1st | 0:42 | UNH | 1-0 | EV | Amy Schlagel (1) | Taylor Wenczkowski/1, Jonna Curtis/3 |
| 2nd | 3:58 | CLK | 1-1 | EV | Savannah Harmon (1) | Genevičve Bannon/3, Rhyen McGill/2 |
| 2nd | 15:35 | CLK | 2-1 | EV GW | Corie Jacobson (3) | Cayley Mercer/3 |
| 3rd | 2:44 | CLK | 3-1 | EV | Michaela Pejzlová (2) | Cayley Mercer/4, Taylor Turnquist/1 |
| | | | | |
| --- | --- | --- | --- | --- |
| Scoring | 1st | 2nd | 3rd | Final |
| Clarkson | 0 | 2 | 1 | 3 |
| New Hampshire | 1 | 0 | 0 | 1 |
| | | | | |
| --- | --- | --- | --- | --- |
| Shots on Goal | 1st | 2nd | 3rd | SOG |
| Clarkson | 11 | 14 | 10 | 35 |
| New Hampshire | 8 | 5 | 10 | 23 |
| | | | |
| --- | --- | --- | --- |
| Team Stats and Records | PP | PIM | SHGF |
| Clarkson (3-3-1) | 0/5 | 7/14 | 0 |
| New Hampshire (1-6-0) | 0/5 | 6/12 | 0 |
| | | | | | | |
| --- | --- | --- | --- | --- | --- | --- |
| Clarkson Goaltending | MIN | GA | 1 | 2 | 3 | Saves |
| Shea Tiley (W, 3-3-1) | 60:00 | 1 | 7 | 5 | 10 | 22 |
| | | | | | | |
| --- | --- | --- | --- | --- | --- | --- |
| New Hampshire Goaltending | MIN | GA | 1 | 2 | 3 | Saves |
| Kyra Smith (L, 0-4-0) | 58:03 | 3 | 11 | 12 | 9 | 32 |
| Empty Net | 1:57 | 0 | | | | |
DURHAM, N.H. - Junior defenseman Amy Schlagel scored a goal but New Hampshire was defeated, 3-1, on Saturday afternoon at the Whittemore Center.
GAME INFORMATION
Date: October 22, 2016 (2:00 p.m.)
Score: No. 8 Clarkson University 3, University of New Hampshire 1
New Records: New Hampshire (1-6-0, 0-0-0 HE) // Clarkson (3-3-1, 0-0-0 ECAC)
Location: Whittemore Center Arena (Durham, N.H.)
Goal Scorers: New Hampshire - Amy Schlagel (1); Clarkson - Savannah Harmon (1), Corie Jacobson (1), Michaela Pejzova (1)
Goaltenders: UNH - Kyra Smith (0-4-0) 32 saves (11 | 12 | 9 - 58:03); Clarkson- Shea Tiley (3-3-1) 22 saves (7 |5 | 10 - 60:00)
Next Game: Sunday, Oct. 23, 2016 vs. Clarkson University (2:00 p.m.)
WHAT HAPPENED
The Wildcats took an early 1-0 lead just 42 seconds into the first period as Amy Schlagel (Blaine, Minnesota) recorded her first goal of the season. Jonna Curtis (Elk River, Minn.) started the play as she saucered a pass over to Taylor Wenczowski (Rochester, N.H.). She in turn flung a pass to Schlagel who ripped a shot that made its way past Clarkson netminder Shea Tiley.
Clarkson scored a pair of goals in the second period to take a 2-1 lead. The first came at 3:58 in the second stanza when Savannah Harmon fired a shot from the top of the slot into the net. Genevieve Bannon gathered the puck along the boards to the left of UNH goalie Kyra Smith (Littleton, Colo.) and passed it to Harmon to the spot where she took her shot.
The second goal of the period came at the 15:35 mark by Corie Jacobson for her first point of the day. Cayley Mercer earned an assist on the play as she started the play with a pass to Jacobson. The Golden Knights took a 3-1 lead 2:44 into the third period due to a goal by Michaela Pejzlova. Jacobson notched her second point of the game on the play with the assist.
PENALTIES
New Hampshire: 6 penalties - 12 minutes
Clarkson: 7 penalties - 14 minutes
SPECIAL TEAMS
New Hampshire: 0-for-5
Clarkson: 0-for-5
NEW HAMPSHIRE LEADERS
Points: Amy Schlagel (1), Taylor Wenczowski (1), Jonna Curtis (1)
Goals: Amy Schlagel (1)
Assists: Taylor Wenczowski (1), Jonna Curtis (1)
Shots: Taylor Wenczowski (4)
CLARKSON LEADERS
Points: Corie Jacobson (2)
Goals: Corie Jacobson (1), Savannah Harmon (1), Michaela Pejzlova
Assists: Corie Jacobson (1), Cayley Mercer (1), Genevieve Bannon (1)