Saturday, September 24, 2016
Elia Hat Trick Leads Boston University Past Whitby Wolves, 6-0
Senior forward Maddie Elia has hat trick and assist for Terriers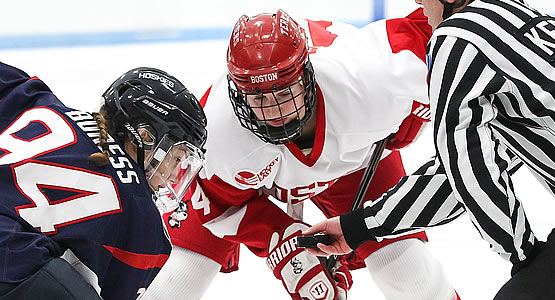 Senior forward Maddie Elia had a hat trick and an assist for the Terriers
| | | | | | | |
| --- | --- | --- | --- | --- | --- | --- |
| Prd | Time | Team | Score | Type | Scored By | Assists |
| 1st | 1:33 | BU | 1-0 | EV GW | Maddie Elia | Rebecca Leslie |
| 1st | 10:35 | BU | 2-0 | PP | Sammy Davis | Nina Rodgers, Samantha Sutherland |
| 1st | 11:03 | BU | 3-0 | PP | Maddie Elia | Victoria Bach, Rebecca Leslie |
| 2nd | 2:54 | BU | 4-0 | PP | Sammy Davis | Savannah Newton |
| 3rd | 1:30 | BU | 5-0 | EV | Rebecca Leslie | Maddie Elia, Sarah Steele |
| 3rd | 16:02 | BU | 6-0 | PP | Maddie Elia | Mary Parker, Victoria Bach |
| | | | | |
| --- | --- | --- | --- | --- |
| Scoring | 1st | 2nd | 3rd | Final |
| Whitby Wolves | 0 | 0 | 0 | 0 |
| Boston University | 3 | 1 | 2 | 6 |
| | | | | |
| --- | --- | --- | --- | --- |
| Shots on Goal | 1st | 2nd | 3rd | SOG |
| Whitby Wolves | 4 | 2 | 2 | 8 |
| Boston University | 9 | 12 | 17 | 38 |
| | | | |
| --- | --- | --- | --- |
| Team Stats and Records | PP | PIM | SHGF |
| Whitby Wolves | 0/3 | 4/8 | 0 |
| Boston University | 4/4 | 3/6 | 0 |
| | | | | | | |
| --- | --- | --- | --- | --- | --- | --- |
| Whitby Wolves Goaltending | MIN | GA | 1 | 2 | 3 | Saves |
| Rachel McQuigge (L) | 30:57 | 4 | 6 | 8 | 0 | 14 |
| Makenzy Arsenault | 29:03 | 2 | 0 | 3 | 15 | 18 |
| | | | | | | |
| --- | --- | --- | --- | --- | --- | --- |
| Boston University Goaltending | MIN | GA | 1 | 2 | 3 | Saves |
| Victoria Hanson (W) | 20:00 | 0 | 4 | 0 | 0 | 4 |
| Erin O'Neil | 20:00 | 0 | 0 | 2 | 0 | 2 |
| Ashlyn Aiello | 20:00 | 0 | 0 | 0 | 2 | 2 |
BOSTON - Senior Maddie Elia recorded a hat trick as part of a four-point afternoon to help lead the No. 10 Boston University women's ice hockey team past Whitby Jr. Wolves, 6-0, in an exhibition contest on Saturday at Walter Brown Arena.
THE RUNDOWN
Final Score: #10 Boston University 6, Whitby Wolves 0
Records: BU (0-0-0), Whitby (5-2-0)
Location: Walter Brown Arena - Boston, Mass.
HOW IT HAPPENED
- Elia scored twice in the first period, including the opening marker of the game just 1:33 into the contest.
- Sophomore Sammy Davis added two goals, including a redirect of a Savannah Newton shot in the second stanza.
- Junior Rebecca Leslie added three points (1g, 2a) while classmate Victoria Bach finished with two assists.
- Junior Nina Rodgers, senior Samantha Sutherland, graduate student Mary Parker and senior Sarah Steele also each had an assist
- All three Terrier netminders combined for the shutout. Senior Victoria Hanson got the start and made four saves. Juniors Erin O'Neil and Ashlyn Aiello played the second and third periods, respectively, and each made two saves.
GAME NOTES
- The Terriers are now 11-2-1 all-time in exhibition contests.
- Elia also had a hat trick last season at Walter Brown Arena, scoring three times in a 7-1 win over Yale on Nov. 3, 2016
- Aiello has yet to allow a goal in any collegiate appearance, exhibition or regular-season.
- BU was 4-of-4 on the power play and generated 10 shot attempts during those chances.
- The Terriers also held Whitby to an 0-for-3 mark with a player advantage.
NEXT UP
- BU will open the regular-season schedule on Sunday when the Terriers welcome league foe Providence to Walter Brown Arena at 3 p.m.
- The game will be broadcast for free live on Terrier TV.