Valkama Leads Vermont Past Boston University, 3-2
Sophomore forward Saana Valkama has goal and two assists for Catamounts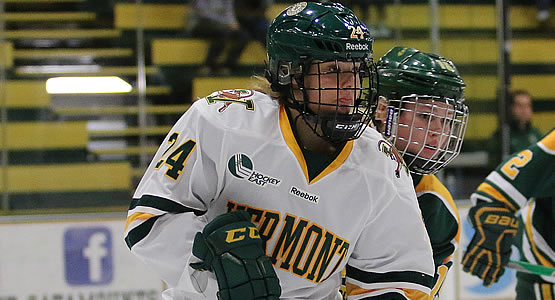 Sophomore forward Saana Valkama had a goal and two assists for the Catamounts
| | | | | | | |
| --- | --- | --- | --- | --- | --- | --- |
| Prd | Time | Team | Score | Type | Scored By | Assists |
| 1st | 3:05 | VER | 1-0 | PP | Ève-Audrey Picard (3) | Saana Valkama/2, Daria O'Neill/1 |
| 1st | 12:45 | BU | 1-1 | EV | Samantha Sutherland (6) | Abby Cook/2, Sammy Davis/7 |
| 1st | 18:34 | VER | 2-1 | EV | Saana Valkama (1) | Ève-Audrey Picard/1 |
| 3rd | 12:36 | BU | 2-2 | EV | Samantha Sutherland (7) | Sammy Davis/8 |
| 3rd | 15:01 | VER | 3-2 | EV GW | Alyssa Gorecki (1) | Saana Valkama/3, Daria O'Neill/2 |
| | | | | |
| --- | --- | --- | --- | --- |
| Scoring | 1st | 2nd | 3rd | Final |
| Boston University | 1 | 0 | 1 | 2 |
| Vermont | 2 | 0 | 1 | 3 |
| | | | | |
| --- | --- | --- | --- | --- |
| Shots on Goal | 1st | 2nd | 3rd | SOG |
| Boston University | 8 | 19 | 13 | 40 |
| Vermont | 10 | 14 | 15 | 39 |
| | | | |
| --- | --- | --- | --- |
| Team Stats and Records | PP | PIM | SHGF |
| Boston University (2-1-0) | 0/7 | 7/14 | 0 |
| Vermont (2-0-0) | 1/6 | 8/16 | 0 |
| | | | | | | |
| --- | --- | --- | --- | --- | --- | --- |
| Boston University Goaltending | MIN | GA | 1 | 2 | 3 | Saves |
| Victoria Hanson (L, 1-1-0) | 58:50 | 3 | 8 | 14 | 14 | 36 |
| Empty Net | 1:10 | 0 | | | | |
| | | | | | | |
| --- | --- | --- | --- | --- | --- | --- |
| Vermont Goaltending | MIN | GA | 1 | 2 | 3 | Saves |
| Melissa Black (W, 1-0-0) | 60:00 | 2 | 7 | 19 | 12 | 38 |
BURLINGTON, Vt. - Melissa Black stopped 38 shots in her Catamounts debut and Alyssa Gorecki notched the game-winner late in the third period to lift the Vermont women's hockey team past No. 9/10 Boston University 3-2 on Sunday afternoon at Gutterson Fieldhouse.
Vermont is now 2-0-0 after taking its Hockey East opener, while the Terriers fall to 2-1-0 on the season and the same mark in league action. The Catamounts also have now won their first Hockey East contest in each of the last six seasons.
"We felt good about how we've been playing and we wanted to see how we measured up to one of the best teams in our league," said head coach Jim Plumer. "The huge takeaway for us is that we can get up and down the ice with these guys. I think it was a fantastic hockey game for both teams."
The Catamounts needed minimal time to strike first, jumping out to a 1-0 lead at the 3:05 mark of the first period. Saana Valkama sent a pass back to the right point and Daria O'Neill, who sent a shot on goal that was stopped by goaltender Victoria Hanson. Valkama directed the rebound to Eve-Audrey Picard, who skated across the goalmouth and backhanded the puck into the back of the net for her third goal of the young season.
BU tied the game just under 10 minutes later when Samantha Sutherland pocketed her sixth goal. Sutherland skated into the offensive zone and went top shelf between two Catamounts to move the score to 1-1.
Valkama was next to mark the scoresheet, putting the Catamounts back ahead just before the first intermission. Picard skated behind the BU net and found Valkama on a pass through the crease, allowing the sophomore to lift the puck above the glove of Hanson at 18:34.
After a scoreless second period, Sutherland added her second tally of the game from the right circle in the middle stages of the third frame. Black got a piece of the shot at 12:36, but the puck ultimately rolled home to tie the score once again, this time at two-all.
Gorecki capped the day's scoring at the 15:01 mark of the final stanza. O'Neill began the sequence with a shot from the center point, with the ensuing rebound put on net by Valkama. The puck came loose once again, opening the door for Gorecki to tap it into the goal amid a scramble for her first goal of the season.
UVM was effective on the penalty kill, keeping the Terriers off the board on all seven power play opportunities.
The Catamounts now prepare to travel to Pennsylvania for a weekend series at Robert Morris. Puck drop in the opening tilt is set for 7 p.m. on Friday, Oct. 14.