Boston University Notches 5-1 Win Over New Hampshire
Senior forward Samantha Sutherland scores two goals for Terriers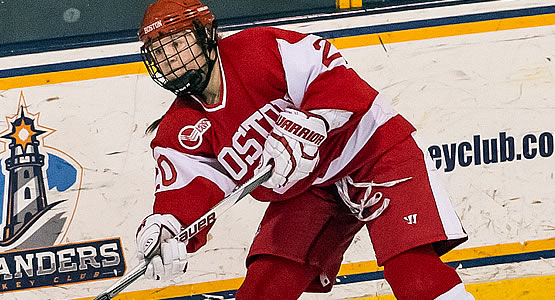 Senior forward Samantha Sutherland scored two goals for the Terriers
| | | | | | | |
| --- | --- | --- | --- | --- | --- | --- |
| Prd | Time | Team | Score | Type | Scored By | Assists |
| 1st | 1:23 | BU | 1-0 | EV | Maddie Elia (2) | Rebecca Leslie/2, Savannah Newton/1 |
| 1st | 16:07 | UNH | 1-1 | EV | Carlee Toews (1) | Meghara McManus/1, Lexie Revkin/1 |
| 2nd | 2:57 | BU | 2-1 | EV GW | Natasza Tarnowski (1) | Sammy Davis/4, Connor Galway/1 |
| 2nd | 9:21 | BU | 3-1 | EV | Victoria Bach (1) | Mary Parker/1 |
| 3rd | 9:02 | BU | 4-1 | PP | Samantha Sutherland (4) | Sammy Davis/5, Savannah Newton/2 |
| 3rd | 19:03 | BU | 5-1 | EV | Samantha Sutherland (5) | Sammy Davis/6, Alexandra Calderone/1 |
| | | | | |
| --- | --- | --- | --- | --- |
| Scoring | 1st | 2nd | 3rd | Final |
| New Hampshire | 1 | 0 | 0 | 1 |
| Boston University | 1 | 2 | 2 | 5 |
| | | | | |
| --- | --- | --- | --- | --- |
| Shots on Goal | 1st | 2nd | 3rd | SOG |
| New Hampshire | 10 | 6 | 3 | 19 |
| Boston University | 11 | 12 | 18 | 41 |
| | | | |
| --- | --- | --- | --- |
| Team Stats and Records | PP | PIM | SHGF |
| New Hampshire (0-3-0) | 0/4 | 8/16 | 0 |
| Boston University (2-0-0) | 1/7 | 4/8 | 0 |
| | | | | | | |
| --- | --- | --- | --- | --- | --- | --- |
| New Hampshire Goaltending | MIN | GA | 1 | 2 | 3 | Saves |
| Kyra Smith (L, 0-2-0) | 60:00 | 5 | 10 | 10 | 16 | 36 |
| | | | | | | |
| --- | --- | --- | --- | --- | --- | --- |
| Boston University Goaltending | MIN | GA | 1 | 2 | 3 | Saves |
| Erin O'Neil (W, 1-0-0) | 59:46 | 1 | 9 | 6 | 3 | 18 |
| Empty Net | 0:14 | 0 | | | | |
BOSTON - Freshman Natasza Tarnowski notched her first collegiate goal and senior Samantha Sutherland added two goals of her own to help lead the No. 9/10 Boston University women's ice hockey team to a 5-1 win over New Hampshire on Friday night at Walter Brown Arena.
THE RUNDOWN
Final Score: #9/10 Boston University 5, New Hampshire 1
Records: BU (2-0-0, 2-0-0 WHEA), New Hampshire (0-3-0, 0-1-0 WHEA)
Location: Walter Brown Arena - Boston, Mass.
GOAL-BY-GOAL
- Senior Maddie Elia's second goal of the season opened the scoring just 1:33 into the proceedings. Junior Savannah Newton began the play with a shot from the right point. Classmate Rebecca Leslie's rebound attempt was stuffed before Elia pushed the puck past Kyra Smith (36 saves).
- UNH evened the score, 1-1, on a Carlee Towes strike, and that's how the teams entered the second stanza.
- Tarnowski's goal 2:57 into the middle frame proved to be the game-winner. Sophomores Sammy Davis and Connor Galway provided the assists.
- Junior Victoria Bach made it 3-1 9:21 into the second period after converting a cross-crease pass from graduate student Mary Parker.
- Sutherland made it 4-1 at 9:02 of the third frame with a power-play goal. Newton and senior Sarah Steele had the helpers.
- Freshman Alexandra Calderone collected her first collegiate point with an assist on Sutherland's fifth goal of the season, which closed the scoring with 56.5 seconds on the clock.
DELAY OF GAME
- Friday's game was delayed by an hour and a half after New Hampshire's bus broke down en route to Boston.
O'NEIL EARNS FIRST WIN
- Junior goaltender Erin O'Neil made her first start of the season and made 18 saves to earn the win.
- The defense was strong in front of her, allowing just 19 total shots and only three attempts on goal in the final frame.
PENALTY KILL REMAINS PERFECT
- BU went 4-of-4 on the penalty kill Friday night, with two of those successful kills coming in the third period.
- The Terriers are now 11-of-11 against opposing power plays this season.
GAME NOTES
- Sutherland leads the nation with an average of 2.50 goals per game and is second in the country in total goals with five.
- Davis is second among all NCAA skaters with five assists
- Bach, Davis, Elia, Parker, Leslie and Sutherland have all secured at least one point in both games this season.
- The Terriers have yet to trail this season and have only been tied for 13:21 of the 120 minutes that they have played.
UP NEXT
- BU will travel to Vermont to play the Catamounts Sunday at 2 p.m.