Boston University Skates To 3-3 Tie With Penn State
Senior forward Maddie Elia has game-tying goal and assist for Terriers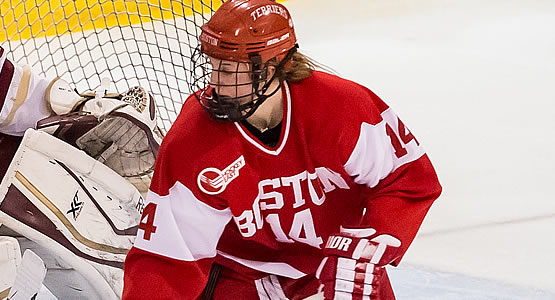 Senior forward Maddie Elia had a goal and an assist for the Terriers
| | | | | | | |
| --- | --- | --- | --- | --- | --- | --- |
| Prd | Time | Team | Score | Type | Scored By | Assists |
| 1st | 11:58 | PSU | 1-0 | EV | Bella Sutton (1) | Laura Bowman/3, Brooke Madsen/5 |
| 2nd | 1:09 | BU | 1-1 | EV | Mary Parker (2) | Victoria Bach/3, Alexis Crossley/1 |
| 2nd | 3:24 | BU | 2-1 | PP | Alexis Crossley (1) | Rebecca Leslie/3, Maddie Elia/1 |
| 2nd | 10:09 | PSU | 2-2 | EV | Laura Bowman (6) | Irene Kiroplis/1, Amy Petersen/3 |
| 3rd | 4:49 | PSU | 3-2 | PP | Amy Petersen (4) | Brooke Madsen/6 |
| 3rd | 8:30 | BU | 3-3 | EV GT | Maddie Elia (3) | Rebecca Leslie/4, Connor Galway/2 |
| | | | | | |
| --- | --- | --- | --- | --- | --- |
| Scoring | 1st | 2nd | 3rd | OT | Final |
| Boston University | 0 | 2 | 1 | 0 | 3 |
| Penn State | 1 | 1 | 1 | 0 | 3 |
| | | | | | |
| --- | --- | --- | --- | --- | --- |
| Shots on Goal | 1st | 2nd | 3rd | OT | SOG |
| Boston University | 9 | 11 | 10 | 2 | 32 |
| Penn State | 11 | 10 | 11 | 3 | 35 |
| | | | |
| --- | --- | --- | --- |
| Team Stats and Records | PP | PIM | SHGF |
| Boston University (2-1-1) | 1/2 | 5/10 | 0 |
| Penn State (1-3-1) | 1/5 | 2/4 | 0 |
| | | | | | | | |
| --- | --- | --- | --- | --- | --- | --- | --- |
| Boston University Goaltending | MIN | GA | 1 | 2 | 3 | OT | Saves |
| Erin O'Neil (T, 1-0-1) | 65:00 | 3 | 10 | 9 | 10 | 3 | 32 |
| | | | | | | | |
| --- | --- | --- | --- | --- | --- | --- | --- |
| Penn State Goaltending | MIN | GA | 1 | 2 | 3 | OT | Saves |
| Hannah Ehresmann (T, 0-2-1) | 65:00 | 3 | 9 | 9 | 9 | 2 | 29 |
UNIVERSITY PARK, Pa. - Seniors Alexis Crossley and Maddie Elia each had a goal and an assist to help the Boston University women's ice hockey team skate to a 3-3 tie at Penn State on Friday night at Pegula Ice Arena.
THE RUNDOWN
Final Score: Boston University 3, Penn State 3 (OT) Records: BU (2-1-1, 2-1-0 WHEA), Penn State (1-3-1, 0-0-0 CHA) Location: Pegula Ice Arena - University Park, Pa.
GOAL-BY-GOAL
- Penn State took a 1-0 lead into the first intermission thanks to a Bell Sutton goal.
- BU evened the score just 1:09 into the second stanza. Junior Victoria Bach skated the puck out of the defensive zone and eventually dished to graduate student Mary Parker. Parker tried to feed the puck back to Bach, but the pass was blocked by a Penn State defender. It bounced right back to Parker, however, and she quickly deposited her second goal of the season.
- Just 2:15 later, Crossley was given too much time and space on the power play and she uncorked a wrist shot past Hannah Ehresmann (20 saves).
- The Nittany Lions tied the score late in the second stanza and then tacked on a power-play goal early in the third period to take a 3-2 lead.
- Elia made it 3-3 at the 8:30 mark of the final frame when she skated up the right wing, dangled by a defender and slid the puck underneath Ehresmann's pads.
GAME NOTES
- Junior Erin O'Neil made 32 saves, including a terrific stop halfway through overtime when a Nittany Lion got behind the BU defense.
- This was the first overtime game for BU since Dec. 5, 2015, when the Terriers tied UConn, 4-4.
- Junior Rebecca Leslie had a pair of assists, including a helper on the game-tying goal. Sophomore Connor Galway also assisted on Elia's goal.
- The Terriers have scored at least three goals in all but one game this season.
UP NEXT
- BU will conclude its weekend series with Penn State on Saturday at 2 p.m.