Saturday, January 21, 2017
Boston University, Providence Skate To 5-5 Tie
Junior Victoria Bach records third career hat trick for Terriers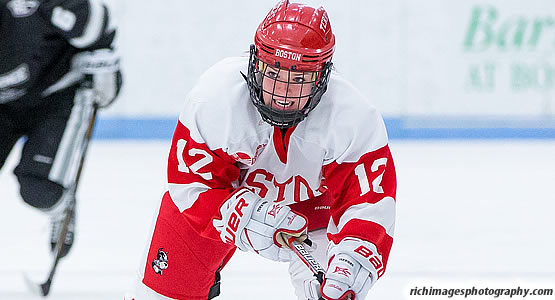 Junior Victoria Bach scored her third career hat trick for the Terriers
| | | | | | | |
| --- | --- | --- | --- | --- | --- | --- |
| Prd | Time | Team | Score | Type | Scored By | Assists |
| 1st | 8:19 | BU | 1-0 | EV | Victoria Bach (14) | Savannah Newton/9, Alexis Crossley/11 |
| 1st | 15:17 | PRV | 1-1 | EV | Cassidy Carels (15) | Whitney Dove/12 |
| 2nd | 8:38 | BU | 2-1 | EV | Rebecca Leslie (6) | Nina Rodgers/14, Connor Galway/5 |
| 2nd | 14:46 | BU | 3-1 | PP | Victoria Bach (15) | Samantha Sutherland/10, Alexis Crossley/12 |
| 2nd | 15:59 | BU | 4-1 | PP | Victoria Bach (16) | Mary Parker/13, Alexis Crossley/13 |
| 2nd | 18:41 | PRV | 2-4 | EV | Meaghan Rickard (3) | Avery Fransoo/11 |
| 3rd | 4:12 | PRV | 3-4 | EV | Meaghan Rickard (4) | Whitney Dove/13, Cassidy MacPherson/10 |
| 3rd | 13:11 | PRV | 4-4 | EV | Kathleen McHugh (2) | Whitney Dove/14, Christina Putigna/13 |
| 3rd | 15:03 | PRV | 5-4 | EV | Blair Parent (9) | Meaghan Rickard/7, Cassidy MacPherson/11 |
| 3rd | 17:28 | BU | 5-5 | EV GT | Rebecca Leslie (7) | Mary Parker/14, Alexis Crossley/14 |
| | | | | | |
| --- | --- | --- | --- | --- | --- |
| Scoring | 1st | 2nd | 3rd | OT | Final |
| Boston University | 1 | 3 | 1 | 0 | 5 |
| Providence | 1 | 1 | 3 | 0 | 5 |
| | | | | | |
| --- | --- | --- | --- | --- | --- |
| Shots on Goal | 1st | 2nd | 3rd | OT | SOG |
| Boston University | 4 | 9 | 8 | 3 | 24 |
| Providence | 20 | 12 | 9 | 5 | 46 |
| | | | |
| --- | --- | --- | --- |
| Team Stats and Records | PP | PIM | SHGF |
| Boston University (12-8-5) | 2/3 | 3/6 | 0 |
| Providence (12-11-2) | 0/3 | 3/6 | 0 |
| | | | | | | | |
| --- | --- | --- | --- | --- | --- | --- | --- |
| Boston University Goaltending | MIN | GA | 1 | 2 | 3 | OT | Saves |
| Victoria Hanson (T, 8-5-4) | 65:00 | 5 | 19 | 11 | 6 | 5 | 41 |
| | | | | | | | |
| --- | --- | --- | --- | --- | --- | --- | --- |
| Providence Goaltending | MIN | GA | 1 | 2 | 3 | OT | Saves |
| Madison Myers (T, 6-8-2) | 65:00 | 5 | 3 | 6 | 7 | 3 | 19 |
The Providence College Friars skated to a 5-5 tie with Boston University on Jan. 21 after finding themselves down 4-1 in the second period. The Friars move to 12-11-2 (7-6-2 HE) and the Terriers move to 12-8-5 (7-7-4 HE).
In the first period, Providence outshot Boston University, 20-4, but finished the first twenty minutes tied 1-1.
The Terriers got on the board first at 8:19 with a goal from Victoria Bach.
The Friars responded seven minutes later when Cassidy Carels (Bruxelles, Manitoba) tallied her fifteenth goal of the season. Whitney Dove (Port Moody, British Columbia) moved the puck from behind the net to Carels, who ripped a shot from the slot right past BU's Victoria Hanson.
BU scored at 8:38 of the second period to take back the lead by way of Rebecca Leslie.
The Terriers extended their lead to 4-1 when Victoria Bach scored two power play goals at 14:46 and 15:59.
With 1:19 remaining in the second period Meaghan Rickard (Coventry, Conn.) scored her first goal of the game after Avery Fransoo (North Battleford, Saskatchewan) chipped a puck into the neutral zone, sending Rickard into the offensive zone on a two-on-one. The freshman forward lifted the puck just below the cross bar to cut BU's lead to 4-2.
Rickard scored her second goal of the game 4:12 minutes into the third period when Dove took a point shot after receiving the puck from Cassidy MacPherson (Oakville, Ont.). Rickard tipped the Dove shot from the high slot to put the Friars within one goal.
With less than seven minutes remaining in regulation Kathleen McHugh (Billerica, Mass.) buried a wraparound shot to tie the game at 4-4. For her third assist of the game Whitney Dove picked up a puck from Christina Putigna (Grimsby, Ontario) and fed McHugh near the goal line, who skated around the net and scored her second career goal.
Less than two minutes later, Providence's Blair Parent (Blaine, Minn.) scored her ninth goal of the season and gave the Friars a 5-4 lead. MacPherson tallied her second assist of the day and her fifth point in three games, sliding the puck across the offensive zone for Parent.
At 17:28 of the third period, Rebecca Leslie scored to tie the game, 5-5.
Madison Myers (Colchester, Vt.) made three saves in overtime and the Friars recorded five shots, including a two-on-one opportunity with less than a minute remaining. Neither team converted and ended the game in a 5-5 tie.
The two teams will face off at 3:00p.m. on Jan. 22 at Walter Brown Arena to finish the Hockey East series.