Tuesday, October 25, 2016
Northeastern Holds On Against Boston University, 4-3
Senior forward Hayley Scamurra has goal and two assists for Huskies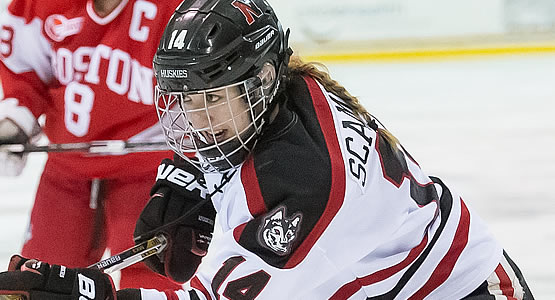 Senior forward Hayley Scamurra had a goal and two assists for the Huskies
| | | | | | | |
| --- | --- | --- | --- | --- | --- | --- |
| Prd | Time | Team | Score | Type | Scored By | Assists |
| 1st | 1:07 | NOE | 1-0 | EV | McKenna Brand (5) | Hayley Scamurra/4, Denisa Křížová/6 |
| 1st | 5:52 | NOE | 2-0 | SH | Maddie Hartman (1) | Paige Savage/6 |
| 1st | 11:48 | BU | 1-2 | PP | Maddie Elia (5) | Samantha Sutherland/3, Savannah Newton/3 |
| 2nd | 5:16 | NOE | 3-1 | PP | McKenna Brand (6) | Hayley Scamurra/5, Denisa Křížová/7 |
| 2nd | 14:55 | NOE | 4-1 | SH GW | Hayley Scamurra (3) | Ainsley MacMillan/2 |
| 2nd | 16:20 | BU | 2-4 | PP | Victoria Bach (2) | Maddie Elia/4, Rebecca Leslie/6 |
| 3rd | 7:34 | BU | 3-4 | EV | Victoria Bach (3) | Savannah Newton/4, Nina Rodgers/4 |
| | | | | |
| --- | --- | --- | --- | --- |
| Scoring | 1st | 2nd | 3rd | Final |
| Northeastern | 2 | 2 | 0 | 4 |
| Boston University | 1 | 1 | 1 | 3 |
| | | | | |
| --- | --- | --- | --- | --- |
| Shots on Goal | 1st | 2nd | 3rd | SOG |
| Northeastern | 11 | 14 | 15 | 40 |
| Boston University | 12 | 16 | 7 | 35 |
| | | | |
| --- | --- | --- | --- |
| Team Stats and Records | PP | PIM | SHGF |
| Northeastern (6-2-1) | 1/11 | 9/18 | 2 |
| Boston University (3-3-1) | 2/6 | 12/24 | 0 |
| | | | | | | |
| --- | --- | --- | --- | --- | --- | --- |
| Northeastern Goaltending | MIN | GA | 1 | 2 | 3 | Saves |
| Brittany Bugalski (W, 6-1-1) | 59:47 | 3 | 11 | 15 | 6 | 32 |
| Empty Net | 0:13 | 0 | | | | |
| | | | | | | |
| --- | --- | --- | --- | --- | --- | --- |
| Boston University Goaltending | MIN | GA | 1 | 2 | 3 | Saves |
| Victoria Hanson (L, 2-2-0) | 59:56 | 4 | 9 | 12 | 15 | 36 |
| Empty Net | 0:04 | 0 | | | | |
BOSTON - Junior Victoria Bach scored two goals and senior Maddie Elia added a goal and an assist, but the Boston University women's hockey team was edged by Northeastern, 4-3, on Tuesday night at Walter Brown Arena.
THE RUNDOWN
Final Score: Northeastern 4, Boston University 3
Records: BU (3-3-1, 2-3-0 WHEA), Northeastern (6-2-1, 2-0-0 WHEA)
Location: Walter Brown Arena - Boston, Mass.
GOAL-BY-GOAL
- Northeastern opened the scoring just 1:07 into the proceedings and then added a shorthanded goal at the 5:52 mark of the opening period to take a 2-0 lead.
- Elia responded with a power-play goal at the 11:48 juncture of the first frame when she took a well-timed feed from senior Samantha Sutherland and one-timed the puck into an open net.
- McKenna Brand on the power play and Hayley Scamurra shorthanded extended the NU lead to 4-1 with 5:05 left in the second stanza.
- Bach quickly responded to Scamurra's strike with a power-play marker at the 16:20 mark of the period when she used her positioning at the right post to capitalize on a loose puck and beat Brittany Bugalski (32 saves).
- It was Bach again at the 7:34 mark of the third period, this time at even strength. Sophomore Savannah Newton's stretch pass found Bach at the Northeastern blue line, and after a nifty bout of stickhandling, she evaded a defender and backhanded the puck over Bugalski's blocker to cut the deficit to 4-3.
TURNING POINT
- The Huskies scored two separate shorthanded goals while BU was stymied on two separate shorthanded bids in the third period. Bach had a breakaway chance turned aside before junior Rebecca Leslie made a great move around a defender only to have Bugalski stay equal to the task.
GAME NOTES
- Newton posted her second two-assist game of the season. She also had a pair of helpers in the Terriers' 5-1 win over New Hampshire on Oct. 7.
- Leslie and junior Nina Rodgers also had an assist apiece.
- Senior Victoria Hanson made 36 saves and stopped all 15 shots she saw in the third period.
- BU held Northeastern to a 1-for-11 mark on the power play while converting two of its six power-play opportunities.
UP NEXT
- BU will enjoy a 10-day break before a home-and-home series with Boston College that will begin at Chestnut Hill on Friday, Nov. 4.