Saturday, November 26, 2016
Parent Hat Trick Leads Providence Past Brown, 7-3
Junior forward Blair Parent scores hat trick for Friars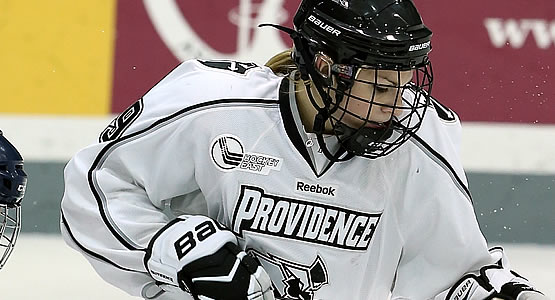 Senior forward Cassidy Carels had a goal and an assist for the Friars
| | | | | | | |
| --- | --- | --- | --- | --- | --- | --- |
| Prd | Time | Team | Score | Type | Scored By | Assists |
| 1st | 1:03 | PRV | 1-0 | EV | Blair Parent (5) | Cassidy MacPherson/4, Danielle Hardy/4 |
| 1st | 2:55 | PRV | 2-0 | EV | Blair Parent (6) | Cassidy MacPherson/5, Meaghan Rickard/4 |
| 1st | 10:03 | PRV | 3-0 | EV | Meaghan Rickard (2) | Brooke Boquist/7, Rachel Rockwell/9 |
| 1st | 10:37 | PRV | 4-0 | EV GW | Whitney Dove (4) | Cassidy MacPherson/6, Danielle Hardy/5 |
| 2nd | 0:37 | PRV | 5-0 | EV | Blair Parent (7) | Cassidy MacPherson/7, Danielle Hardy/6 |
| 2nd | 16:37 | PRV | 6-0 | EV | Madison Sansone (5) | Cassidy Carels/8 |
| 3rd | 11:52 | BRN | 1-6 | EV | Veronica Alois (1) | Abby Niewchas/2, Sarah Migliori/1 |
| 3rd | 13:56 | BRN | 2-6 | EV | Leah Olson (2) | - |
| 3rd | 14:14 | BRN | 3-6 | EV | Sarah Migliori (1) | - |
| 3rd | 19:58 | PRV | 7-3 | SH EN | Cassidy Carels (10) | - |
| | | | | |
| --- | --- | --- | --- | --- |
| Scoring | 1st | 2nd | 3rd | Final |
| Providence | 4 | 2 | 1 | 7 |
| Brown | 0 | 0 | 3 | 3 |
| | | | | |
| --- | --- | --- | --- | --- |
| Shots on Goal | 1st | 2nd | 3rd | SOG |
| Providence | 20 | 12 | 11 | 43 |
| Brown | 4 | 10 | 9 | 23 |
| | | | |
| --- | --- | --- | --- |
| Team Stats and Records | PP | PIM | SHGF |
| Providence (8-8-1) | 0/6 | 4/8 | 1 |
| Brown (3-9-0) | 0/4 | 6/12 | 0 |
| | | | | | | |
| --- | --- | --- | --- | --- | --- | --- |
| Providence Goaltending | MIN | GA | 1 | 2 | 3 | Saves |
| Madison Myers (W, 4-5-1) | 60:00 | 3 | 4 | 10 | 6 | 20 |
| | | | | | | |
| --- | --- | --- | --- | --- | --- | --- |
| Brown Goaltending | MIN | GA | 1 | 2 | 3 | Saves |
| Calla Isaac (L, 0-1-0) | 10:37 | 4 | 8 | 0 | 0 | 8 |
| Monica Elvin | 49:12 | 2 | 8 | 10 | 10 | 28 |
| Empty Net | 0:11 | 1 | | | | |
PROVIDENCE, R.I. - The Providence College women's hockey team claimed the 22nd Mayor's Cup, defeating cross-city rival, 7-3. The Friars back-to-back Mayor's Cup wins are the first time since 2007 & 2008. Providence improves to 8-8-1 and Brown moves to 3-9-0.
The Friars started off the scoring, collecting four goals in the opening 11 minutes of the game. Blair Parent (Blaine, Minn.) scored 1:03 and 2:55 minutes into the first period. Cassidy MacPherson (Oakville, Ontario) assisted on both Parent goals.
Just over seven minutes later, Meaghan Rickard (Coventry, R.I.) tallied her second career goal off of a two-on-one with Brooke Boquist (Thunder Bay, Ontario). Rachel Rockwell (Broadview Heights, Ohio) assisted on the play as well, by breaking the puck out to Boquist in the neutral zone.
Just 35 seconds later, Whitney Dove (Port Moody, British Columbia) scored with a point shot through traffic. MacPherson picked up her third assists of the game and Danielle Hardy (Nanaimo, British Columbia) added her second assist of the game.
The Providence scoring continued 37 seconds into the second period, when Blair Parent completed her hat trick, again being helped by the pair of Hardy and MacPherson, this time on a two-on-one.
At 16:37 in the second, Madison Sansone (Lockport, N.Y.) tallied the sixth Friar goal through a series of tic-tac-toe passes with Cassidy Carels (Bruxelles, Manitoba) in front of Brown's net.
Brown scored three goals in the third period, coming from Veronica Alois (11:52), Leah Olson (13:52), and Sarah Migliori (14:14).
The Friars held onto the win with an empty net tally from Carels, taking the Mayor's Cup, 7-3.
Blair Parent registered her first career hat-trick, tying the single game goals leader in Mayor's Cup history. Parent's hat trick is also the first Friar hat trick since Cassidy Carels in 2013.
Cassidy MacPherson's four assists ties the Mayor's Cup all-time points leader, held by Carels and Boquist, and puts her as the all-time assists leader in a Mayor's Cup game.
Providence resumes Hockey East play, hosting Northeastern on Nov. 30 at 7:00 p.m. in Providence, R.I.