Newkirk Lifts Boston College To 3-2 Overtime Win At Vermont
Sophomore forward Makenna Newkirk scores two goals for Eagles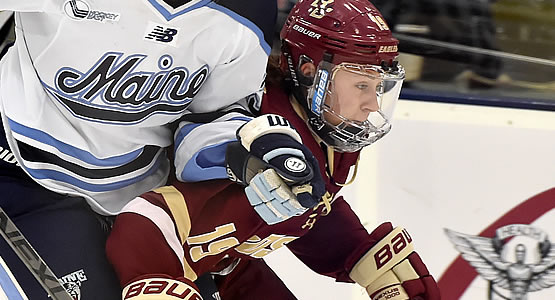 Sophomore forward Makenna Newkirk scored two goals for the Eagles
| | | | | | | |
| --- | --- | --- | --- | --- | --- | --- |
| Prd | Time | Team | Score | Type | Scored By | Assists |
| 1st | 10:00 | VER | 1-0 | EV | Amanda Drobot (1) | Mackenzie MacNeil/4, Ève-Audrey Picard/8 |
| 2nd | 13:28 | VER | 2-0 | EV | Victoria Andreakos (6) | Katherine Pate/3, Daria O'Neill/9 |
| 2nd | 14:45 | BC | 1-2 | PP | Makenna Newkirk (7) | Andie Anastos/16, Megan Keller/13 |
| 3rd | 19:14.2 | BC | 2-2 | EV EA | Megan Keller (3) | Kali Flanagan/11, Delaney Belinskas/11 |
| OT | 0:39 | BC | 3-2 | EV GW | Makenna Newkirk (8) | Caitrin Lonergan/14, Kristyn Capizzano/6 |
| | | | | | |
| --- | --- | --- | --- | --- | --- |
| Scoring | 1st | 2nd | 3rd | OT | Final |
| Boston College | 0 | 1 | 1 | 1 | 3 |
| Vermont | 1 | 1 | 0 | 0 | 2 |
| | | | | | |
| --- | --- | --- | --- | --- | --- |
| Shots on Goal | 1st | 2nd | 3rd | OT | SOG |
| Boston College | 13 | 9 | 17 | 2 | 41 |
| Vermont | 5 | 3 | 1 | 0 | 9 |
| | | | |
| --- | --- | --- | --- |
| Team Stats and Records | PP | PIM | SHGF |
| Boston College (17-3-4) | 1/9 | 7/14 | 0 |
| Vermont (10-8-7) | 0/6 | 10/20 | 0 |
| | | | | | | | |
| --- | --- | --- | --- | --- | --- | --- | --- |
| Boston College Goaltending | MIN | GA | 1 | 2 | 3 | OT | Saves |
| Katie Burt (W, 15-3-4) | 59:47 | 2 | 4 | 2 | 1 | 0 | 7 |
| Empty Net | 0:52 | 0 | | | | | |
| | | | | | | | |
| --- | --- | --- | --- | --- | --- | --- | --- |
| Vermont Goaltending | MIN | GA | 1 | 2 | 3 | OT | Saves |
| Melissa Black (L, 4-5-3) | 60:39 | 3 | 13 | 8 | 16 | 1 | 38 |
BURLINGTON, Vt. - Melissa Black tied a season-high with 38 saves, but Boston College's Makenna Newkirk scored just 39 seconds into overtime as Vermont fell to the sixth-ranked Eagles by a 3-2 score at Gutterson Fieldhouse on Friday afternoon.
UVM falls to 10-8-7 overall with the setback and 6-4-5 in Hockey East play, while BC is now 17-3-4 (13-2-2 WHEA).
"I'm obviously disappointed in the outcome and the fact that for the second time in three games, we couldn't close out a game where we had a late one-goal lead," said head coach Jim Plumer. "We will certainly work to coach those situations better. Credit to BC for their comeback. We look forward to the rematch tomorrow."
Despite being outshot 13-5 in the first period the Catamounts managed to beat BC to the scoreboard an even 10 minutes in. Mackenzie MacNeil emerged with the puck following a battle along the boards, then skated behind the net and fed a pass through a pair of Eagles into the slot. The puck ended up on the stick of Amanda Drobot, who sent a wrist shot glove-side past BC goalie Katie Burt. Ève-Audrey Picard received the second assist on the goal, Drobot's first of the season.
UVM then doubled its lead at the 13:28 mark of the second stanza. Daria O'Neill sent a bouncing puck toward Katherine Pate in her own zone. Pate then issued a cross-ice pass to Victoria Andreakos, who fired on goal but was turned aside by Burt. The puck took an odd bounce following the save and wound up in the back of the net.
Newkirk then used her first of two tallies to bring the Eagles back within one. After Megan Keller fired a shot wide of the net, BC played the carom and set up Newkirk to light the lamp. The power play goal came at 14:45 of the middle period.
The Catamounts carried a 2-1 lead into the final 60 seconds of regulation, but Keller managed to net the equalizer with Burt pulled for an extra attacker. Kali Flanagan dished point-to-point, reaching Keller, who walked into the right circle and went top-shelf for the equalizer at 19:14.
On the Eagles' first rush of overtime Kristyn Capizzano looked for Caitrin Lonergan on the doorstep, but Black was there to knock the puck away. The feed ended up behind the net, where Newkirk corralled the puck and tucked it inside the left post.
Bridget Baker led the Catamounts on the faceoff dot, winning 12-of-18 draws. As a team, UVM was 30-for-53. Boston College went 1-for-9 on the power play, while Vermont was held scoreless on six opportunities.
Vermont will rematch with the Eagles in Burlington on Saturday (Jan. 21) at 2 p.m.