Wednesday, January 4, 2017
Capizzano Leads Boston College Past Syracuse, 4-3
Senior forward Kristyn Capizzano nets first career hat trick for Eagles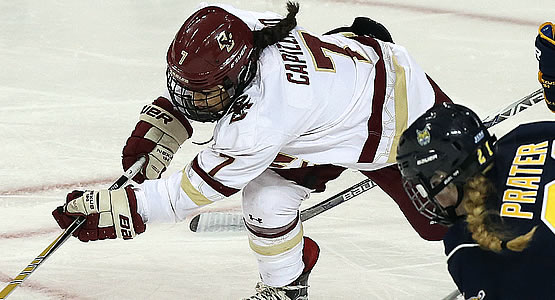 Senior forward Kristyn Capizzano scored a hat trick for the Eagles
| | | | | | | |
| --- | --- | --- | --- | --- | --- | --- |
| Prd | Time | Team | Score | Type | Scored By | Assists |
| 1st | 15:32 | SYR | 1-0 | EV | Laurence Porlier (1) | Kelli Rowswell/2, Megan Quinn/4 |
| 1st | 19:41.2 | SYR | 2-0 | EV | Alysha Burriss (6) | Heather Schwarz/4, Jessica Sibley/10 |
| 2nd | 3:58 | BC | 1-2 | PP | Kristyn Capizzano (8) | Kali Flanagan/9, Grace Bizal/10 |
| 2nd | 9:08 | BC | 2-2 | EV | Kristyn Capizzano (9) | Megan Keller/12, Haley McLean/4 |
| 2nd | 12:43 | BC | 3-2 | PP | Kenzie Kent (3) | Andie Anastos/12, Makenna Newkirk/16 |
| 2nd | 15:57 | BC | 4-2 | EV GW | Kristyn Capizzano (10) | Kenzie Kent/11, Bridget McCarthy/3 |
| 3rd | 9:01 | SYR | 3-4 | PP | Stephanie Grossi (7) | Savannah Rennie/2, Allie Munroe/6 |
| | | | | |
| --- | --- | --- | --- | --- |
| Scoring | 1st | 2nd | 3rd | Final |
| Syracuse | 2 | 0 | 1 | 3 |
| Boston College | 0 | 4 | 0 | 4 |
| | | | | |
| --- | --- | --- | --- | --- |
| Shots on Goal | 1st | 2nd | 3rd | SOG |
| Syracuse | 10 | 9 | 9 | 28 |
| Boston College | 11 | 10 | 4 | 25 |
| | | | |
| --- | --- | --- | --- |
| Team Stats and Records | PP | PIM | SHGF |
| Syracuse (5-9-5) | 1/3 | 3/6 | 0 |
| Boston College (13-3-3) | 2/3 | 3/6 | 0 |
| | | | | | | |
| --- | --- | --- | --- | --- | --- | --- |
| Syracuse Goaltending | MIN | GA | 1 | 2 | 3 | Saves |
| Abbey Miller (L, 4-8-5) | 40:00 | 4 | 11 | 6 | 0 | 17 |
| Ady Cohen | 18:35 | 0 | 0 | 0 | 4 | 4 |
| Empty Net | 1:25 | 0 | | | | |
| | | | | | | |
| --- | --- | --- | --- | --- | --- | --- |
| Boston College Goaltending | MIN | GA | 1 | 2 | 3 | Saves |
| Katie Burt (W, 11-3-3) | 59:55 | 3 | 8 | 9 | 8 | 25 |
| Empty Net | 0:05 | 0 | | | | |
CHESTNUT HILL, Mass. - Senior assistant captain Kristyn Capizzano netted her first career hat trick and Kenzie Kent scored a power-play goal - all in the second period - as the sixth-ranked Boston College women's hockey team overcame a two-goal deficit after one period to claim a 4-3 win over Syracuse on Wednesday night.
Cuse entered the first period intermission up 2-0 courtesy of goals from Laurence Porlier at 15:32 and Alysha Burriss at 19:42. But the Eagles stormed out into the second and took advantage of Capizzano goals at 3:58 and 9:08 to tie the game. Kent's power-play strike gave BC its first lead at 12:43 before Capizzano capped her first hat trick and scored the eventual game-winning goal at 15:57.
Syracuse added a third goal at 9:01 of the third period, but Katie Burt made 25 saves to back the Eagles to the win. Syracuse (5-8-5) used two goalies, with Abbey Miller making 17 saves in the loss before ceding to Ady Cohen, who made four saves, to start the third period.
Boston College (13-3-3) extended its unbeaten streak to seven games - 6-0-1 - with the win.
Follow the #BCEagles all season at @bc_whockey on Twitter and Instagram.
No. 6 Boston College 4, Syracuse 3
Wednesday, January 4, 2017
Kelley Rink at Conte Forum | Chestnut Hill, Mass.
HOW IT HAPPENED
1st, 15:32 | 0-1, CUSE GOAL - Syracuse broke out after intercepting a BC dump-in, and Kelli Rowswell came down the wing and centered for Laurence Porlier. Porlier's low shot - with Morgan Blake crashing simoultaneously on the other side - beat Katie Burt and got the Orange on the board late in the first period.
1st, 19:42 | 0-2, CUSE GOAL - Cuse pushed its lead to 2-0 just before the first intermission. Jessica Sibley won the neutral-zone faceoff and Heather Schwartz jumped on the win and skated out with Alysha Burriss. After receiving Schwartz' pass, Burriss gained space through the middle got off a waist-high shot that beat Burt, extending the lead to two.
2nd, 3:58 | 1-2, BC GOAL (PPG) - With less than :30 left on its second power-play, BC's point players traded passes along the blue line. Grace Bizal and Kali Flanagan played it back and forth before Flanagan launched a shot from the point that Capizzano deflected in front just off the crease.
2nd, 9:08 | 2-2, BC GOAL - Capizzano struck again to tie the game, picking up Megan Keller's push pass in the neutral zone, skating around a pair of defenders and cutting inside to beat Miller in close. Haley McLean also picked up the secondary assist after winning possession with Keller near the Eagles' blue line.
2nd, 12:43 | 3-2, BC GOAL (PPG) - Megan Keller's shot from the point was blocked and kicked down low to Andie Anastos on the half boards. She traded passes with Makenna Newirk up the wall, before sending a threaded pass through the crease to Kenzie Kent on the far side. Kent's rising one-timer beat Miller to bring the Eagles all the way back from the two-goal deficit and give BC its first and final lead.
2nd, 15:57 | 4-2, BC GOAL - Capizzano capped her first career hat trick with what turned out to be the game-winning goal. Bridget McCarthy broke up Syracuse's clearing attempt along the near boards and fed Capizzano in the middle of the zone. Capizzano then played Kent down along the near goal line, and the junior returned the pass through the crease and Capizzano buried the one-timer from the slot to give the Eagles a two-goal lead going into the final stanza.
3rd, 9:01 | 4-3, CUSE GOAL (PPG) - Stephanie Gossi potted Savannah Rennie's feed across the slot to pull the Orange within one on the power play. Allie Munroe pulled the puck off the boards and played Rennie into open ice between the hashmarks. Gossie then faked a shot wide where Gossi re-directed it in to pull SU within one.
GAME NOTES
- With the win, Boston College improved to 4-1-1 all-time against Syracuse, including a 2-0-1 mark at home
- The victory extended the Eagles' unbeaten streak to a season-best seven games (6-0-1) since Nov. 11
- Overall, BC is now 10-1-1 in its last 12 games
- The win pushed Boston College's home undefeated streak to 59 games (57-0-2) that dates back to Oct. 19, 2013 and spans five calendar years (2013, 2014, 2015, 2016, 2017)
- Today's game marked the ninth time this season BC scored two or more power-play goals in a game and the second time in the last three games ... overall, BC now has 26 power-play goals on the season - a total that leads the nation
- Syracuse's third-period power-play goal snapped BC's streak of 25 straight successful penalty kills, dating back to Nov. 11.
- Today marked the first time BC allowed three goals since Nov. 5 - a 5-3 loss at Boston University ... today's game snapped the Eagles' streak of six games allowing two or fewer goals
- Kristyn Capizzano tallied her first career hat trick with her three-goal effort
- It was her sixth multiple-goal effort and her first since Nov. 12 when she had two against New Hampshire
- Capizzano's first goal was her second power-play goal of the season, and the seventh of her career ... this is just the second season in her four-year career she's netted more than one PPG in a year
- Capizzano now has 93 career points and is seven back from reaching the 100-point plateau
- Kenzie Kent netted her third goal of the season and her first power-play goal of the year
- This was just Kent's second multiple-point game of the season and her 24th of her career
- Her goal was her first power-play strike since Feb. 27 against Maine in Game Two of the Hockey East quarterfinal series
- Kent now has 95 career points and is five points back of hitting the 100-point plateau
- Kali Flanagan notched her ninth assist of the season and the 33 assist of her career
- Flanagan now has a four-game point streak in tact, but she did see her three-game goal streak come to an end
- Grace Bizal recorded her 10th assist of the season, which pushed her point total to 12 ... through 19 games, she's now topped her freshman-year total of 11 points (all from assists)
- This was Bizal's first point in five games, since a two-assist effort against UNH on Nov. 12
- Megan Keller recorded her 72nd career assist and moved her career point total to 90 points ... she is just the third defenseman in BC history to reach the 90-point mark for her career
- Keller is now 12 points back of Emily Pfalzer's career points mark for a defenseman at BC (102)
- Haley McLean picked up her second assist in as many games ... she now has four assists on the year
- Andie Anastos inched closer to 10th place on the Eagles' career points chart, picking up her 123rd career point with her assist on Kent's goal ... she is now two points back of 10th place, currently held by Laura Traynham '97, who had 125 career points
- Makenna Newkirk took the team's scoring lead over with her assist on Kent's goal ... Newkirk now has 22 points on the season ... in the last four games, she's notched seven points
- Bridget McCarthy recorded her third assist of the season and her second in the last three games
- Delaney Belinskas saw her six-game point streak - which was the team's longest active streak - snapped when she was held off the scoresheet
- Katie Burt recorded her 76th career win ... she is now four wins back of matching Molly Schaus' '11 school record of 80 wins
TEAM RECORDS
Syracuse: 5-9-5, 4-2-2 CHA
Boston College: 13-3-3, 10-2-1 HEA
UP NEXT
Boston College welcomes crosstown rival Boston University to Kelley Rink at 2 p.m. on Saturday, Jan. 7. This will be the third and final Hockey East regular-season meeting between the teams, but they are also scheduled to meet in the first round of the Beanpot on Tuesday, Jan. 31, at Northeastern's Matthews Arena.