Saturday, December 3, 2016
Boston College Skates Past Providence College, 8-0
Senior forward Andie Anastos has goal and three assists for Eagles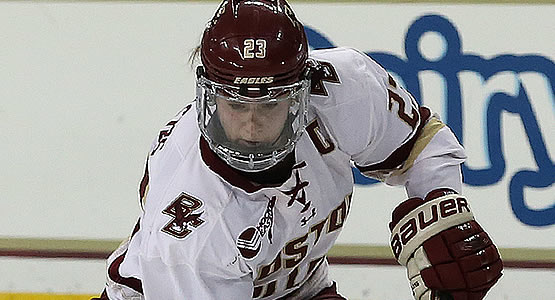 Senior forward Andie Anastos had a goal and three assists for the Eagles
| | | | | | | |
| --- | --- | --- | --- | --- | --- | --- |
| Prd | Time | Team | Score | Type | Scored By | Assists |
| 1st | 0:24 | BC | 1-0 | EV GW | Toni Ann Miano (5) | Delaney Belinskas/5, Andie Anastos/7 |
| 1st | 11:32 | BC | 2-0 | PP | Toni Ann Miano (6) | Megan Keller/10, Makenna Newkirk/12 |
| 1st | 19:29 | BC | 3-0 | EV | Ryan Little (3) | Erin Connolly/3, Kali Flanagan/8 |
| 2nd | 8:28 | BC | 4-0 | PP | Erin Connolly (3) | Andie Anastos/8, Megan Keller/11 |
| 2nd | 13:52 | BC | 5-0 | EV | Kali Flanagan (2) | Molly Slowe/1, Bridget McCarthy/2 |
| 2nd | 17:32 | BC | 6-0 | PP | Erin Connolly (4) | Makenna Newkirk/13, Andie Anastos/9 |
| 3rd | 11:09 | BC | 7-0 | EV | Andie Anastos (8) | Delaney Belinskas/6, Makenna Newkirk/14 |
| 3rd | 17:15 | BC | 8-0 | EV | Kate Annese (1) | Makenna Newkirk/15, Serena Sommerfield/1 |
| | | | | |
| --- | --- | --- | --- | --- |
| Scoring | 1st | 2nd | 3rd | Final |
| Boston College | 3 | 3 | 2 | 8 |
| Providence | 0 | 0 | 0 | 0 |
| | | | | |
| --- | --- | --- | --- | --- |
| Shots on Goal | 1st | 2nd | 3rd | SOG |
| Boston College | 17 | 16 | 12 | 45 |
| Providence | 7 | 5 | 5 | 17 |
| | | | |
| --- | --- | --- | --- |
| Team Stats and Records | PP | PIM | SHGF |
| Boston College (11-3-3) | 3/5 | 4/8 | 0 |
| Providence (8-10-1) | 0/3 | 6/12 | 0 |
| | | | | | | |
| --- | --- | --- | --- | --- | --- | --- |
| Boston College Goaltending | MIN | GA | 1 | 2 | 3 | Saves |
| Katie Burt (W, 9-3-3) | 60:00 | 0 | 7 | 5 | 5 | 17 |
| | | | | | | |
| --- | --- | --- | --- | --- | --- | --- |
| Providence Goaltending | MIN | GA | 1 | 2 | 3 | Saves |
| Madison Myers (L, 4-7-1) | 40:00 | 6 | 14 | 13 | 0 | 27 |
| Clare Minnerath | 20:00 | 2 | 0 | 0 | 10 | 10 |
PROVIDENCE, R.I. - The Providence College women's hockey team was defeated, 8-0, on Dec. 3 by No. 6 Boston College. Providence moves to 8-10-1 (4-6-1 HE) and the Eagles improve to 11-3-3 (10-2-1 HE).
Boston College started off the scoring 24 seconds into the game on a goal from Toni Ann Miano. Miano added her second of the game at 11:32 on the power play, giving the Eagles a 2-0 lead.
With 31 seconds remaining in the first period, Ryan Little extended the Eagles lead to 3-0.
Boston College added two more power play goals and an even handed goal in the second period. Erin Connolly scored twice (8:28 and 17:32) and Kali Flanagan scored at 13:52, to lead the game 6-0 after two periods.
Madison Myers (Colchester, Vt.) started in net for the Friars and made 27 saves in two periods.
Clare Minnerath (Sartell, Minn.) started in goal in the third period for Providence.
Boston College's Andie Anastos scored at 11:09 and Kate Annese finished the scoring at 17:15, finalizing the game at 8-0.
Minnerath made 10 saves in the third period in her collegiate debut.
The game marks the first time in the 2016-17 season that the Friars have been held scoreless.
Providence is back in action on Dec. 9 at Schneider Arena against Hockey East opponent Merrimack at 7:00 p.m. in the last game of the first half of the 2016-17 season.