Saturday, November 26, 2016
Boston College Nets Final Three Goals To Down Northeastern, 4-2
Junior defenseman Toni Ann Miano records goal and assist for Eagles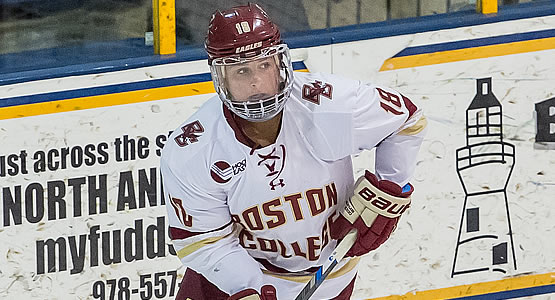 Junior defenseman Toni Ann Miano had a goal and an assist for the Eagles
| | | | | | | |
| --- | --- | --- | --- | --- | --- | --- |
| Prd | Time | Team | Score | Type | Scored By | Assists |
| 2nd | 16:48 | BC | 1-0 | EV | Erin Connolly (2) | Ryan Little/1, Toni Ann Miano/9 |
| 3rd | 4:23 | NOE | 1-1 | SH | McKenna Brand (14) | Paige Savage/9 |
| 3rd | 6:00 | NOE | 2-1 | EV | Paige Savage (4) | Matti Hartman/5, Kasidy Anderson/3 |
| 3rd | 6:24 | BC | 2-2 | EV | Toni Ann Miano (4) | Makenna Newkirk/11, Delaney Belinskas/3 |
| 3rd | 8:45 | BC | 3-2 | SH GW | Kristyn Capizzano (7) | - |
| 3rd | 17:37 | BC | 4-2 | EV | Kali Flanagan (1) | Delaney Belinskas/4 |
| | | | | |
| --- | --- | --- | --- | --- |
| Scoring | 1st | 2nd | 3rd | Final |
| Boston College | 0 | 1 | 3 | 4 |
| Northeastern | 0 | 0 | 2 | 2 |
| | | | | |
| --- | --- | --- | --- | --- |
| Shots on Goal | 1st | 2nd | 3rd | SOG |
| Boston College | 11 | 13 | 11 | 35 |
| Northeastern | 6 | 3 | 11 | 20 |
| | | | |
| --- | --- | --- | --- |
| Team Stats and Records | PP | PIM | SHGF |
| Boston College (10-3-3) | 0/5 | 8/16 | 1 |
| Northeastern (10-4-3) | 0/7 | 6/12 | 1 |
| | | | | | | |
| --- | --- | --- | --- | --- | --- | --- |
| Boston College Goaltending | MIN | GA | 1 | 2 | 3 | Saves |
| Katie Burt (W, 8-3-3) | 60:00 | 2 | 6 | 3 | 9 | 18 |
| | | | | | | |
| --- | --- | --- | --- | --- | --- | --- |
| Northeastern Goaltending | MIN | GA | 1 | 2 | 3 | Saves |
| Brittany Bugalski (L, 10-3-3) | 59:57 | 4 | 11 | 12 | 8 | 31 |
| Empty Net | 0:03 | 0 | | | | |
BOSTON - The No. 6 Boston College Eagles (10-3-3, 9-2-1 WHEA) scored the game's final three goals to top the No. 10 Northeastern women's hockey team (10-4-3, 6-2-2 WHEA), 4-2, on Saturday at Matthews Arena.
The Huskies trailed 1-0 heading into the third period, before scoring twice in a span of 1:37 to take a 2-1 lead early in the frame. The advantage stood for only 24 seconds, however, as BC stormed back to tie the game and eventually take the lead for good.
Junior McKenna Brand scored her third shorthanded goal of the season to tie for the NCAA lead, while sophomore Brittany Bugalski made 31 saves in the defeat. Senior Paige Savage added a goal and an assist, and sophomore Kasidy Anderson and freshman Matti Hartman each tacked on an assist.
Goal Recaps
- Boston College broke a scoreless deadlock late in the second period when Toni Ann Miano's point shot hit Ryan Little in the crease and fell to the stick of Erin Connolly, who swatted the puck home at the 16:48 mark.
- Northeastern tied the game on a shorthanded goal just over four minutes into the third when Savage lugged the puck through the neutral-zone and sent a perfect saucer pass into the crease for Brand to direct home to make it 1-1.
- The Huskies then took the lead 1:37 later when Matti Hartman dug the puck out from behind the net and centered for Savage to fire home at the right post.
- The advantage was short-lived, however, as BC knotted the scoreline at 2-2 only 24 seconds later when Miano buried a wrister from between the circles at 6:24 of the third.
- Boston College then took the lead for good at 8:45 when Kristyn Capizzano skated in alone and buried an unassisted shorthanded goal to make it 3-2.
- The Eagles added an insurance marker at 17:37 when Kali Flanagan tucked a backhand through the pads of Bugalski at the left of the cage.
Noteworthy
- Boston College outshot Northeastern by a 35-20 margin, including a 24-9 count over the first two periods.
- The Huskies killed off all five BC power plays, while the Eagles negated all seven NU power plays.
- Both teams scored shorthanded goals for the second meeting in a row. Northeastern leads the NCAA with seven shorthanded markers on the season.
- Brand notched her team-leading 14th goal of the season, and her eighth tally in the last seven games.
- Bugalski made at least 30 saves for the fourth time in the last six contests.
Up Next
The Huskies will travel to Providence for a Wednesday night (7 p.m.) Hockey East showdown with the Friars.