Boston College Claims WHEA Title With 2-1 Overtime Win Against Northeastern
Senior forward Andie Anastos scores second overtime goal of weekend for Eagles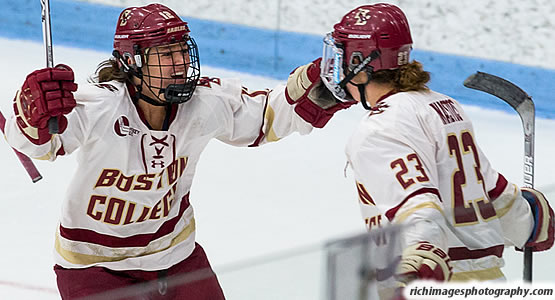 Senior forward Andie Anastos scored her second overtime goal of weekend for the Eagles
| | | | | | | |
| --- | --- | --- | --- | --- | --- | --- |
| Prd | Time | Team | Score | Type | Scored By | Assists |
| 1st | 17:23 | NOE | 1-0 | EV | Kasidy Anderson (14) | - |
| 2nd | 2:57 | BC | 1-1 | PP | Kali Flanagan (5) | Grace Bizal/13, Kristyn Capizzano/10 |
| OT | 5:44 | BC | 2-1 | EV GW | Andie Anastos (15) | - |
| | | | | | |
| --- | --- | --- | --- | --- | --- |
| Scoring | 1st | 2nd | 3rd | OT | Final |
| Northeastern | 1 | 0 | 0 | 0 | 1 |
| Boston College | 0 | 1 | 0 | 1 | 2 |
| | | | | | |
| --- | --- | --- | --- | --- | --- |
| Shots on Goal | 1st | 2nd | 3rd | OT | SOG |
| Northeastern | 13 | 11 | 8 | 0 | 32 |
| Boston College | 6 | 12 | 9 | 7 | 34 |
| | | | |
| --- | --- | --- | --- |
| Team Stats and Records | PP | PIM | SHGF |
| Northeastern (22-12-3) | 0/4 | 4/8 | 0 |
| Boston College (27-5-5) | 1/4 | 4/8 | 0 |
| | | | | | | | |
| --- | --- | --- | --- | --- | --- | --- | --- |
| Northeastern Goaltending | MIN | GA | 1 | 2 | 3 | OT | Saves |
| Brittany Bugalski (L, 21-10-3) | 65:44 | 2 | 6 | 11 | 9 | 6 | 32 |
| | | | | | | | |
| --- | --- | --- | --- | --- | --- | --- | --- |
| Boston College Goaltending | MIN | GA | 1 | 2 | 3 | OT | Saves |
| Katie Burt (W, 25-5-5) | 65:44 | 1 | 12 | 11 | 8 | 0 | 31 |
BOSTON - Senior captain Andie Anastos scored 5:44 into overtime - her second OT goal in as many days - as the sixth-ranked and top-seeded Boston College women's hockey team won the 2017 Hockey East Tournament title with a 2-1 victory over Northeastern at Walter Brown Arena Sunday afternoon.
With the win, the Eagles claimed the conference's automatic berth to the NCAA Tournament. The eight-team bracket will be unveiled live on ncaa.com at 9 p.m. ET tonight.
The Eagles repeated as conference tournament champions and claimed their third Hockey East Tournament title overall (2011, 2015, 2016).
Northeastern took a 1-0 lead shortly before the close of the first period as Kasidy Anderson potted an unassisted tally at 17:23. BC equalized just 2:57 into the second behind Kali Flanagan's power-play goal. The teams played a scoreless third period before Anastos netted the unassisted game-winning goal in the extra session.
Katie Burt made 31 saves in the win in goal, while Northeastern's Brittany Bulgalski stopped 32 shots.
Northeastern out-shot the Eagles 13-6 in the first period, but BC moved closer each period - trailing 12-11 in the second and 9-8 in the third - before out-shooting the Huskies 7-0 in the extra session. BC finished the game with a 34-32 shot advantage.
Anastos was named the MVP of the tournament, while Anastos, Burt, Kenzie Kent and Megan Keller were also named to the All-Tournament Team with Northeastern's Anderson and Cadie Cross.
Follow the #BCEagles all season at @bc_whockey on Twitter and Instagram.
No. 6 Boston College 2, Northeastern 1 (OT)
Sunday, March 5, 2017
Walter Brown Arena | Boston, Mass.
HOW IT HAPPENED
1st, 2:37 | 0-1, NU GOAL - Northeastern goaltender Brittany Bulgalski made a save on Ryan Little and Kasidy Anderson picked up the rebound off her pads and skated the length of the ice before placing a wrister past Katie Burt's side for the 1-0 lead.
2nd, 2:57 | 1-1, BC GOAL (PPG) - On the first draw of the Eagles' power-play, Kristyn Capizzano pulled Delaney Belinskas' faceoff win back to the point where Kali Flanagan and Grace Bizal traded passes along the blue line. Flanagan finally got it just off the center point with a shooting lane and sent a rising shot in that found space through traffic and in above Bulgalski's blocker-side shoulder to even the score.
OT, 5:44 | 2-1, BC GOAL - With the Eagles putting heavy pressure on the Huskies and keeping NU trapped in their zone, a Northeastern defender attempted to clear the puck with a lofted pass. However, it wasn't high enough and Anastos jumped and pulled the puck down at the blue line. She placed it down in the zone, skated toward the boards and then cut back inside and sent a low shot in from the edge of the circle while Kenzie Kent flashed in front of Bulgalski. Kent's screen was a enough to create space for Anastos' shot and the Eagles' third Hockey East title.
TEAM NOTES
- Boston College won its third Hockey East Tournament title (2011, 2015 and 2016)
- This was the third Hockey East Tournament championship game to go into overtime, and the first since a 2OT game in 2012
- This was Boston College's Hockey East-record seventh tournament championship game ... BC is now 3-4 in the title game
- BC is now 18-9 all-time in the Hockey East Tournament
- The Eagles are now 13-2 all-time as the tournament's top seed, and have an eight-game winning streak in the tournament
- This was BC's eighth overtime game of the season ... the Eagles moved to 3-0-5 in overtime games this season ... BC's three wins in added hockey came today and twice against Vermont: Jan. 20 in Burlington and March 4 in the Hockey East semifinals
- After three games without a power-play goal (Feb. 19 through Feb. 24), BC has now netted man-advantage goals in back-to-back games ... BC now has a nation-leading 39 PPGs this year
- Today's win was the third-straight 2-1 game between Boston College and Northeastern ... BC topped the Huskies at NU's Matthews Arena on Feb. 7 to win the Beanpot by a 2-1 score line ... on Feb. 10, Northeastern defeated the Eagles at BC's Kelley Rink by a 2-1 score
- Boston College is now 40-35-7 all-time against Northeastern ... the teams played five times this season with BC winning the series, 3-1-1
- BC improved to 2-1-0 against NU in the Hockey East Tournament ... prior to today's meeting, the teams last met in the 2013 semifinals, which Northeastern won 4-1
PLAYER NOTES
- Andie Anastos netted her second overtime goal in as many games and was voted the Hockey East Tournament MVP
- Her goal was the 57th of her career and moved her into a tie for eighth place on the Eagles' career goals chart, matching Dana Trivigno '16 ... it was also her 142nd career point
- The goal pushed her season point total to 40, a new career high
- Kali Flanagan netted her fifth goal of the season with her second-period power-play goal ... Flanagan's goal was her first since Jan. 21 at Vermont
- That goal represented the 50th point of her career
- Grace Bizal recorded her second assist in as many games after returning from an 11-game injury absence
- Bizal pushed her season point total to 15, which extends her best single-season effort in her young career
- Kristyn Capizzano collected her 10th assist of the season on Flanagan's power-play goal in the second period ... she now has 101 career points
- Katie Burt registered her 90th career victory and moved into a tie for seventh place on the NCAA career wins list, matching former Clarkson goaltender Erica Howe
- Burt already holds the BC and Hockey East Tournament (11) career wins records
TEAM RECORDS
Northeastern: 22-12-3
Boston College: 27-5-5
ALL-TOURNAMENT TEAM
Most Valuable Player: Andie Anastos, BC
Goaltender: Katie Burt, BC
Defense: Megan Keller, BC, Codie Cross, NU
Forward: Kenzie Kent, BC, Kasidy Anderson, NU, Andie Anastos, BC
UP NEXT
With today's victory, the Eagles clinched Hockey East's automatic bid to the NCAA Tournament. BC will await word if they will host a home game at Kelley Rink next weekend in the NCAA Quarterfinals, or if they'll be sent on the road. The NCAA Selection Show will be streamed live tonight on ncaa.com at 9 p.m. ET.