Friday, February 10, 2017
Bugalski Backstops Northeastern To 2-1 Win Over Boston College
Sophomore goaltender Brittany Bugalski makes 46 saves for Huskies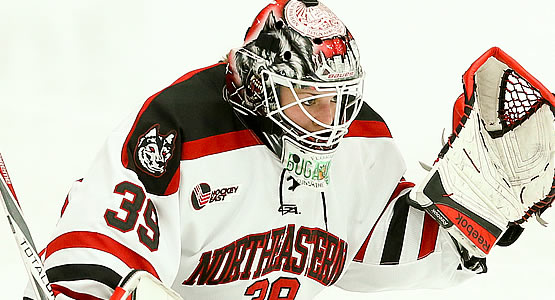 Sophomore goaltender Brittany Bugalski made 46 saves for the Huskies
| | | | | | | |
| --- | --- | --- | --- | --- | --- | --- |
| Prd | Time | Team | Score | Type | Scored By | Assists |
| 2nd | 9:42 | NOE | 1-0 | SH | Shelby Herrington (5) | Maddie Hartman/13, Paige Savage/13 |
| 3rd | 3:22 | NOE | 2-0 | EV GW | Andrea Renner (3) | Shelby Herrington/11, McKenna Brand/13 |
| 3rd | 7:16 | BC | 1-2 | PP | Caitrin Lonergan (12) | Katie Burt/3 |
| | | | | |
| --- | --- | --- | --- | --- |
| Scoring | 1st | 2nd | 3rd | Final |
| Northeastern | 0 | 1 | 1 | 2 |
| Boston College | 0 | 0 | 1 | 1 |
| | | | | |
| --- | --- | --- | --- | --- |
| Shots on Goal | 1st | 2nd | 3rd | SOG |
| Northeastern | 11 | 9 | 12 | 32 |
| Boston College | 18 | 9 | 20 | 47 |
| | | | |
| --- | --- | --- | --- |
| Team Stats and Records | PP | PIM | SHGF |
| Northeastern (19-10-3) | 0/1 | 4/8 | 1 |
| Boston College (21-4-5) | 1/3 | 2/4 | 0 |
| | | | | | | |
| --- | --- | --- | --- | --- | --- | --- |
| Northeastern Goaltending | MIN | GA | 1 | 2 | 3 | Saves |
| Brittany Bugalski (W, 18-8-3) | 60:00 | 1 | 18 | 9 | 19 | 46 |
| | | | | | | |
| --- | --- | --- | --- | --- | --- | --- |
| Boston College Goaltending | MIN | GA | 1 | 2 | 3 | Saves |
| Katie Burt (L, 19-4-5) | 57:50 | 2 | 11 | 8 | 11 | 30 |
| Empty Net | 2:10 | 0 | | | | |
CHESTNUT HILL, Mass. - Behind a 46-save effort from goaltender Brittany Bulgalski, Northeastern handed the sixth-ranked Boston College women's hockey team a 2-1 defeat at Kelley Rink today, the Eagles' first loss since Nov. 5 - a span of 17 games.
The defeat was also BC's first home loss since Oct. 16, 2013, and snapped the Eagles' NCAA-record 63-game home undefeated streak that had grown to 59-0-4.
After a scoreless first period, Northeastern struck first when Shelby Herrington converted a shorthanded chance at 9:42. The Huskies took the one-goal lead into the third period where they built it to a 2-0 advantage when Andre Renner banged in her own rebound at 3:22.
Caitrin Lonergan's 12th goal of the season at 7:16 cut the Huskies' lead to 2-1, and that was the final score line when BC could not convert with an extra attacker in the final two minutes of the game.
Boston College out-short the Huskies 47-32 in the game. Bulgalski made a total of 46 saves, including 18 in the first, nine in the second and 19 in the third. Katie Burt made 30 saves in the loss.
Follow the #BCEagles all season at @bc_whockey on Twitter and Instagram.
Northeastern 2, No. 6 Boston College 1
Friday, February 10, 2017
Kelley Rink | Chestnut Hill, Mass.
HOW IT HAPPENED
2nd, 9:42 | 0-1, NU GOAL (SHG) - With the Huskies drawing a faceoff in the Eagles' end while on the penalty kill, Shelby Herrington won the draw and Paige Savage plucked the puck off the halfboards. Savage sent it to the point where Maddie Hartman threw a shot down low and Herrington deflected the puck in as she skated across the front of the goal.
3rd, 3:22 | 0-2, NU GOAL - McKenna Brand pulled the puck off the boards just past the Northeastern bench and played Herrington ahead as she skated down into the corner. BC wasn't able to get control down low, and Herrington fed Andrea Renner in front, who put her own rebound in after Katie Burt made the initial save.
3rd, 7:16 | 1-2, BC GOAL (PPG) - Burt collected Northeastern's penalty-kill clearance and sent it up ice to Caitrin Lonergan who picked it up at the red line and curled back around the center circle and into the Northeastern end. Skating deep, she put a hard-angled shot on goal from near the endline but the puck kicked up off of Paige Capistran and in over Brittany Bulgalski to pull BC within one.
GAME NOTES
- Today's loss was the Eagles' first loss at home since Oct. 16, 2013 ... BC's home undefeated streak reached an NCAA-record 63 games (59-0-4) before today's loss
- The defeat today also snapped the Eagles' 16-game undefeated streak, that was the nation's longest coming into the game ... BC was 14-0-2 dating back to its last loss on Nov. 5, 2016
- The loss today was BC's first against Northeastern since March 9, 2013, a 4-1 defeat in the Hockey East semifinals ... BC had gone 16 games undefeated (14-0-2) against the Huskies since that last loss
- the team's 35 power-play goals are tied for fourth most in a single season in program history
- Caitrin Lonergan scored her 12th goal of the season with her third-period score ... it was her fifth power-play goal of the season
- Lonergan now has a four-game point streak and has netted goals in three of the last four games
- Katie Burt recorded her third assist of the season with her outlet pass to Lonergan in the third period ... this extends her career high as she had single assists in both her freshman and sophomore years
- This was Burt's first assist since Oct. 15 ... she had two assists in the team's first six games
- Burt leads all goaltenders nationally in assists this season as nine other 'tenders have one apiece
- The defeat today moved the Eagles' all-time record against Northeastern to 39-45-7 all-time ... BC is now 16-14-4 at home against the Huskies as this was the Eagles' first home loss against NU since Oct. 13, 2009 - a span of 11 games
- BC surrendered its third shorthanded goal of the season today and its first since Nov. 26 ... all three shorthanded goals BC has given up this season have been to Northeastern ... the Huskies have tallied a shorthanded goal in each of the teams' three Hockey East meetings this season (Nov. 20 and Nov. 26 at Matthews Arena and today).
- Today marked the sixth time this season - and second straight game - BC was held scoreless through two periods: Oct. 1 at Minnesota Duluth (L, 5-2), Oct. 21 vs. Quinnipiac (T 0-0), Jan. 7 vs. Boston University (T 1-1), Jan. 13 vs. Merrimack (W, 1-0) and Feb. 7 vs. Northeastern (W, 2-1) ... BC is now 2-2-2 in those games
- The Eagles notched their nation-leading 35th power-play goal ... the team was 1-for-3 on the man advantage.
THREE STARS
1. Brittany Bulgalski, NU
2. Shelby Herrington, NU
3. Caitrin Lonergan, BC
TEAM RECORDS
Northeastern: 19-10-3, 14-7-2 HEA
Boston College: 21-4-5, 15-3-3 HEA
UP NEXT
Boston College returns to the ice on Sunday, Feb. 12, when the Eagles host Vermont in the teams' final regular-season meeting of the year. Faceoff is set for 2 p.m. at Kelley Rink. Following the game, BC will host its final Skate with the Eagles on the Kelley Rink ice. Admission is free, but all participants are required to wear a helmet and have a signed waiver form.