Belinskas Nets Four Goals As Boston College Defeats Maine, 5-1
Freshman forward Delaney Belinskas scores four goals for Eagles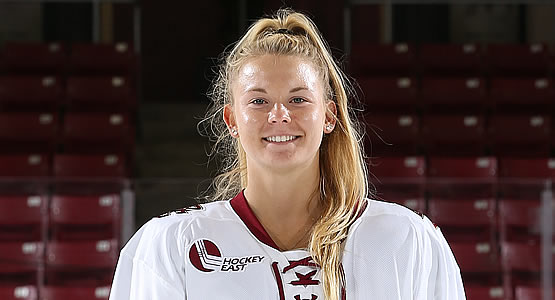 Freshman forward Delaney Belinskas scored four goals for the Eagles
| | | | | | | |
| --- | --- | --- | --- | --- | --- | --- |
| Prd | Time | Team | Score | Type | Scored By | Assists |
| 1st | 14:19 | MNE | 1-0 | EV | Tereza Vanišová (3) | Brooke Stacey/2, Kristin Gilmour/1 |
| 1st | 14:51 | BC | 1-1 | EV | Delaney Belinskas (2) | Grace Bizal/2 |
| 2nd | 0:52 | BC | 2-1 | PP GW | Delaney Belinskas (3) | Caitrin Lonergan/1, Megan Keller/3 |
| 2nd | 2:04 | BC | 3-1 | PP | Delaney Belinskas (4) | Megan Keller/4, Katie Burt/1 |
| 3rd | 15:12 | BC | 4-1 | EV | Delaney Belinskas (5) | Caitrin Lonergan/2 |
| 3rd | 18:36 | BC | 5-1 | PP | Bridget McCarthy (1) | - |
| | | | | |
| --- | --- | --- | --- | --- |
| Scoring | 1st | 2nd | 3rd | Final |
| Maine | 1 | 0 | 0 | 1 |
| Boston College | 1 | 2 | 2 | 5 |
| | | | | |
| --- | --- | --- | --- | --- |
| Shots on Goal | 1st | 2nd | 3rd | SOG |
| Maine | 4 | 8 | 7 | 19 |
| Boston College | 8 | 16 | 10 | 34 |
| | | | |
| --- | --- | --- | --- |
| Team Stats and Records | PP | PIM | SHGF |
| Maine (1-5-0) | 0/6 | 8/16 | 0 |
| Boston College (2-1-1) | 3/8 | 7/14 | 0 |
| | | | | | | |
| --- | --- | --- | --- | --- | --- | --- |
| Maine Goaltending | MIN | GA | 1 | 2 | 3 | Saves |
| Carly Jackson (L, 0-5-0) | 60:00 | 5 | 7 | 14 | 8 | 29 |
| | | | | | | |
| --- | --- | --- | --- | --- | --- | --- |
| Boston College Goaltending | MIN | GA | 1 | 2 | 3 | Saves |
| Katie Burt (W, 2-1-1) | 59:39 | 1 | 3 | 8 | 7 | 18 |
| Empty Net | 0:21 | 0 | | | | |
CHESTNUT HILL, Mass. - Freshmen scored all five goals as the No. 5 Boston College women's hockey team defeated Maine, 5-1, on Sunday afternoon at Kelley Rink.
Delaney Belinskas became the first freshman to record four goals in a game since Erin Magee '99 did so on Jan. 7, 1996, while Bridget McCarthy capped the Eagles' scoring with her first career goal late in the third period.
After falling behind 1-0  at 14:19 of the first period, Belinskas responded with her first goal just 32 seconds later, before scoring 1:10 apart early in the second period. She added her fourth goal near the end of the third period, before McCarthy rounded out the scoring at 18:36 with an unassisted power-play goal. 
Caitrin Lonergan and Megan Keller both registered two assists for the Eagles, while Grace Bizal and Katie Burt were credited with single assists. 
Boston College (2-1-1, 2-0-0 HEA) scored a season-high three power-play goals, while holding Maine (1-5-0, 0-2-0 HEA) scoreless on six man-advantages.
HOW IT HAPPENED
1st, 14:19 - 0-1, MAINE GOAL || Maine got on the board first when Tereza Vanisova potted a pass from Brooke Stacey after Kristin Gilmour started the play in her own end by pulling down the Eagles' high dump in.  
1st, 14:51 - 1-1, BC GOAL || Delaney Belinskas notched her first of the game when she took a feed from Grace Bizal off the boards and skated into the zone, beating Maine goaltender Carly Jackson to tie the score at 1-1
2nd, 00:52 - 2-1, BC GOAL (PPG) || On the power play, the Eagles worked the puck along the blue line where Megan Keller played Caitrin Lonergan low off the net. Lonergan spun to create space from a defender, then found Belinskas open in the slot for the one-timer past Jackson and a BC lead
2nd, 2:04 - 3-1, BC GOAL (PPG) || Belinskas struck again to collect her first hat trick of her career, taking a feed from Keller at her own blue line, skating through neutral ice and into the Maine zone along the boards. She cut inside at the faceoff circle and beat Jackson while coming across the goal.
3rd, 15:12 - 4-1, BC GOAL || Belinskas completed her four-goal effort when she beat Jackson on the 2-on-1 with Lonergan. Lonergan intercepted a Maine pass near the BC blue line and skated through center ice, beating a Black Bears defender and picking up Belinskas on the rush once in the attacking end. She played it across to Belinskas in the slot who pushed it behind Jackson while she crossed the crease.
3rd, 18:36 - 5-1, BC GOAL || Bridget McCarthy intercepted Maine's cross-ice clearing pass near the blue line, skated into space and ripped a rising shot that beat Jackson over her shoulder for the game's final goal
QUOTABLES
Head coach Katie Crowley
"I was really happy with how our team played. I thought we got better every period and I thought we did that yesterday, as well. Overall, I thought it was a great weekend for us."
"I thought we started a little slow today, but once we got going and Delaney (Belinskas) put one in - and obviously it was a waterfall for her today - I thought we took advantages of our opportunities offensively. I thought we had a little bit of a net-front presence where we were creating things in front of that net and making it more difficult for their defenders. We started  to play more as a team as the game went on and I thought that was really helpful."
"I say it's pretty rare to have a whole line of all freshmen. We saw them work together a little bit in Duluth and I thought they really played well together. And to be able to see them now for two more games, I thought they were playing well and really reading off each other. As they play more and get more comfortable together, they're going to produce like that. Obviously we lost a lot of offensive power last year and I thought these guys did a great  job of picking that up."
Freshman forward Delaney Belinskas
"Things are really starting to click. I think working with the girls I'm working with, we really feed off each other ... All this week in practice we were working on all the little things, so I think that's really paid off."
"I think it's a big role (to fill last year's seniors' place). You just never want to get ahead of yourself, but if I just keep moving my feet and keep doing the little things, it'll click like it did today. I've been focusing on driving to the net, just doing my thing and staying simple, and it's really working."
GAME NOTES
Delaney Belinskas' four-goal effort was the Eagles' first of the season and the team's most recent four-goal game since Haley Skarupa netted four at Boston University on Jan. 9, 2016 ... it's the first time a freshman has scored four goals in a game since Erin Magee did so on Jan. 7, 1996 ... this was just the eighth time in program history an Eagle scored four or more goals.
Bridget McCarthy scored her first career goal with her third-period strike ... she now has two points this season (one goal, one assist)
Grace Bizal picked up an assist in her second straight game and now has two on the season and 13 on her career
Megan Keller recorded her 63rd and 64th career assists ... they pushed her career point total to 80 ...  she is now two points back of Blake Bolden '13 (82 points) for fourth place on the Eagles' defenseman career scoring chart Today was Keller's 16th career multiple-assist game ... she now has four assists so far this season
Katie Burt's assist on Belinskas' third goal was her third career assist and her first since Nov. 14, 2015, when she tallied a helper at New Hampshire ... she has one assist in each of her three seasons
Caitrin Lonergan recorded her first career assists today, picking up a pair in the win ... she now has five points from three goals and two assists
The win moved Boston College's record against Maine to 37-15-6 all-time, and 32-10-4 in Hockey East regular-season action ... BC has won the last 19 meetings overall between the two programs, dating back to December 3, 2011
The Eagles are now undefeated it their last 51 games (50-0-1) in Hockey East regular-season play, dating back to February 2014
BC has now gone undefeated in the last 55 home games (53-0-1) and has won its last 48 games at home - both marks are NCAA records
The Eagles scored a power-play goal for the fourth straight game and have netted at least one power-play goal in every game so far this season ... BC now has eight power-play goals on the season (8-for-22)
The Eagles debuted their brand new third jerseys today ... the gold sweaters have a circle on the chest with the athletic department's secondary logo - the flying Eagle - in the center, Boston College on the upper and lower parts of the outer ring and 1863 (the year Boston College was founded) on either side of the ring ... the jerseys also have a pair of maroon bands along the bottom hem and each elbow ... BC wears the sweater with gold socks with the matching dual-maroon band at the knee.
THREE STARS
Delaney Belinskas, BC
Caitrin Lonergan, BC
Megan Keller, BC
TEAM RECORDS
Maine: 1-5-0, 0-2-0 HEA
Boston College: 2-1-1, 2-0-0 HEA
UP NEXT
The Eagles return to the ice next Friday, Oct. 14, when they travel to play at New Hampshire at the Whittemore Center. Faceoff is set for 7 p.m. The following night on Saturday, Oct. 15, BC will travel up to Auburn, Maine, to face the Black Bears for the third and final time in the Hockey East regular season. That game will face off at 7 p.m. at the Norway Savings Bank Arena.