Saturday, October 8, 2016
Boston College Edges Past Maine, 2-1
Freshman forward Caitrin Lonergan scores game-winning goal for Eagles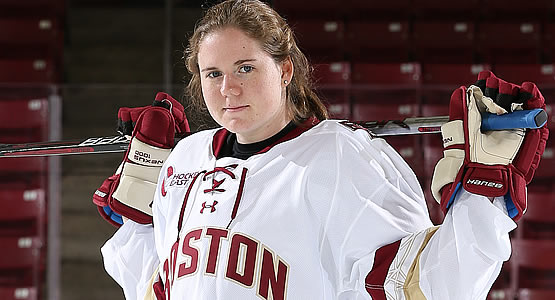 Freshman forward Caitrin Lonergan scored the game-winning goal for the Eagles
| | | | | | | |
| --- | --- | --- | --- | --- | --- | --- |
| Prd | Time | Team | Score | Type | Scored By | Assists |
| 1st | 3:52 | BC | 1-0 | PP | Kristyn Capizzano (1) | Kali Flanagan/3, Grace Bizal/1 |
| 2nd | 0:15 | MNE | 1-1 | EV | Kristin Gilmour (1) | Brooke Stacey/1, Alyson Matteau/2 |
| 2nd | 0:38 | BC | 2-1 | EV GW | Caitrin Lonergan (3) | Megan Keller/2 |
| | | | | |
| --- | --- | --- | --- | --- |
| Scoring | 1st | 2nd | 3rd | Final |
| Maine | 0 | 1 | 0 | 1 |
| Boston College | 1 | 1 | 0 | 2 |
| | | | | |
| --- | --- | --- | --- | --- |
| Shots on Goal | 1st | 2nd | 3rd | SOG |
| Maine | 4 | 8 | 8 | 20 |
| Boston College | 18 | 10 | 16 | 44 |
| | | | |
| --- | --- | --- | --- |
| Team Stats and Records | PP | PIM | SHGF |
| Maine (1-4-0) | 0/4 | 7/14 | 0 |
| Boston College (1-1-1) | 1/6 | 6/12 | 0 |
| | | | | | | |
| --- | --- | --- | --- | --- | --- | --- |
| Maine Goaltending | MIN | GA | 1 | 2 | 3 | Saves |
| Carly Jackson (L, 0-4-0) | 59:12 | 2 | 17 | 9 | 16 | 42 |
| Empty Net | 0:48 | 0 | | | | |
| | | | | | | |
| --- | --- | --- | --- | --- | --- | --- |
| Boston College Goaltending | MIN | GA | 1 | 2 | 3 | Saves |
| Katie Burt (W, 1-1-1) | 60:00 | 1 | 4 | 7 | 8 | 19 |
CHESTNUT HILL, Mass. - The Eagles' defense held its visitors to just 20 shots and goaltender Katie Burt stopped a potentially game-tying penalty shot at the end of the second period as the No. 5 Boston College women's hockey team topped Maine, 2-1, on Saturday afternoon in the team's home opener.
Freshman Caitrin Lonergan scored her third goal in as many games, netting the game-winner less than 30 seconds after Maine tied the score at 1-1 in the second period.
No. 5 Boston College 2, Maine 1
Saturday, October 8, 2016
Kelley Rink at Conte Forum | Chestnut Hill, Mass.
HOW IT HAPPENED
1st, 03:52 - 1-0, BC GOAL || Toward the end of the Eagles' first power play of the game, the Eagles got the puck into the zone and Grace Bizal fed Kali Flanagan along the blue line. Flanagan pumped the puck on goal and Kristyn Capizzano reached to tip it in past Black Bears goaltender Carly Johnson for the 1-0 BC lead
2nd, 00:15 - 1-1, Maine GOAL || As simultaneous Maine penalties expired, defenseman Brooke Stacey played a long pass up ice to Kristin Gilmour and Nicole Arnold breaking out of the box. Stacey's pass connected with Gilmour along the far boards and Gilmour's feed across the crease to Arnold kicked in past Katie Burt off a diving Megan Keller as the defenseman retreated to try to break up the play
2nd, 00:38 - 2-1, BC GOAL || Less than 30 seconds after Maine's goal, Keller played a long pass from along the far boards through center ice where it bounced off a Maine defenseman's stick for Caitrin Lonergan to pick up unimpeded. Lonergan skated into the zone down the center, curled across the face of the goal and beat Johnson to put BC back on top.
2nd, 19:12 - PENALTY SHOT SAVE || Makenna Newkirk was whistled for a holding penalty as Anna Wright curled in front for a shot. The Black Bears were awarded a penalty shot, and Katie Burt made a glove save on Wright's attempt to preserve the Eagles' 2-1 lead.
QUOTABLES

Head coach Katie Crowley
"I thought our D played great in the defensive zone. All of them, really. Maine works really hard; they're a hard-working team and I thought there were a few times when (Katie) Burt came up big for us and a few times when our defense came up big, putting stops to plays that they were making or rallies that they were getting."
"I think (a win in the first league game is) good for us. I think our league has more parity in it this year and teams are going to come hard at us. Obviously we have a target on our back and I thought our team responded well. Hopefully tomorrow we can put a few more pucks in the net."
Junior defenseman Megan Keller
"All week during practice we've been working on doing the little things right. Moving pucks quickly, using the glass when we have to and just battling. And I think that's what we did today. We battled hard and were able to get the win."
Junior goaltender Katie Burt
"They were a lot more relentless than they were last year. They threw everything at us this year and I thought we handled it really well. I thought our D played really well and I thought our D zone as pretty sound. We had three new centers who had basically never played center before, and that's really tough in our system, so I think we adjusted well."
GAME NOTES
- The win moved Boston College's record against Maine to 36-15-6 all-time, and 31-10-4 in Hockey East regular-season action ... BC has won the last 18 meetings overall between the two programs, dating back to December 3, 2011
- The win extended two of Boston College's longstanding streaks ... the Eagles are now undefeated it their last 50 games (49-0-1) in Hockey East regular-season play, dating back to February 2014 ... also, BC has now gone undefeated in the last 53 home games (52-0-1) and has won its last 47 games at home - both marks are NCAA records
- The Eagles scored a power-play goal for the third straight game, this time from Kristyn Capizzano ... it was her 32nd career goal and her sixth career power-play strike
- Freshman Caitrin Lonergan scored her third goal of the season, recording one goal in each of the team's games so far this season
- Katie Burt made her first penalty shot save of her collegiate career today ... it was the first time she faced a penalty shot in her BC career
- Grace Bizal picked up her first assist of the season, pushing her career total to 12
- Kali Flanagan recorded up her third assist of the season, also recording one assist in each of the Eagles' contests so far this year ... she now has 27 career assists
- Megan Keller recorded her 62nd career assist on Lonergan's goal ... it was her 78th career point ... she is now four points back of Blake Bolden '13 (82 points) for fourth place on the Eagles' defenseman career scoring chart
TEAM RECORDS
Maine: 1-4-0, 0-1-0 HEA
Boston College: 1-1-1, 1-0-0 HEA
UP NEXT
The Eagles return to the ice tomorrow, Sunday, Oct. 9, when they host Maine for the second game in the two-game set. Faceoff is set for 2 p.m. at Kelley Rink and the game will be streamed live on bceagles.tv.