Friday, September 30, 2016
Boston College Skates To 3-3 Tie With Minnesota Duluth
Senior forward Andie Anastos records goal and assist for Eagles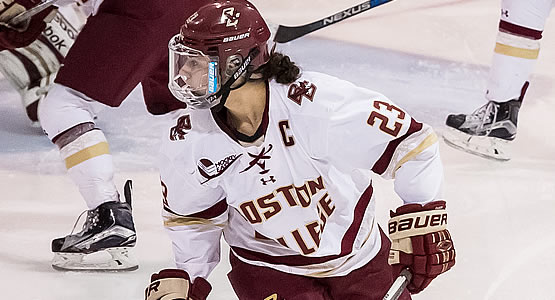 Senior forward Andie Anastos had a goal and an assist for the Eagles
| | | | | | | |
| --- | --- | --- | --- | --- | --- | --- |
| Prd | Time | Team | Score | Type | Scored By | Assists |
| 1st | 0:17 | BC | 1-0 | EV | Haley McLean (1) | Andie Anastos/1, Kenzie Kent/1 |
| 1st | 15:45 | MND | 1-1 | EV | Ashleigh Brykaliuk (1) | Kateřina Mrázová/1 |
| 1st | 17:51 | BC | 2-1 | PP | Caitrin Lonergan (1) | Kali Flanagan/1, Tori Sullivan/1 |
| 2nd | 13:12 | MND | 2-2 | EV | Ashleigh Brykaliuk (2) | Kateřina Mrázová/2, Sidney Morin/1 |
| 3rd | 3:04 | BC | 3-2 | PP | Andie Anastos (1) | Toni Ann Miano/1, Megan Keller/1 |
| 3rd | 14:29 | MND | 3-3 | PP GT | Ashleigh Brykaliuk (3) | Lara Stalder/1, Katherine McGovern/1 |
| | | | | | |
| --- | --- | --- | --- | --- | --- |
| Scoring | 1st | 2nd | 3rd | OT | Final |
| Boston College | 2 | 0 | 1 | 0 | 3 |
| Minnesota Duluth | 1 | 1 | 1 | 0 | 3 |
| | | | | | |
| --- | --- | --- | --- | --- | --- |
| Shots on Goal | 1st | 2nd | 3rd | OT | SOG |
| Boston College | 8 | 13 | 9 | 4 | 34 |
| Minnesota Duluth | 8 | 9 | 12 | 1 | 30 |
| | | | |
| --- | --- | --- | --- |
| Team Stats and Records | PP | PIM | SHGF |
| Boston College (0-0-1) | 2/4 | 6/12 | 0 |
| Minnesota Duluth (0-0-1) | 1/5 | 5/10 | 0 |
| | | | | | | | |
| --- | --- | --- | --- | --- | --- | --- | --- |
| Boston College Goaltending | MIN | GA | 1 | 2 | 3 | OT | Saves |
| Katie Burt (T, 0-0-1) | 64:48 | 3 | 7 | 8 | 11 | 1 | 27 |
| Empty Net | 0:12 | 0 | | | | | |
| | | | | | | | |
| --- | --- | --- | --- | --- | --- | --- | --- |
| Minnesota Duluth Goaltending | MIN | GA | 1 | 2 | 3 | OT | Saves |
| Maddie Rooney (T, 0-0-1) | 65:00 | 3 | 6 | 13 | 8 | 4 | 31 |
DULUTH, Minn. - The No. 3 Boston College women's hockey team played to a 3-3 draw on the road at Minnesota Duluth on Friday night to open the 2016-17 season.
Three times BC took one-goal leads only to see the Bulldogs come back to tie it up each time. While Boston College captain Andie Anastos had one goal and one assist, UMD's Ashleigh Brykaliuk recorded a hat trick with all three of Duluth's goals on the night.
Katie Burt made 27 saves in goal, while UMD's goaltender Maddie Rooney was forced into 31 - including a high glove save on Tori Sullivan with less than one minute left in the overtime period.
No. 3 Boston College 3, Minnesota Duluth 3
Friday, September 30, 2016
AMSOIL Arena | Duluth, Minn.
BC HIGHLIGHTS
- Captain Andie Anastos recorded the Eagles' first multiple-point game of the season
- Eight different players collected points tonight
- Caitrin Lonergan scored her first collegiate goal
- BC went 2-for-4 on the power play
HOW IT HAPPENED
1st, 00:17 | 1-0 - BC GOAL || Haley McLean gave the Eagles the lead less than one minute into the game when she scored off feeds from Andie Anastos and Kenzie Kent.
1st, 15:45 | 1-1 - UMD GOAL || Ashleigh Brykaliuk knotted it up after Katerina Mrarova won the face-off draw. She pulled it back to the slot where Brykaliuk's one-timer beat Katie Burt
1st, 17:51 | 2-1 - BC GOAL (PP) || Caitrin Lonergan put the Eagles back on top with a power-play goal from Kali Flanagan and Tori Sullivan as time on the penalty wound down.
2nd, 13:12 | 2-2 - UMD GOAL || Brykaliuk scored her second of the game, poking a loose puck home. The play started when UMD came in on an odd-man rush and Katie Burt came out to break up the play. The Bulldogs got the puck and shot on the open net, but Megan Keller blocked the shot. The rebound came back around the net and Brykaliuk snuck it past Burt as she got back into position.
3rd, 3:04 | 3-2 - BC GOAL (PP) || Anastos' rising one-timer from the slot beat Maddie Rooney for the Eagles' second power-play goal of the night. Toni Ann Miano and Megan Keller picked up assists from the points.
3rd, 14:29 | 3-3 - UMD GOAL (PP) || Brykaliuk tallied her third of the night when she took Lara Stalder's cross-slot pass and put a high shot from the low edge of the circle past Burt on the power play.
QUOTABLES

Head coach Katie Crowley
"I thought it was a great first game for us. That's a tough team over there and I thought they played really well. They're quick and fast and put us on our heels a little bit. I liked the way we responded for the most part. We certainly have a few things we need to work on, but the atmosphere in the building was great."
"We really need to take care of that puck a little bit better (tomorrow), especially around those blue lines. When we're in our defensive zone, we really need to make sure we get that puck out of that zone when we have the opportunity to. And the same goes for the offensive side. When you get to that blue, you can get it in deep. I thought today we were rolling pretty good. we got that forecheck going. Putting it deep, getting that forecheck, getting on them a little bit deeper I think would be beneficial for tomorrow night."
GAME NOTES
- Andie Anastos recorded her first multiple-point game since Feb. 20, 2015 with her goal and assist tonight ... it was her 26th career multi-point game ...
- Haley McLean's goal was her 10th career goal, and her first since Nov. 25, 2015 when she scored her only goal of the 2015-16 season in a 9-1 win at home against Providence.
- Caitrin Lonergan scored her first career goal toward the end of the first period ... it was a power-play goal
- Anastos picked up her 103rd and 104th careers points tonight ... that moved her into sole possession of 12th place on the BC scoring chart, passing Emily Pfalzer who she entered the season tied with at 102 career points
- Kenzie Kent collected her 60th career assist with her helper on McLean's first-period goal
- Tori Sullivan's assist on Lonergan's power-play goal was the 35th assist of her career
- BC is now 12-10-1 all-time in season openers, and 6-3-1 under head coach Katie Crowley
- The Eagles are now 4-5-1 all-time against Minnesota Duluth, and 1-1-0 in away games in Duluth ... this also moves BC's record to 8-17-2 all-time against WCHA opponents.
- Katie Burt finished the night with 37 saves, while the Eagles forced UMD goaltender Maddie Rooney into 31 stops
TEAM RECORDS
Boston College: 0-0-1
Minnesota Duluth: 0-0-1
UP NEXT
The Eagles and Bulldogs wrap up their two-game series on Saturday, Oct. 1. The teams will face off at 4 p.m. ET (3 p.m. CT) at AMSOIL Arena in a game that will be streamed live on NCHC TV.