Late Anastos Goal Gives Boston College 1-0 Win Over Merrimack
Senior forward Andie Anastos scores game-winner with 2:30 remaining for Eagles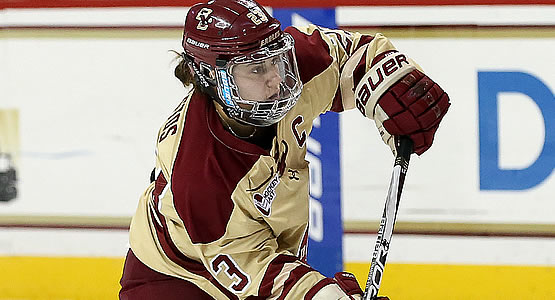 Senior forward Andie Anastos scored the game-winning goal for the Eagles
| | | | | | | |
| --- | --- | --- | --- | --- | --- | --- |
| Prd | Time | Team | Score | Type | Scored By | Assists |
| 3rd | 17:30 | BC | 1-0 | EV GW | Andie Anastos (10) | Makenna Newkirk/18, Delaney Belinskas/8 |
| | | | | |
| --- | --- | --- | --- | --- |
| Scoring | 1st | 2nd | 3rd | Final |
| Merrimack | 0 | 0 | 0 | 0 |
| Boston College | 0 | 0 | 1 | 1 |
| | | | | |
| --- | --- | --- | --- | --- |
| Shots on Goal | 1st | 2nd | 3rd | SOG |
| Merrimack | 2 | 5 | 5 | 12 |
| Boston College | 14 | 9 | 15 | 38 |
| | | | |
| --- | --- | --- | --- |
| Team Stats and Records | PP | PIM | SHGF |
| Merrimack (8-15-2) | 0/2 | 4/8 | 0 |
| Boston College (15-3-4) | 0/4 | 2/4 | 0 |
| | | | | | | |
| --- | --- | --- | --- | --- | --- | --- |
| Merrimack Goaltending | MIN | GA | 1 | 2 | 3 | Saves |
| Léa-Kristine Demers (L, 5-11-0) | 59:27 | 1 | 14 | 9 | 14 | 37 |
| Empty Net | 0:33 | 0 | | | | |
| | | | | | | |
| --- | --- | --- | --- | --- | --- | --- |
| Boston College Goaltending | MIN | GA | 1 | 2 | 3 | Saves |
| Katie Burt (W, 13-3-4) | 59:55 | 0 | 2 | 5 | 5 | 12 |
| Empty Net | 0:05 | 0 | | | | |
CHESTNUT HILL, Mass. - Captain Andie Anastos broke a scoreless game with 2:30 left to claim a 1-0 win for the No. 6 Boston College women's hockey team over Merrimack at Kelley Rink on Friday afternoon. The win pushed the Eagles' unbeaten run to 10 games.
With time running out in the game, Delaney Belinskas picked up a blocked shot in the Eagles' defensive zone to start the play, feeding Makenna Newkirk in the neutral zone. Newkirk took space into the Merrimack end, curled toward the boards and played a feed backwards to Anastos surging into the zone behind the play. Anastos one-timed a snapshot from the faceoff circle and beat Merrimack goaltender Lea-Kristine Demers high on her blocker side for the game's first goal.
Katie Burt made 12 saves for the Eagles, posting her fourth shutout of the season. It was the 27th shutout of her career.
BC held a strong advantage in shots through two periods, holding 14-2 and 23-7 leads for the first two periods, respectively. In the third period, BC had a 15-5 edge - including Anastos' game-winner for the final 38-12 lead.
The Eagles are 8-0-2 in the last 10 games, marking the fifth straight season in which BC has owned an unbeaten streak of 10 games or more.
Follow the #BCEagles all season at @bc_whockey on Twitter and Instagram.
No. 6 Boston College 1, Merrimack 0
Friday, January 13, 2017
Kelley Rink at Conte Forum | Chestnut Hill, Mass.
HOW IT HAPPENED
1st, 14:00 into the period: With Erin Connolly in the penalty box, the Eagles almost capitalized on a shorthanded bid. Andie Anastos broke up the Warriors' pass at her own blue line and skated in alone on Merrimack goalkeeper Lea-Kristine Demers. She stickhandled in close and Demers disrupted the effort, covering before Megan Keller could jump on the puck trailing the play. Once Connolly returned to the ice after her penalty expired, she jumped on the puck gained possession in the neutral zone. She skated in and launched a shot from the right circle, but her shot clipped the post.
3rd, 17:30 | 1-0 - BC GOAL: Delaney Belinskas picked up the rebound of a deflected Merrimack shot in front of BC goaltender Katie Burt and turned to find Makenna Newkirk in the neutral zone with a cross-ice pass. Newkirk skated out wide and into the Merrimack end, where she picked up Anastos behind her and played a backpass. Anastos launched a rising one-timer from just ahead of the faceoff circle, beating Demers and posting the game's only goal.
GAME NOTES
- BC is now undefeated in its last 10 games overall, going 8-0-2 since Nov. 11 This is the fifth straight season - and sixth time in the last seven years - that Boston College has had an undefeated run of at least 10 games: 2015-16 - 40; 2014-15 - 28; 2013-14 - 11; 2012-13 - 18
- The Eagles have now matched its fifth-longest undefeated streak in program history at 10 games, which they originally accomplished when they opened the 2010-11 season 7-0-3 from Oct. 8 through Nov. 7
- With the win, the Eagles improved to 4-0-0 all-time against Merrimack, and 2-0-0 at home
- The victory also pushed BC's home undefeated streak to 61 games (58-0-3), a stretch that spans five calendar years (2013 to present)
- Andie Anastos' goal was her 10th of the season and her first since a strike at Dartmouth on Dec. 7
- Andie Anastos recorded her 52nd career goal ... she is now four goals back of a tie for 10th place on the Eagles' career goal-scoring chart
- Anastos' goal was also the game-winning goal, the 11th of her career ... she moved into a tie for sixth place (with Taylor Wasylk '14) on the Eagles' career game-winning goals chart
- Katie Burt recorded her fourth shutout of the season and her 27th career shutout in her 12-save effort today ... Burt ranks eighth on the NCAA career chart
- With the win, Burt picked up her 78th career victory and is now just two wins shy of Molly Schaus' '11 program record of 80
- The win moved Burt into a tie for 12th place on the NCAA career wins chart, tying Rachel Barrie (St. Lawrence '04) and Laura Mosier (Mercyhurst '07)
- Burt is now seven conference wins back of the Hockey East career wins record ... she now has 45 career HEA wins and is one back of third place, currently shared by Schaus and former BC goaltender Corinne Boyles '14
- Makenna Newkirk picked up her team-leading 18th assist of the season on Anastos' goal ... she now has 45 career assists
- Newkirk moved to 73 career points and is now two points shy of becoming the 28th player in program history to reach that mark
- Delaney Belinskas notched her eighth assist of the season on Anastos' goal ... it was her first point since her three-point effort at Dartmouth on Dec. 7
- Today's game marked just the sixth time this season BC did not score a power-play goal ... the Eagles were 0-for-4 on the man advantage
TEAM RECORDS
Merrimack: 8-15-2, 4-12-0 HEA
Boston College: 15-3-4, 11-2-2 HEA
UP NEXT
The two teams return to the ice tomorrow, Saturday, Jan. 14, at the Warriors' Lawler Rink. Faceoff is set for 1 p.m. in North Andover, Mass.