Thursday, February 23, 2017
Boston College Shuts Out Merrimack, 4-0, To Open WHEA Playoffs
Junior defenseman Megan Keller posts goal and two assists for Eagles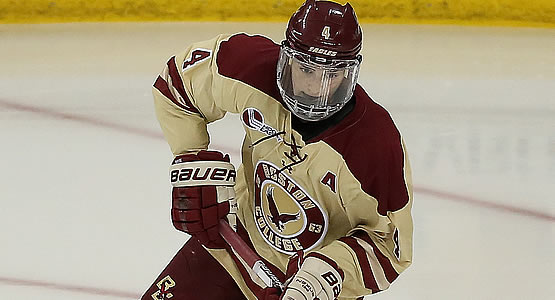 Junior defenseman Megan Keller had a goal and two assists for the Eagles
| | | | | | | |
| --- | --- | --- | --- | --- | --- | --- |
| Prd | Time | Team | Score | Type | Scored By | Assists |
| 1st | 5:42 | BC | 1-0 | EV GW | Haley McLean (3) | Erin Connolly/6, Ryan Little/3 |
| 2nd | 4:44 | BC | 2-0 | EV | Delaney Belinskas (16) | Megan Keller/25 |
| 2nd | 14:24 | BC | 3-0 | EV | Ryan Little (4) | Haley McLean/8, Megan Keller/26 |
| 3rd | 3:46 | BC | 4-0 | EV | Megan Keller (8) | - |
| | | | | |
| --- | --- | --- | --- | --- |
| Scoring | 1st | 2nd | 3rd | Final |
| Merrimack | 0 | 0 | 0 | 0 |
| Boston College | 1 | 2 | 1 | 4 |
| | | | | |
| --- | --- | --- | --- | --- |
| Shots on Goal | 1st | 2nd | 3rd | SOG |
| Merrimack | 7 | 4 | 9 | 20 |
| Boston College | 11 | 17 | 11 | 39 |
| | | | |
| --- | --- | --- | --- |
| Team Stats and Records | PP | PIM | SHGF |
| Merrimack (11-21-3) | 0/2 | 1/2 | 0 |
| Boston College (24-5-5) | 0/1 | 2/4 | 0 |
| | | | | | | |
| --- | --- | --- | --- | --- | --- | --- |
| Merrimack Goaltending | MIN | GA | 1 | 2 | 3 | Saves |
| Léa-Kristine Demers (L, 8-15-1) | 59:49 | 4 | 10 | 15 | 10 | 35 |
| Empty Net | 0:11 | 0 | | | | |
| | | | | | | |
| --- | --- | --- | --- | --- | --- | --- |
| Boston College Goaltending | MIN | GA | 1 | 2 | 3 | Saves |
| Katie Burt (W, 22-5-5) | 59:14 | 0 | 7 | 4 | 9 | 20 |
| Empty Net | 0:46 | 0 | | | | |
CHESTNUT HILL, Mass. - The sixth-ranked Boston College women's hockey team staked a 1-0 lead in the team's best-of-three Hockey East Quarterfinal series with Merrimack behind today's 4-0 win over the Warriors at Kelley Rink.
Junior All-America defenseman Megan Keller led all players with three points, tallying one goal and two assists to pace the offensive - and defensive - effort.
BC's Katie Burt made 20 saves to earn her 87th career victory and post her 29th career shutout. A junior, Burt is now eighth in career wins in NCAA history and tied for seventh in career shutouts, matching Clarkson's Erica Howe '14 on the NCAA chart. Merrimack's Lea-Kristine Demers stopped 35 of BC's 39 shots.
Haley McLean and Ryan Little each registered two-point days as both scored one goal and added one assist.
The two teams meet in Game 2 tomorrow at 2 p.m., with a Game 3 set for Sunday if necessary.
Follow the #BCEagles all season at @bc_whockey on Twitter and Instagram.
No. 6 Boston College 4, Merrimack 0
Thursday, February 23, 2017
Kelley Rink at Conte Forum | Chestnut Hill, Mass.
HOW IT HAPPENED
1st, 5:42 | 1-0, BC GOAL - Erin Connolly won a faceoff in the Warriors' defensive end and Ryan Little skated the puck around the back of the net where she fed Haley McLean. Lea-Kristine Demers saved McLean's shot from the edge of the crease, but the rebound popped into a cluster of players near the far faceoff dot. Connolly poked the puck out to McLean, who was still down low, and McLean flicked a backhand shot past Demers inside the post to stake BC to an early 1-0 lead.
2nd, 4:44 | 2-0, BC GOAL - Delaney Belinskas broke up a Merrimack centering pass in the Eagles' defensive end and pushed it to her left to a surging Megan Keller. Keller pushed past a pair of Warrior defenders in the neutral zone and skated around another in the Merrimack end to create a 2-on-1 with Belinskas. Keller got off an inch-perfect centering pass that Belinskas re-directed past Demers at the top of the crease to push the Eagles' lead to 2-0.
2nd, 14:24 | 3-0, BC GOAL - Keller broke up Merrimack's attack inside the BC attacking zone and skated the puck through center ice leading the rush. She drifted outside along the wall once she got into the Merrimack end before cutting around to create space. With room, she sent a backhand pass toward goal where McLean tipped it just enough to land on Little's stick in the low slot for the quick redirection and a 3-0 lead.
3rd, 3:46 | 4-0, BC GOAL - After Merrimack tried to bank the puck off the boards to clear their defensive zone, Keller plucked it off its bounce at the right point. She skated down into space in the high slot and sent a wrister high over Demers' glove side, just under the crossbar for her eighth goal of the season.
GAME NOTES
- Megan Keller recorded three points today, her ninth multiple-point game of the season ... this was her fifth game this season with three or more points
- Among her three points, Keller collected a pair of assists today, pushing her season total to 26 ... she now has 10 points in the last four games
- With today's effort, Keller now has 34 points this season and extended her national points lead among defensemen to four points ... she also leads all defensemen in points per game (1.13) by almost a one-fifth of an assist
- Among all skaters nationally, Keller ranks ninth in assists per game and is 10th in total assists ... she ranks 20th nationally in points per game among all skaters and is the only defenseman in the top 34 players in the nation
- Keller's third-period goal was her eighth of the season and the 24th of her career ... already holding the BC career scoring and assist marks for defensemen, Keller now sits third on the blue liners' career goals list, two back of Blake Bolden '13 and five behind Genevieve Missirlian '99
- With today's win, Katie Burt moved into sole possession of eighth place on the NCAA career wins chart with her 87th career victory
- She also posted her 29th career shutout and her sixth of the season ... But now sits tied for seventh on the NCAA career shutouts list, matching Clarkson's Erica Howe '14 ... Burt is one shutout back of tying two players in fifth place with 30 shutouts
- Today was Haley McLean's second multiple-point game of the season and her second in the last four games ... she netted a goal and added an assist
- Haley McLean notched her third goal of the season to stake the Eagles to a 1-0 lead ... it was her first goal since she tallied the game-winning goal against Merrimack at Lawler Rink on Jan. 14
- Ryan Little registered her second multiple-point game of the season - and her career - and her first since Oct. 29 ... today she set up Haley McLean's game-opening goal and then scored the team's third goal
- Her second-period goal was her fourth strike of the season, while her assist was her third of the year ... both totals represent new career highs for the sophomore
- Delaney Belinskas scored her team-leading 16th goal of the season ... she now has five points in the last four games
- Belinskas is now tied for third nationally in freshman goals, and second in points (32)
- Erin Connolly's assist on McLean's first-period goal was her sixth of the season ... this was her first assists since she collected two against Boston University in the first round in the Beanpot on Jan. 31
- With the win, Boston College improved to 7-0-0 all-time against Merrimack, and 4-0-0 at Kelley Rink ... BC has never lost to the second-year program, which is making its first-ever appearance in the Hockey East Tournament
- The Eagles are now 15-9 all-time in the Hockey East Tournament after today's win ... they are making their 12 appearances
- Boston College is riding a five-game winning streak in the Hockey East Tournament (2016-present)
- BC improved to 7-1 in the quarterfinal round with the victory today
- This marks the fourth-straight year the Eagles are the tournament's No. 1 seed ... BC is now 10-2 record as the top entrant
- BC went 2-for-2 on the penalty kill, marking the 13th time in 14 games the Eagles were perfect on the kill ... the Eagled increased their nation-leading PK percentage at 92.6 percent ... BC has been successful in its last 20 penalty-kill opportunities, the team's fourth stretch this season of 20 or more straight kills
- This was just the fourth game this season BC did not score a special teams goal (power play or shorthanded) ... the Eagles have notched at least one or the other in 30 of 34 games this season
THREE STARS
1. Megan Keller, BC
2. Katie Burt, BC
3. Haley McLean, BC
TEAM RECORDS
Merrimack: 11-21-3, 7-17-0 HEA
Boston College: 24-5-5, 17-4-3 HEA
UP NEXT
The two teams return to the ice tomorrow, Friday, Feb. 24, at 2 p.m., to continue their best-of-three Hockey East Quarterfinal series at Kelley Rink. If a third game is needed, it will be played at 8 p.m. on Sunday, Feb. 26. Tickets will be available at the Conte Forum box office on each game day: $10 for adults; $5 for children/groups/seniors; students from Hockey East schools are free with school ID.