Tuesday, January 10, 2017
Boston College Defeats Harvard, 3-1, At Fenway Park
Freshman defenseman Erin Connolly scores two goals for Eagles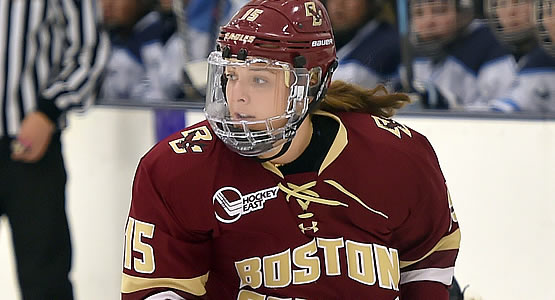 Freshman defenseman Erin Connolly scored two goals for the Eagles
| | | | | | | |
| --- | --- | --- | --- | --- | --- | --- |
| Prd | Time | Team | Score | Type | Scored By | Assists |
| 2nd | 9:45 | BC | 1-0 | EV | Bridget McCarthy (2) | Andie Anastos/13 |
| 2nd | 14:05 | BC | 2-0 | PP GW | Erin Connolly (5) | Andie Anastos/14, Makenna Newkirk/17 |
| 3rd | 12:54 | BC | 3-0 | EV | Erin Connolly (6) | - |
| 3rd | 14:58 | HAR | 1-3 | EV | Kat Hughes (4) | Bradley Fusco/1, Lexie Laing/5 |
| | | | | |
| --- | --- | --- | --- | --- |
| Scoring | 1st | 2nd | 3rd | Final |
| Harvard | 0 | 0 | 1 | 1 |
| Boston College | 0 | 2 | 1 | 3 |
| | | | | |
| --- | --- | --- | --- | --- |
| Shots on Goal | 1st | 2nd | 3rd | SOG |
| Harvard | 8 | 6 | 9 | 23 |
| Boston College | 10 | 10 | 10 | 30 |
| | | | |
| --- | --- | --- | --- |
| Team Stats and Records | PP | PIM | SHGF |
| Harvard (1-11-2) | 0/4 | 3/6 | 0 |
| Boston College (14-3-4) | 1/3 | 4/8 | 0 |
| | | | | | | |
| --- | --- | --- | --- | --- | --- | --- |
| Harvard Goaltending | MIN | GA | 1 | 2 | 3 | Saves |
| Brianna Laing (L, 1-4-0) | 57:47 | 3 | 10 | 8 | 9 | 27 |
| Empty Net | 2:13 | 0 | | | | |
| | | | | | | |
| --- | --- | --- | --- | --- | --- | --- |
| Boston College Goaltending | MIN | GA | 1 | 2 | 3 | Saves |
| Katie Burt (W, 12-3-4) | 60:00 | 1 | 8 | 6 | 8 | 22 |
BOSTON - A pair of Boston-area freshmen scored all of the Eagles' goals and senior captain Andie Anastos added a pair of assists as the sixth-ranked Boston College women's hockey team earned a 3-1 victory over Harvard in a game played at Fenway Park as part of the two-week long Frozen Fenway activities.
Redshirt freshman Erin Connolly (South Boston, Mass.) scored two goals, while freshman Bridget McCarthy (Pembroke, Mass.) tallied the team's first goal.
After a scoreless first period, McCarthy got the Eagles on the scoreboard with a rifle that was set-up by Anastos at 9:45. Connolly doubled the lead with a power-play strike - from Anastos and Makenna Newkirk - at 14:05 to send BC into the second intermission with a two-goal lead.
While there was light to moderate rain throughout the first two periods, the intensity picked up between the second and third periods and the teams came out for the third in heavy rain that caused some minor ice flooding throughout the period.
Connolly netted her second of the game 12:54 into the third when she stole the puck at the red line, skated in and launched a snapshot from the top of the right circle that beat Crimson goaltender Brianna Laing.
Harvard broke Katie Burt's shutout bid with a goal at 14:58 as Kat Hughes knocked in a puck on the doorstep as Bradley Fusco's centering pass from the right died in a puddle in the crease.
Burt made 22 saves, while Laing posted 27 saves for Harvard.
Boston College (14-3-4) extended its unbeaten streak to nine games - 7-0-2. Harvard fell to 1-11-2.
Follow the #BCEagles all season at @bc_whockey on Twitter and Instagram.
No. 6 Boston College 3, Harvard 1
Tuesday, January 10, 2017
Fenway Park | Boston
HOW IT HAPPENED
2nd, 9:45 | 1-0 - BC GOAL: Andie Anastos broke up Harvard's clearance pass and skated into the zone. She picked up Bridget McCarthy cutting in, backhanded a pass behind her and McCarthy converted a one-timer for the Eagles' first goal.
2nd, 14:05 | 2-0 - BC GOAL (PPG): With Eagles on their second power play of the night, Megan Keller dumped the puck from the left point and Connolly passed it further around from behind the goal. Makenna Newkirk and Anastos combined on the wall to keep possession and Anastos then sent a centering pass toward goal where Connolly re-directed it in for BC's second goal.
3rd, 12:54 | 3-0 - BC GOAL: Connolly forced a turnover near the red line in the front of the benches and skated into space with only one Harvard defenseman back. Once in the Crimson's zone, she ripped a shot from the top of the circle that beat Brianna Laing.
3rd, 14:58 | 3-1 - HARV GOAL: Bradley Fusco's shot from the right got caught in traffic in front of the net stopped in a pool of water on the edge of the crease, allowing Kat Hughes to knock it in and get the Crimson on the board. Fucso and Lexie Laing worked a give-and-go at the blue line to set up the play.
GAME NOTES
- This was Boston College's first-ever game at Fenway Park and the team's first-ever outdoor game
- BC is now undefeated in its last nine games overall, going 7-0-2 since Nov. 11
- With the win, the Eagles improved to 13-25-1 all-time against Harvard and has now won the last three meetings between the teams
- This was the eighth neutral-site game between the teams, and BC now leads 5-3-0 in those contests
- Erin Connolly netted her second two-goal game of the season and her second in the Eagles' last five games ... this was her second multiple-point game of her career, and also her second in the last five games ... she posted two goals and one assist at Providence on Dec. 3
- Connolly's first goal was her fourth power-play goal of the season, which moved her into a tie for 10th nationally in the category
- Bridget McCarthy scored her second goal of the season and her first since Oct. 9 against Maine
- Andie Anastos notched her 22nd and 23rd points of the season with her pair of assists
- Anastos now has 14 assists this season, which ranks second on the team behind Newkirk (17)
- Anastos' second assist of the night was her 125th career point and moved her into a tie for 10th place on the Eagles' career scoring chart ... she is now tied with Laura Traynham in the 10th spot
- Makenna Newkirk notched her team-leading 17th assist of the season on Connolly's goal
- Anastos and Newkirk now share the team's lead in scoring with 23 points apiece
- Katie Burt made 22 saves in the win ... it was her 77th career win ... she is now one win shy of tying for 12th place in the NCAA career wins list (78)
- Burt is also a ball girl for the Boston Red Sox during the team's season
- Boston College tallied its NCAA-leading 28th power-play goal of the season tonight and has now scored at least one power-play goal in 16 of 21 games this year
- BC was 4-for-4 on the penalty kill tonight
- Head coach Katie Crowley improved to 10-3-1 all-time against Harvard
- A total of nine Massachusetts natives dressed for tonight's game at Fenway Park
- Denna Laing, the professional player who suffered a spinal cord injury in the first women's professional outdoor game last January, participated in a ceremonial puck drop that also included BC alumna Alex Carpenter '15 and Harvard alum Marissa Gedman '15 - both members of the NWHL's Boston Pride - as well as BC captain Andie Anastos and Harvard's Lexi Laing, who is Denna's youngest sister and one of Denna's two sisters on the Harvard squad
TEAM RECORDS
Harvard: 1-11-2
Boston College: 14-3-4
UP NEXT
Boston College will play a two-game Hockey East series against Merrimack on Friday, Jan. 13 and Saturday, Jan. 14. Friday's game will face off at 4 p.m. at BC's Kelley Rink, while Saturday's contest is set for 1 p.m. at the Warriors' Lawler Rink in North Andover, Mass.