Friday, September 23, 2016
Boston College Rolls Past Cambridge Rivulettes, 7-1
Senior forwards Haley McLean and Kristyn Capizzano each score two goals for Eagles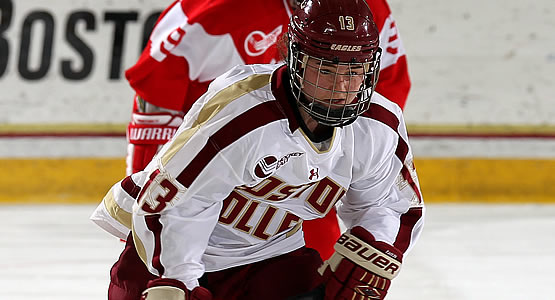 Senior forward Haley McLean had a goal and an assist for the Eagles
| | | | | | | |
| --- | --- | --- | --- | --- | --- | --- |
| Prd | Time | Team | Score | Type | Scored By | Assists |
| 1st | 0:59 | BC | 1-0 | EV | Haley McLean | Toni Ann Miano, Andie Anastos |
| 1st | 2:02 | BC | 2-0 | EV GW | Tori Sullivan | Caitrin Lonergan |
| 1st | 6:20 | BC | 3-0 | EV | Ryan Little | Tori Sullivan, Caitrin Lonergan |
| 1st | 9:03 | BC | 4-0 | EV | Kristyn Capizzano | Megan Keller, Toni Ann Miano |
| 1st | 14:08 | BC | 5-0 | EV | Kristyn Capizzano | Erin Connolly |
| 1st | 19:08 | BC | 6-0 | EV | Haley McLean | Kenzie Kent, Andie Anastos |
| 2nd | 8:13 | BC | 7-0 | PP | Kenzie Kent | Haley McLean, Erin Connolly |
| 2nd | 10:39 | CRV | 1-7 | PP | Sarah Verbeek | Mia Landry, Leah Herrfort |
| | | | | |
| --- | --- | --- | --- | --- |
| Scoring | 1st | 2nd | 3rd | Final |
| Cambridge Rivulettes | 0 | 1 | 0 | 1 |
| Boston College | 6 | 1 | 0 | 7 |
| | | | | |
| --- | --- | --- | --- | --- |
| Shots on Goal | 1st | 2nd | 3rd | SOG |
| Cambridge Rivulettes | 3 | 3 | 1 | 7 |
| Boston College | 14 | 4 | 10 | 28 |
| | | | |
| --- | --- | --- | --- |
| Team Stats and Records | PP | PIM | SHGF |
| Cambridge Rivulettes | 1/3 | 4/8 | 0 |
| Boston College | 1/4 | 3/6 | 0 |
| | | | | | | |
| --- | --- | --- | --- | --- | --- | --- |
| Cambridge Rivulettes Goaltending | MIN | GA | 1 | 2 | 3 | Saves |
| Caitlin Kroetsch (L) | 28:13 | 7 | 8 | 1 | 0 | 9 |
| Allisa Hitchen | 31:47 | 0 | 0 | 2 | 10 | 12 |
| | | | | | | |
| --- | --- | --- | --- | --- | --- | --- |
| Boston College Goaltending | MIN | GA | 1 | 2 | 3 | Saves |
| Gabriella Switaj (W) | 30:05 | 0 | 3 | 2 | 0 | 5 |
| Molly Barrow | 29:32 | 1 | 0 | 0 | 1 | 1 |
| Empty Net | 0:23 | 0 | | | | |
CHESTNUT HILL, Mass. - Haley McLean netted two goals and added one assist while Kristyn Capizzano added two goals as the third-ranked Boston College women's hockey team wrapped up its exhibition schedule with a 7-1 win over Canadian junior club Cambridge Rivulettes on Friday night.
The Eagles built a 6-0 lead after the first period before Kenzie Kent added a power-play goal in the second period to wrap up the scoring. Cambridge's Sarah Verbeek scored a power-play goal at 10:39 of the second period.
Twenty three of the Eagles' 24 rostered players saw action on Friday night, with the lone exception being goaltender Katie Burt who played all 60 minutes on Thursday against the NWHL's Boston Pride.
Andie Anastos, Erin Connolly, Caitrin Lonergan and Toni Ann Miano all recorded a pair of assists, while Kent and Tori Sullivan collected one goal and one assist. Ryan Little added a single goal.
Gabri Switaj took the win with five saves in 30:05 of action. Freshman Molly Barrow played the final 29:32, making one save.
Boston College begins the 2016-17 season next Friday, Sept. 30, when the team travels to face Minnesota Duluth in a two-game series. Friday's game is set for 8 p.m. ET, while the game on Saturday, Oct. 1, will face off at 4 p.m. ET.