Friday, February 19, 2016
Trivigno's Four Points Help Boston College Past Providence, 7-1
Senior forward Dana Trivigno posts two goals and two assists for Eagles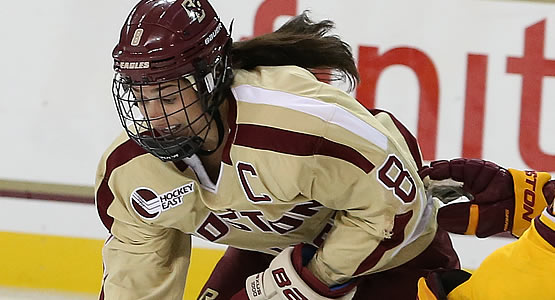 Senior forward Dana Trivigno had two goals and two assists for the Eagles
| | | | | | | |
| --- | --- | --- | --- | --- | --- | --- |
| Prd | Time | Team | Score | Type | Scored By | Assists |
| 1st | 4:31 | BC | 1-0 | EV | Dana Trivigno (14) | Grace Bizal/9 |
| 1st | 14:43 | PRV | 1-1 | EV | Lexi Romanchuk (6) | - |
| 1st | 19:41 | BC | 2-1 | PP GW | Toni Ann Miano (6) | Dana Trivigno/25, Lexi Bender/22 |
| 2nd | 3:46 | BC | 3-1 | PP | Haley Skarupa (27) | Alex Carpenter/36, Megan Keller/29 |
| 2nd | 6:52 | BC | 4-1 | EV | Alex Carpenter (38) | Megan Keller/30, Haley Skarupa/35 |
| 2nd | 11:19 | BC | 5-1 | EV | Kali Flanagan (6) | Dana Trivigno/26 |
| 2nd | 17:40 | BC | 6-1 | EV | Dana Trivigno (15) | Megan Keller/31, Andie Anastos/19 |
| 3rd | 7:43 | BC | 7-1 | EV | Toni Ann Miano (7) | Haley Skarupa/36, Alex Carpenter/37 |
| | | | | |
| --- | --- | --- | --- | --- |
| Scoring | 1st | 2nd | 3rd | Final |
| Providence | 1 | 0 | 0 | 1 |
| Boston College | 2 | 4 | 1 | 7 |
| | | | | |
| --- | --- | --- | --- | --- |
| Shots on Goal | 1st | 2nd | 3rd | SOG |
| Providence | 4 | 3 | 8 | 15 |
| Boston College | 24 | 24 | 7 | 55 |
| | | | |
| --- | --- | --- | --- |
| Team Stats and Records | PP | PIM | SHGF |
| Providence (10-21-2) | 0/5 | 3/6 | 0 |
| Boston College (33-0-0) | 2/3 | 5/10 | 0 |
| | | | | | | |
| --- | --- | --- | --- | --- | --- | --- |
| Providence Goaltending | MIN | GA | 1 | 2 | 3 | Saves |
| Sarah Bryant (L, 0-6-0) | 26:52 | 4 | 22 | 8 | 0 | 30 |
| Allie Morse | 32:44 | 3 | 0 | 12 | 6 | 18 |
| Empty Net | 0:24 | 0 | | | | |
| | | | | | | |
| --- | --- | --- | --- | --- | --- | --- |
| Boston College Goaltending | MIN | GA | 1 | 2 | 3 | Saves |
| Katie Burt (W, 28-0-0) | 40:00 | 1 | 3 | 3 | 0 | 6 |
| Gabriella Switaj | 20:00 | 0 | 0 | 0 | 8 | 8 |
CHESTNUT HILL, Mass. - The top-ranked Boston College women's hockey team claimed a 7-1 win over Providence on Friday evening at Kelley Rink as the Eagles celebrated the senior class - the most successful class in both BC and Hockey East history - in a ceremony prior to the game.
Four of the team's six seniors recorded points in the win, led by Dana Trivigno's four points (two goals, two assists). Alex Carpenter and Haley Skarupa each added three points (one goal, two assists apiece) while Lexi Bender picked up an assist.
Sophomore defenseman Megan Keller added a career-best three assists from the blue line while Toni Ann Miano potted two goals.
The win moved the Eagles to 33-0-0 on the season and 23-0-0 in Hockey East. With one game left in the regular-season tomorrow, BC has the chance to become the first team in conference history - men or women - to complete the league slate with a perfect record.
#1 Boston College 7, Providence 1
Friday, February 19, 2016
Kelley Rink at Conte Forum, Chestnut Hill, Mass.
BC HIGHLIGHTS
- The Eagles are now 33-0-0 on the season and 23-0-0 in Hockey East play
- Five players recorded multiple points in the win
- Dana Trivigno netted her second four-point effort in four games
- With three points, Alex Carpenter pushed her career scoring total to 265 points, now tied for fifth in NCAA history
- Haley Skarupa added three points in the win and moved into 17th in NCAA history in career scoring
- Megan Keller recorded a career-best three assists and recorded her 50th career assist in the game
- Toni Ann Miano notched her first-career multiple-goal game of her career
QUOTABLES
Boston College head coach Katie Crowley
"I liked the way our kids stuck to the game plan and played with a little bit of grit and a little bit of heart, moving pucks well and stuck to the way we play hockey. I thought that second period was a pretty good one for us."
"We're hoping (the seniors) have the composure they should have being here for four years, and to relay that to the younger players. They've done that so far this year. We've got a great leadership group... They've been tremendous to our program and I think it's great for the younger players to look up to them and see how they handle themselves in situations and be able to emulate that."
"(Our players) like playing here. Tonight was a great atmosphere. There were a lot of people here, supporting us and our seniors. We get such great support from other student-athletes ... all the sports really support each other really well. Our kids take that personally and want to do well in their own building."
"It's special having a record like (33-0-0). We're extremely proud of our team for that. They've worked extremely hard this year and to have a record like that and not have a blemish on it is pretty amazing. I know they're pretty proud of them for it. If we can finish it off tomorrow, it'll be wonderful, and I think an amazing step for our program moving us forward. It's a nice ending for our seniors who have meant so much for our program, to leave without losing in the regular season."
HOW IT HAPPENED
1st, 4:31 // 1-0 - BC GOAL: Grace Bizal blocked a PC clearing attempt at the point and sent a wristed shot toward goal. Dana Trivigno re-directed the high puck near the hash marks and found space under Sarah Bryant for the Eagles' first goal.
1st, 14:43 // 1-1 - PC GOAL: Cassidy Carels skated from the end boards toward goal and sent the puck into traffic, where it was deflected out to Kristyn Capizzano. Her poke clearance attempt, however, was intercepted by Lexi Romanchuck between the hash marks and her shot sliced through traffic and past Katie Burt.
1st, 19:41 // 2-1 - BC GOAL (PPG): Lexi Bender's shot from the point was deflected in front right to Trivigno on the doorstep. She settled the high puck and sent a pass across the crease to Toni Ann Miano who backhanded the puck past Bryant.
2nd, 3:46 // 3-1 - BC GOAL (PPG): Megan Keller collected the puck at the point and played it across to Alex Carpenter, who fed Skarupa in the slot. Skarupa took the ice in front of her and wristed a shot past Bryant for the Eagles' second power-play goal of the game.
2nd, 6:52 // 4-1 - BC GOAL: Kenzie Kent skated into the zone and connected with Skarupa trailing the play. Skarupa then played it back to Megan Keller at the far point and her blast found space in front for Alex Carpenter who redirected it in.
2nd, 11:19 // 5-1 - BC GOAL: On Providence's clearance attempt, Trivigno charged in along the boards behind a PC defender and poked the puck ahead. She collected it and skated around the back of the net, collected her own rebound and the played Kali Flanagan at the point. The defenseman unleashed a blast that beat replacement goaltender Allie Morse for the Eagles' fifth goal.
2nd, 17:40 // 6-1 - BC GOAL: Makenna Newkirk won the puck on the boards deep in the Eagles' zone and found Andie Anastos ahead. Anastos broke out on a 3-on-2 with Trivigno and Keller before playing Keller furthest behind the play. Keller skated deeper, pulling the goaltender out, before setting up Trivigno for the redirection on the doorstep.
3rd, 7:43 // 7-1 - BC GOAL: Carpenter won the faceoff to Skarupa on the halfboards, who played it back to Miano at the point. Miano sent a blast hit a player in front and trickled in five-hole past Morse for the Eagles' seventh goal.
GAME NOTES
Team Notes
- BC remained perfect on the season with the win, and is now 33-0-0 on the year
- The Eagles are now 23-0-0 in Hockey East play ... they are one win away from becoming the first-ever team in Hockey East - men or women - to finish a perfect conference season
- BC's Hockey East undefeated streak is now 48 games (47-0-1) with the team's last loss in league play coming on Feb. 8, 2014 - more than two years ago
- Boston College moved to 16-0-0 at home this season and extended the team's NCAA record home undefeated streak to 49 games (48-0-1), including wins in the last 43 games
- BC went 2-for-3 on the power-play tonight, the third time in five games the Eagles have scored at least two goals with the man-advantage
- The Eagles' six seniors were recognized in a pregame ceremony honoring Senior Day: Lexi Bender, Alex Carpenter, Meghan Grieves, Kaliya Johnson, Haley Skarupa and Dana Trivigno
- Also pregame, Carpenter's 2015 Patty Kazmaier banner was officially unveiled in the Conte Forum rafters
- Following the game, the Eagles were presented with the 2015-16 Hockey East regular-season trophy by associate commissioner Kathy Wynters
Player Notes
- Dana Trivigno notched her third four-point game of the season, and her second in the last four games ... it was her fifth four-point game of her career
- Trivigno notched her second multi-goal game of the season and her second in four games ... overall, it was her eighth multiple-goal game of her career
- Alex Carpenter's three-point effort moved her career scoring total to 265 ... she is now tied for fifth in NCAA history in career scoring, matching Harvard's Nicole Corriero '05 and North Dakota's Monique Lamoureux-Kolls '13
- Tonight was the 15th time this season Carpenter has recorded three or more points in a game, and her 20th multi-point game
- Haley Skarupa's three points moved her career scoring total to 228 points and into sole possession of 17th place on the NCAA career scoring list
- Skarupa now has 18 multiple-point games this season and 10 of three or more points
- Megan Keller recorded three assists for the first time in her career ... she previously had 12 two-assists games in her career
- Keller's three-assist game moved her career scoring total to 67 points and moved her into a tie for sixth on the Eagles' career defenseman scoring chart, matching Maggie Taverna '09
- Keller's second assist in the game was her 50th career assist ... she is the seventh defenseman to reach the 50-assist mark ... she now has 51 career assists
- Toni Ann Miano recorded her first-career two-goal game ... she now has 11 career goals and seven this season
- Kali Flanagan recorded her sixth goal of the season tonight ... it was her first goal in 15 games ... her last goal was part of a two-goal effort at Maine on Dec. 5
- Katie Burt started and played two periods, picking up the win to move to 28-0-0 on the season ... she made six saves
- Gabri Switaj made her seventh appearance of the season and her second in relief of Burt ... she made eight saves in the third period during her 20:00 of action ... it was her first appearance since Jan. 23 against Vermont
- Grace Bizal recorded her ninth assist of the season on Trivigno's first goal ... it was her first assist since Feb. 2 against Harvard
- Lexi Bender notched her 71st career assist on Miano's first goal ... she is second on the BC career defenseman assist chart, now just eight back of first-place Emily Pfalzer '15
- Andie Anastos' assist on Trivigno's second goal was her 56th career assist and her 19th assist of the season ... she now has 95 career points, five back of becoming the 13th player in program history to reach the 100-point mark
THREE STARS
1. Dana Trivigno, BC
2. Alex Carpenter, BC
3. Megan Keller, BC
TEAM RECORDS
Providence: 10-21-1, 6-15-1 HEA
Boston College: 33-0-0, 23-0-0 HEA
UP NEXT
Boston College and Providence will wrap up the regular-season slate tomorrow, Saturday, Feb. 20, at PC's Schneider Arena at 1 p.m. Next week, the Eagles will host eighth-seeded Maine in a best-of-three Hockey East Quarterfinals series at Kelley Rink. Games are set for 2 p.m. on Friday, Feb. 26, 7 p.m. on Saturday, Feb. 27, and - if necessary - 2 p.m. on Sunday, Feb. 28. Admission will be free for all games in the series.