Friday, November 20, 2015
Boston College Notches 4-2 Win Over Northeastern
Sophomore forward Tori Sullivan posts two goals and assist for Eagles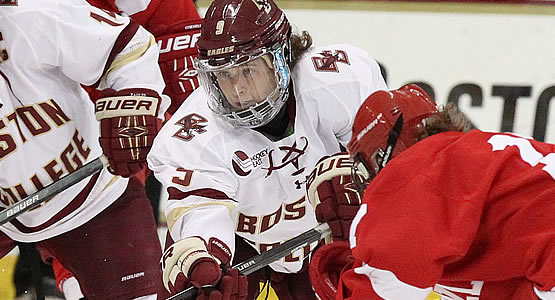 Sophomore forward Tori Sullivan had two goals and an assist for the Eagles
| | | | | | | |
| --- | --- | --- | --- | --- | --- | --- |
| Prd | Time | Team | Score | Type | Scored By | Assists |
| 1st | 3:21 | NOE | 1-0 | PP | Kendall Coyne (19) | Denisa Křížová/16, Heather Mottau/8 |
| 1st | 4:29 | BC | 1-1 | EV | Tori Sullivan (3) | Dana Trivigno/10, Kristyn Capizzano/12 |
| 3rd | 10:37 | BC | 2-1 | EV | Meghan Grieves (4) | Tori Sullivan/6, Kali Flanagan/13 |
| 3rd | 10:54 | NOE | 2-2 | EV | Hayley Scamurra (7) | Denisa Křížová/17, Lauren Kelly/8 |
| 3rd | 12:43 | BC | 3-2 | EV GW | Kaliya Johnson (1) | Andie Anastos/7, Lexi Bender/11 |
| 3rd | 19:59 | BC | 4-2 | EV EN | Tori Sullivan (4) | Andie Anastos/8 |
| | | | | |
| --- | --- | --- | --- | --- |
| Scoring | 1st | 2nd | 3rd | Final |
| Northeastern | 1 | 0 | 1 | 2 |
| Boston College | 1 | 0 | 3 | 4 |
| | | | | |
| --- | --- | --- | --- | --- |
| Shots on Goal | 1st | 2nd | 3rd | SOG |
| Northeastern | 9 | 7 | 8 | 24 |
| Boston College | 7 | 12 | 12 | 31 |
| | | | |
| --- | --- | --- | --- |
| Team Stats and Records | PP | PIM | SHGF |
| Northeastern (10-2-1) | 1/3 | 3/6 | 0 |
| Boston College (15-0-0) | 0/3 | 3/6 | 0 |
| | | | | | | |
| --- | --- | --- | --- | --- | --- | --- |
| Northeastern Goaltending | MIN | GA | 1 | 2 | 3 | Saves |
| Brittany Bugalski (L, 9-2-1) | 59:41 | 3 | 6 | 12 | 9 | 27 |
| Empty Net | 0:19 | 1 | | | | |
| | | | | | | |
| --- | --- | --- | --- | --- | --- | --- |
| Boston College Goaltending | MIN | GA | 1 | 2 | 3 | Saves |
| Katie Burt (W, 13-0-0) | 59:20 | 2 | 8 | 7 | 7 | 22 |
| Empty Net | 0:40 | 0 | | | | |
CHESTNUT HILL, Mass. - In one of the premier games so far this season in women's college hockey, No. 2 Boston College earned a 4-2 win over No. 5 Northeastern on Friday night at Kelley Rink. Tori Sullivan potted a pair of goals and added one assist to lead the Eagles, while Kaliya Johnson scored the eventual game-winning goal with 7:17 left to play after the teams traded goals in the first and third periods.
The teams played to a 1-1 draw after the first, with Kendall Coyne converting on the power-play to give Northeastern the initial edge. Sullivan quickly tied it up 1:08 later with her goal from Dana Trivigno and Kristyn Capizzano.
After a scoreless second period, the teams combined for four third-period goals, including tallies from BC's Meghan Grieves, Johnson and Sullivan, and the Huskies' Hayley Scamurra. After Grieves put BC ahead, Scamurra knotted the score just 17 seconds later. Johnson's goal re-staked the Eagles' lead less than 2:00 after that before Sullivan's empty-netter secured the win.
Katie Burt made 22 saves in goal for BC, while Northeastern's Brittany Bugalski made 27 stops.
With the win, BC remained unbeaten on the season at 15-0-0 and 9-0-0 in Hockey East play, while Northeastern dropped to 10-2-1 and 6-1-0 in conference action.
#2 Boston College 4, #5 Northeastern 2
Kelley Rink at Conte Forum // Chestnut Hill, Mass.
Friday, November 20, 2015
BC HIGHLIGHTS
- Kaliya Johnson scored her first goal of the season, the eventual game-winner, midway through the third period
- Tori Sullivan's tallied two goals, doubling her season total entering the game, and added one assist while Meghan Grieves scored her first goal since Oct. 18
- Andie Anastos picked up two assists and Kristyn Capizzano extended her point streak to a team-best eight games
- The Eagles' third-line players - Grieves, Anastos and Sullivan - combined for six points (three goals and three assists)
QUOTABLES
Head coach Katie Crowley
"I thought we played a good game. I don't think it was our best (game), but we were also in positions we haven't been in all year. I thought our players did a great job of when they scored, we scored. It's a fun game to be a part of and a fun game to have at this point in our season. And we're playing them again in a week so we'll be ready and we have to learn from mistakes that we made. We'll let our lines gel a little bit. Two of them got switched around a little bit so we'll see how they get back to knowing each other again."
HOW IT HAPPENED
1st, 3:21 // 0-1 - NU GOAL (PPG): On the power-play, Heather Mottau's pass attempt found its way through traffic Denisa Krizova picked it up along the half boards and skated around the edge of the circle, where she got a shot off that Kendall Coyne tipped in from between the hash marks
1st, 4:29 // 1-1 - BC GOAL: The Eagles kept the puck in the zone for a prolonged period and got it down low. Kristyn Capizzano saw her backhander from close skim off the outside of the net, and the rebound kicked behind the goa, where Dana Trivigno picked up the puck. She skated out and fed Tori Sullivan just off the crease, who one-timed a quick shot past Brittany Bugalski.
3rd, 10:37 // 2-1 - BC GOAL: Kali Flanagan skated the put out from behind the net, finding Sullivan ahead. Sullivan connected with Meghan Grieves cross-ice, who then skated through the neutral zone, and ripped a shot that clinked off the post and in behind Bugalski
3rd, 10:54 // 2-2 - NU GOAL: With the Eagles deep in the Huskies' zone, Lauren Kelly fed Krizova up the boards. She then played Hayley Scamurra into open ice and the center skated in and her shot from the circle beat Katie Burt to re-level the score.
3rd, 12:43 // 3-2 - BC GOAL: BC cycled the puck around and it found Lexi Bender at the point where she played it across to Andie Anastos. Anastos sent a diagonal pass to Kaliya Johnson, who had skated in from the point, and her shot from near the face-off circle beat Bugalski to put the Eagles ahead.
3rd, 19:59 // 4-2 - BC GOAL (ENG): Sullivan clinched the game with an empty-net tally after Anastos dug the puck out from begin Northeastern's goal, skated up and found Sullivan at center ice who converted with one second remaining.
GAME NOTES
- With the win, BC pulled within one win of pushing the all-time series with Northeastern to .500 ... BC is now 33-34-6 against the Huskies ... BC has won the last seven games between the programs, and the teams' last nine games played at Kelley Rink ... the teams will meet again next Saturday, Nov. 28, at Matthews Arena
- Tori Sullivan recorded her first two-goal game since Jan. 7, 2015 - a 4-3 win over BU at Kelley Rink - and her fifth career multiple-goal effort ... Sullivan now has four goals on the season and 15 on her career ... with her assist on Meghan Grieves' goal, she picked up her first three-point effort since Nov. 28, 2014 ... it was her fourth-career three-point night
- Kaliya Johnson's goal was her first of the season and her first since March 7, 2015 in the Eagles' 3-1 win over UConn in the Hockey East semifinals ... overall, it was just her fourth career goal
- Meghan Grieves scored her fourth goal of the season and her first since Oct. 18 ... she now has 15 career goals
- Dana Trivigno picked up her 10th assist of the season with her helper on Sullivan's first goal ... she now has 61 career assists ... on her career, she has now has 105 points (44g, 61a) and is just eight points back of 10th place on the BC career scoring chart (113, Mary Restuccia '12) ... Trivigno also currently ranks 11th on the BC career assist chart, two back of 10th-place Jennifer Buckley '01 (63)
- With her assist on Sullivan's first goal, Kristyn Capizzano extended her now team-best point streak to eight games, during which time she's recorded 10 points
- Kali Flanagan recorded her 13th assist this season with her feed on Grieves' goal
- Andie Anastos recorded her second multiple-assist game of the season and the eighth of her career ... tonight also marked her fifth multiple-point effort of the season - Lexi Bender recorded her 11th assist of the season and the 60th of her career ... she is currently second on the Eagles' defenseman career assist chart, 19 back of leader Emily Pfalzer '15 (79)
- Tonight, Haley Skarupa's 12-game point streak was snapped ... it was the team's longest point streak this season
- Kristyn Capizzano's assist on Tori Sullivan's goal was her 12th assist of the season and her seventh the last six games
- The win extended the Eagles' program-best start to 15-0-0 ... this is the deepest in a season BC has remained perfect in program history
- BC extended its home unbeaten run to 43 games (42-0-1) that dates back to Oct. 16, 2013
- BC is now undefeated in its last 33 Hockey East conference games, dating back to the 2013-14 season ... in this current run, the Eagles are 32-0-1 since a 2-0 loss at Connecticut on Feb. 8, 2014
- Since the start of 2014-15, BC is 5-2-0 against teams ranked in the top five, with both losses coming to Harvard, ranked No. 4 and No. 3 at the time of their games.
TEAM RECORDS
Northeastern: 10-2-1, 6-1-0 HEA
Boston College: 15-0-0, 9-0-0 HEA
UP NEXT
Boston College returns to action next Wednesday, Nov. 25, when the team hosts Providence at 4 p.m. at Kelley Rink. The match will be streamed live on bceagles.tv.