Friday, February 26, 2016
Boston College Tops Maine In Series Opener, 5-2
Freshman forward Makenna Newkirk has two goals and assist for Eagles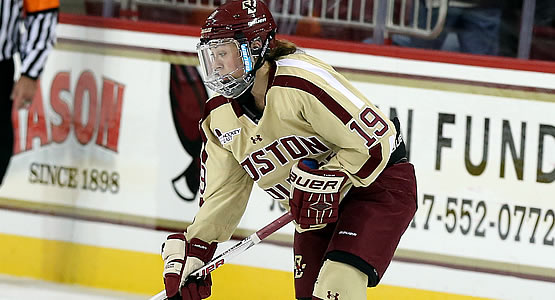 Freshman forward Makenna Newkirk had two goals and an assist for the Eagles
| | | | | | | |
| --- | --- | --- | --- | --- | --- | --- |
| Prd | Time | Team | Score | Type | Scored By | Assists |
| 1st | 5:02 | BC | 1-0 | EV | Kristyn Capizzano (7) | Haley Skarupa/38 |
| 1st | 17:41 | MNE | 1-1 | EV | Nicole Arnold (2) | Anna Wright/2, Eve Boissonneault/2 |
| 1st | 18:19 | BC | 2-1 | EV | Tori Sullivan (7) | Meghan Grieves/11, Kaliya Johnson/13 |
| 2nd | 4:39 | MNE | 2-2 | EV | Victoria Hummel (3) | Catherine Tufts/5 |
| 2nd | 10:38 | BC | 3-2 | EV GW | Makenna Newkirk (19) | Andie Anastos/21, Dana Trivigno/29 |
| 3rd | 1:38 | BC | 4-2 | EV | Dana Trivigno (16) | Makenna Newkirk/23 |
| 3rd | 19:57 | BC | 5-2 | EV EN | Makenna Newkirk (20) | Megan Keller/33, Dana Trivigno/30 |
| | | | | |
| --- | --- | --- | --- | --- |
| Scoring | 1st | 2nd | 3rd | Final |
| Maine | 1 | 1 | 0 | 2 |
| Boston College | 2 | 1 | 2 | 5 |
| | | | | |
| --- | --- | --- | --- | --- |
| Shots on Goal | 1st | 2nd | 3rd | SOG |
| Maine | 9 | 5 | 8 | 22 |
| Boston College | 21 | 19 | 12 | 52 |
| | | | |
| --- | --- | --- | --- |
| Team Stats and Records | PP | PIM | SHGF |
| Maine (10-22-2) | 0/2 | 0/0 | 0 |
| Boston College (35-0-0) | 0/0 | 2/4 | 0 |
| | | | | | | |
| --- | --- | --- | --- | --- | --- | --- |
| Maine Goaltending | MIN | GA | 1 | 2 | 3 | Saves |
| Meghann Treacy (L, 9-19-2) | 58:46 | 4 | 19 | 18 | 10 | 47 |
| Empty Net | 1:14 | 1 | | | | |
| | | | | | | |
| --- | --- | --- | --- | --- | --- | --- |
| Boston College Goaltending | MIN | GA | 1 | 2 | 3 | Saves |
| Katie Burt (W, 30-0-0) | 60:00 | 2 | 8 | 4 | 8 | 20 |
CHESTNUT HILL, Mass. - The No. 1 Boston College women's hockey team took a one-game lead in the team's best-of-three Hockey East quarterfinal series on Friday, earning a 5-2 win over eighth-seeded Maine. Makenna Newkirk scored two goals and Dana Trivigno added three points (one goal, two assists) as the Eagles moved to 35-0-0 on the season.
#1 Boston College 5, Maine 2
Friday, February 26, 2016
Kelley Rink at Conte Forum, Chestnut Hill, Mass.
BC HIGHLIGHTS
Makenna Newkirk recorded two goals, including the game-winning goal and an empty-net tally, and added an assist
Dana Trivigno notched three points, including one goal and two assists
Andie Anastos registered her 100th career point becoming the 13th player in program history to reach the 100-point mark
Kristyn Capizzano and Tori Sullivan each added individual goals
QUOTABLES
Boston College head coach Katie Crowley
"I thought came out a little slow in the beginning of the game and started to pick it up at the start of the second period. They've been game-planning for us for quite a while and you could tell that. I thought they came out hard and physical. They played a good game and capitalized on their opportunities. It was nice for us to get a couple back right after that. Overall I'm happy with the win."
"I thought (the second and third lines) were great. I thought their forecheck was great. They had a third player up high and I thought they were able to create offense off of that, and they stayed within the system. And I thought Dana's line did a good job of that too. They were very good - all six of those kids were very good. I thought Kristyn Capizzano had a very good game and she hit two posts and worked extremely hard. That's some good work by that line, in particular."
"I think Alex (Carpenter) has that target on her back every game we play. Now that we're in the playoffs, they're going to start getting more physical. She's been handling it fairly well - it's tough to get beat on like that - but I think she handled it well."
HOW IT HAPPENED
1st, 5:02 // 1-0 - BC GOAL: Kristyn Capizzano forced the turnover deep in the Maine D zone and the Black Bears' pass ended up in the slot where Haley Skarupa intercepted, curled and played a pass across and ahead. It skipped under Tori Sullivan's stick, but Capizzano had recovered and stormed in on the backpost to push the puck past Meghann Treacy for the 1-0 lead.
1st, 17:41 // 1-1 - MAINE GOAL: Off a face-off, Maine won and broke out. Eve Boissonneault carried the puck through the neutral zone and played out wide to Anna Wright as she broke into the zone. Wright's shot was blocked, and Nicole Arnold put in the rebound.
1st, 18:19 // 2-1 - BC GOAL: Kaliya Johnson collected the puck at the Eagles' blue line, turned and curled, finding Grieves ahead at center ice. Grieves broke in and fired a shot on Treacy, but the rebound popped straight out where Tori Sullivan was following the play, allowing her to deposit it in the goal.
2nd, 4:39 // 2-2 - MAINE GOAL: On a break along the near boards, Catherine Tufts collected a wide shot and skated out of the zone into the BC end. She picked up Victoria Hummell as the trailer, and then played the puck centrally where Hummell tipped it over Burt on the 2-on-1.
2nd, 10:38 // 3-2 - BC GOAL: Dana Trivigno dug the puck off the boards on a clearance attempt and played Newkirk back near the blue line. The freshman then found Anastos streaking in from the faceoff circle. Anastos' quick shot was saved, but Newkirk was on the far side to pocket the rebound into an open net.
3rd, 1:38 // 4-2 - BC GOAL: Deep in the corner, Newkirk tipped a Maine clearance attempt and the puck fell to the edge of the near faceoff circle. Trivigno swooped in, spun around backwards with a defenseman on her back, and then backhanded a shot five-hole past Treacy to push the Eagles' lead to 4-2.
3rd, 19:57 // 5-2 - BC GOAL (ENG): After a heavy forecheck by the second line, the puck worked out to the point to Megan Keller, where she sent a blast in where it kicked off traffic right to Newkirk who potted the empty-netter.
GAME NOTES
Team Notes
- Boston College moved to 35-0-0 on the season
- BC now has a one-game lead in the teams' best-of-three Hockey East quarterfinal series
- This is the first game this season in which the Eagles did not have a power-play opportunity ... Maine did not take a penalty in the game
- BC is now 11-9 all-time in the Hockey East tournament, including a 5-1 mark in the quarterfinal round
- Makenna Newkirk tallied the Eagles' eighth empty-net goal of the season
Player Notes
- Andie Anastos recorded her 100th career point on Makenna Newkirk's second-period goal ... she is the 13th player in program history to reach the 100-point plateau.
- Dana Trivigno recorded her 10th multiple-point game of the season, and her third straight ... she collected her career-best 16th goal in the fourth period and moved her season assist total to 30 with her second- and third-period assists
- Makenna Newkirk added her 10th multiple-point game of the season and her first in four contests ... she moved her season goal total to 20, while her assist on Trivigno's third-period goal was her 23rd of the season.
- Megan Keller recorded her 33rd assist of the season with her helper on Newkirk's second goal
- Haley Skarupa recorded her 38th assist of the season to move into a tie for the national lead with teammate Alex Carpenter
- Tori Sullivan recorded her first goal since Feb. 2 and her seventh of the season
- Kaliya Johnson notched her 13th assist of the season, extending her best-ever season
THREE STARS
Dana Trivigno, BC
Meghann Treacy, ME
Makenna Newkirk, BC
TEAM RECORDS
Maine: 10-23-2, 6-17-1 HEA
Boston College: 35-0-0, 24-0-0 HEA
UP NEXT
The two teams are set to meet again tomorrow, Saturday, Feb. 27, at 7 p.m. at Kelley Rink in the second of the best-of-three series. Should a third game be needed, it would be played at 2 p.m. on Sunday, Feb. 28.