Tuesday, February 2, 2016
Boston College Shuts Out Harvard, 8-0, In Women's Beanpot
Sophomore defenseman Megan Keller has two goals and assist for Eagles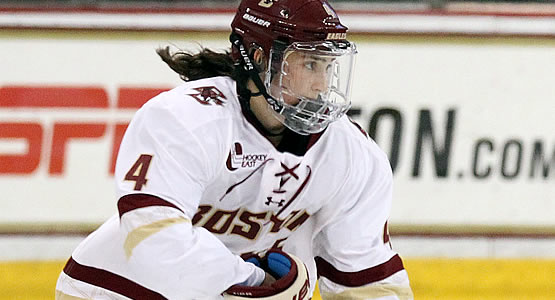 Sophomore defenseman Megan Keller had two goals and an assist for the Eagles
| | | | | | | |
| --- | --- | --- | --- | --- | --- | --- |
| Prd | Time | Team | Score | Type | Scored By | Assists |
| 1st | 4:17 | BC | 1-0 | EV GW | Tori Sullivan (6) | Grace Bizal/8, Meghan Grieves/9 |
| 1st | 5:40 | BC | 2-0 | EV | Kaliya Johnson (3) | Makenna Newkirk/14, Megan Keller/23 |
| 1st | 8:09 | BC | 3-0 | EV | Toni Ann Miano (5) | Kristyn Capizzano/17, Meghan Grieves/10 |
| 1st | 16:04 | BC | 4-0 | EV | Megan Keller (10) | Kristyn Capizzano/18 |
| 1st | 18:57 | BC | 5-0 | EV | Alex Carpenter (33) | Haley Skarupa/30, Kenzie Kent/19 |
| 2nd | 5:00 | BC | 6-0 | EV | Lexi Bender (5) | Dana Trivigno/22, Makenna Newkirk/15 |
| 2nd | 8:20 | BC | 7-0 | EV | Megan Keller (11) | Andie Anastos/17, Makenna Newkirk/16 |
| 3rd | 11:56 | BC | 8-0 | EV | Alex Carpenter (34) | Kenzie Kent/20, Toni Ann Miano/14 |
| | | | | |
| --- | --- | --- | --- | --- |
| Scoring | 1st | 2nd | 3rd | Final |
| Boston College | 5 | 2 | 1 | 8 |
| Harvard | 0 | 0 | 0 | 0 |
| | | | | |
| --- | --- | --- | --- | --- |
| Shots on Goal | 1st | 2nd | 3rd | SOG |
| Boston College | 19 | 19 | 10 | 48 |
| Harvard | 4 | 3 | 5 | 12 |
| | | | |
| --- | --- | --- | --- |
| Team Stats and Records | PP | PIM | SHGF |
| Boston College (28-0-0) | 0/1 | 1/2 | 0 |
| Harvard (12-9-1) | 0/1 | 1/2 | 0 |
| | | | | | | |
| --- | --- | --- | --- | --- | --- | --- |
| Boston College Goaltending | MIN | GA | 1 | 2 | 3 | Saves |
| Katie Burt (W, 23-0-0) | 59:56 | 0 | 4 | 3 | 5 | 12 |
| Empty Net | 0:04 | 0 | | | | |
| | | | | | | |
| --- | --- | --- | --- | --- | --- | --- |
| Harvard Goaltending | MIN | GA | 1 | 2 | 3 | Saves |
| Emerance Maschmeyer (L, 8-9-0) | 20:00 | 5 | 14 | 0 | 0 | 14 |
| Brianna Laing | 40:00 | 3 | 0 | 17 | 9 | 26 |
BOSTON - The No. 1 ranked Boston College women's hockey team will play for its sixth Beanpot title in school history following tonight's 8-0 win over Harvard in the first round of the 38th Beanpot, played at Boston University's Walter Brown Arena.
BC will face Northeastern for the 2016 Beanpot title as the Huskies defeated Boston University, 3-2, in the second game of the evening. The Boston College-Northeastern championship is scheduled to start at 7:30 p.m. next Tuesday, Feb. 9.
In total, 14 of the 15 players on the first three lines and three defensive pairings recorded at least one point in the victory.
Alex Carpenter and Megan Keller each scored two goals, while Makenna Newkirk tallied three assists. Kristyn Capizzano, Kenzie Kent and Meghan Grieves each collected a pair of assists, while Toni Ann Miano added one goal and one assist. Tori Sullivan, Lexi Bender and Kaliya Johnson all added single goals. Keller finished with three points, also adding an assist.
BC pushed its winning and unbeaten streaks to 28 games (28-0-0), and matched the program's longest undefeated run (28 games in 2014-15).
#1 Boston College 8, Harvard 0
Walter Brown Arena, Boston, Mass.
Tuesday, February 2, 2016
BC HIGHLIGHTS
- BC will play for its sixth Beanpot title next Tuesday ... the Eagles last won the trophy in 2014
- With the win, BC matched its program record of 28 games unbeaten ... the Eagles have not lost a game yet this season
- Alex Carpenter's two goals gave her 124 on her career and she claimed the Boston College hockey career goal title - men or women - passing Brian Gionta '01 (123 goals)
- Katie Burt made 12 saves to record her 10th shutout of the season, matching the program's single-season record (Burt in 2014-15, Molly Schaus in 2008-09)
- Makenna Newkirk matched her personal best with three assists in the win
- Megan Keller extended her nation-leading scoring tally among defenseman, pushing her total to 34 points - the second-highest season scoring mark by a BC defenseman in school history
QUOTABLES
Boston College head coach Katie Crowley
"I can't say enough about how well our team played today. I think we put a full 60 minutes together. I was really happy with that full 60 minutes. There were very few times where I thought we made mistakes, so as a coach, I can't complain about that. I thought it was a great game for us."
"Those losses (to Harvard in 2014-15) for us, they're something we look at, but not something we dwell on. We try to continue to get better. It's always special to win a game like this and get into a Beanpot final ... We compete hard against Harvard. We have for years. It's always special to have that win, too."
"We've talked a lot about trying to get better every game. I think we continue to do that: continue to grow and continue to play better as a team and find ways to win hockey games. Ultimately, that's where we want to get to. We want to keep playing better every game. Obviously, this game puts us in a championship game, so there's an added excitement and thrill to it. It was fun."
Boston College senior Alex Carpenter
"(Staying focused with a 5-0 lead after one period) was about holding each other accountable. After the first period, it would've been easy to say, 'Hey, we're up 5-0 and it could stay like this the whole game.' But we kept talking to each other in the locker room about how it wasn't even close to being over and having 40 minutes left. So holding each other accountable was the biggest thing going into the next two periods."
"It's definitely pretty special being local. Having my parents and family here is special. But at the same time we're going to worry about (UConn) this weekend and then hopefully winning a Beanpot next Tuesday."
"It's definitely reassuring knowing we have Katie (Burt) back there. But at the same time, we're looking to play all three zones. We have her back there, plus our defense - Megan (Keller) leading the way - plays a big role in playing all three zones. Obviously, we feel very safe with her back there. And it comes from a full team effort, too."
Boston College sophomore defenseman Megan Keller
"(Having BC teammates who are on the U.S. National Team) definitely plays a huge part in my transition (as a better defenseman). I'm getting better every day because I'm playing with the best players in the country. They're great role models, hard-working, so it's definitely helping me."
HOW IT HAPPENED
1st, 4:17 // 1-0 - BC GOAL: Meghan Grieves dug the puck out of the corner and sent it up to Bizal at the left point. Bizal's shot was saved by Harvard goalkeeper Emerance Maschmeyer, but Tori Sullivan was on the doorstep to poke it home for the Eagles' first goal.
1st, 5:40 // 2-0 - BC GOAL: Kaliya Johnson threaded her shot in from the point after Makenna Newkirk and Megan Keller combined on the edge to get Johnson free for the shot.
1st, 8:09 // 3-0 - BC GOAL: Meghan Grieves won the puck out of the faceoff and Kristyn Capizzano poked the puck back to Toni Ann Miano at point. Her low shot was deflected by Harvard player in the slot, beating Maschmeyer for the quick 3-0 lead.
1st, 16:04 // 4-0 - BC GOAL: Keller broke up the play near center ice and fed Capizzano along the BC bench-side boards. The junior broke into the zone and found Keller charging in down the center channel. After a battle in front with several Harvard players, the Eagles' defender potted it by the Harvard goalie for the 4-0 lead.
1st, 18:57 // 5-0 - BC GOAL: Kenzie Kent got the puck in Harvard's zone and broke out with Haley Skarupa and Alex Carpenter on a 3v2. Kent centered it for Skarupa who went through the neutral zone trading passes with Carpenter. Once in the Harvard zone, Kent cut in front of the net and Skarupa crated space wide for Carpenter whose backhander beat Maschmeyer on the near side to close the first-period scoring.
2nd, 5:00 // 6-0 - BC GOAL: Newkirk played a cross-ice pass up to Dana Trivigno along the far boards. Trivigno skated in deep past the goal line, cut back and then fed Lexi Bender coming in hard through the slot. Bender's one-timer put BC up 6-0, and came against replacement goaltender Brianna Laing, who started the second period.
2nd, 8:30 // 7-0 - BC GOAL: On a shift change, Newkirk again played a cross-ice pass up as she went to the bench, finding Anastos on the far boards. She skated in and played the puck ahead to Keller, who was coming hard down the center channel. She skated wide left and laced a tight-angle shot top shelf past Laing to push the score to 7-0.
3rd, 11:56 // 8-0 - BC GOAL: Toni Ann Miano won the puck deep in the Eagles' zone and played it up to Kent on the far side boards. She broke into Harvard's zone with Carpenter who then fed Kent deep in the zone. Kent took more space toward the end line and sent the puck back through the crease to Carpenter for the one-timer and an 8-0 lead.
GAME NOTES Team Notes
- Boston College will play for its sixth Beanpot title next Tuesday night ... BC won the titles in 2006, 2007, 2009, 2011 and 2014 ... this will be the 15th time BC plays in the championship game
- The Eagles are now 33-37-2 all-time in the Beanpot, including a 26-15-2 mark as a varsity program (since 1994-95)
- BC pushed its undefeated streak to 28 games (28-0-0), matching the program record for undefeated streak (Oct. 4, 2014 through Feb. 6, 2015) ... the 28 straight wins also extended the program record, which is also the NCAA's second-longest streak
- The Eagles are now 14-0-0 away from home this season, including a 13-0-0 away mark this year ... BC has out-scored its opponents 72-11 in games away from Kelley Rink
- BC is now 2-0 against Harvard this season and has out-scored the Crimson 10-0 in the two games
- BC's five-goal first period was its biggest offensive output in a period this season
- BC was held scoreless on its lone power-play opportunity
- The Eagles remained perfect on the penalty kill against non-conference opponents ... going 1-for-1 tonight, BC is now 29-for-29 on the PK against non-Hockey East opponents
- Boston College is now 9-0-0 against non-conference opponents this season
- The Eagles have no allowed an opponent to post more than 18 shots in the last four games and in seven of the last eight game
Player Notes
- Alex Carpenter tallied two goals to push her career total to 124, passing Brian Gionta '01 (123) for the all-time Boston College career goal-scoring title, men or women
- Katie Burt recorded her 10th shutout this season, pushing her career total to 20 ... her 10 shutouts this year match the school's single-season record, which she matched last year after Molly Schaus '11 set it in 2008-09
- Megan Keller recorded her fourth career three-point night and her third career two-goal games
- Keller now has 34 points this season, the second-highest point output by a BC defenseman in program history ... Emily Pfalzer '15 had the best season with a 42-point effort in 2014-15
- Keller's two goals also moved her into a tie for fifth place on the BC defenseman career goals chart, matching Maggie Taverna's '09 career total of 15
- Katie Burt recorded her 10th shutout of the season, tying her own single-season shutout record (10), which she set last season in 2014-15 and shares with Molly Schaus '11, who also posted 10 shutouts in 2008-09
- Burt also pushed her career shutout total to 20, one back of Schaus' program career record of 21
- Kenzie Kent recorded her 50th career assist on Alex Carpenter's first-period goal ... she now has 67 career points, including 51 career assists
- Makenna Newkirk's three assists marked her fifth three-point night this season, and her second three-assist effort of the year
- Kristyn Capizzano recorded her first assists in five games, and pushed her season total to 18 ... she now has 24 points this season, and 72 points on her career
- Meghan Grieves tallied a two-assist night, pushing her season total to a career-best 10 and her 2015-16 point total to 18, also a new career-best ... it was her second multi-point game of the season and first since her two-goal effort at Harvard on Jan. 19
- Grieves now has four points this season against Harvard - two goals on Jan. 19, and two assists tonight
- Toni Ann Miano collected one goal and one assist moved her season point total to 19 (5 goals, 14 assists) ... her five goals are a new single-season best, passing her freshman season total of 4 in 39 games
- Tori Sullivan pushed her career scoring totals against Harvard to seven points - one goal, six assists - in just five games
- Kaliya Johnson tallied her third goal of the season - a new single-season best for the senior ... she now has six career goals
- Lexi Bender collected her fifth goal of the season and the 18th goal of her career ... she moved her career point total to 86 with her second-period goal
- Maggie Taverna '09 was inducted into the Beanpot Hall of Fame in a ceremony prior to the second game of the first-round doubleheader
TEAM RECORDS
Boston College: 28-0-0, 19-0-0 HEA
Harvard: 12-9-1, 9-6-1 ECAC
UP NEXT
Boston College returns to action with a single Hockey East game this weekend. The Eagles will travel to Storrs, Conn., to face UConn at 2 p.m. on Saturday, Feb. 6, at Freitas Ice Forum.