Saturday, November 7, 2015
Newkirk, Carpenter Lead Boston Colllege Past Boston University, 8-1
Freshman forward Makenna Newkirk scores hat trick and senior forward Alex Carpenter records five points for Eagles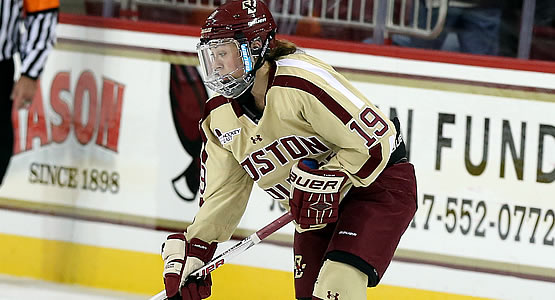 Freshman forward Makenna Newkirk scores hat trick for Eagles
| | | | | | | |
| --- | --- | --- | --- | --- | --- | --- |
| Prd | Time | Team | Score | Type | Scored By | Assists |
| 1st | 6:03 | BU | 1-0 | PP | Sammy Davis (8) | Jordan Juron/1, Samantha Sutherland/3 |
| 1st | 16:58 | BC | 1-1 | EV | Kali Flanagan (2) | Dana Trivigno/4, Megan Keller/8 |
| 1st | 18:26 | BC | 2-1 | EV GW | Lexi Bender (3) | Dana Trivigno/5, Kristyn Capizzano/7 |
| 2nd | 14:15 | BC | 3-1 | EV | Andie Anastos (5) | Tori Sullivan/5, Alex Carpenter/10 |
| 2nd | 19:59 | BC | 4-1 | SH | Haley Skarupa (7) | Alex Carpenter/11, Lexi Bender/7 |
| 3rd | 0:48 | BC | 5-1 | SH | Alex Carpenter (15) | Megan Keller/9 |
| 3rd | 1:44 | BC | 6-1 | PP | Makenna Newkirk (7) | Dana Trivigno/6, Lexi Bender/8 |
| 3rd | 7:12 | BC | 7-1 | EV | Makenna Newkirk (8) | Alex Carpenter/12 |
| 3rd | 16:46 | BC | 8-1 | EV | Makenna Newkirk (9) | Alex Carpenter/13 |
| | | | | |
| --- | --- | --- | --- | --- |
| Scoring | 1st | 2nd | 3rd | Final |
| Boston College | 2 | 2 | 4 | 8 |
| Boston University | 1 | 0 | 0 | 1 |
| | | | | |
| --- | --- | --- | --- | --- |
| Shots on Goal | 1st | 2nd | 3rd | SOG |
| Boston College | 11 | 18 | 16 | 45 |
| Boston University | 5 | 10 | 6 | 21 |
| | | | |
| --- | --- | --- | --- |
| Team Stats and Records | PP | PIM | SHGF |
| Boston College (11-0-0) | 1/2 | 4/8 | 2 |
| Boston University (6-5-0) | 1/4 | 2/4 | 0 |
| | | | | | | |
| --- | --- | --- | --- | --- | --- | --- |
| Boston College Goaltending | MIN | GA | 1 | 2 | 3 | Saves |
| Katie Burt (W, 10-0-0) | 60:00 | 1 | 4 | 10 | 6 | 20 |
| | | | | | | |
| --- | --- | --- | --- | --- | --- | --- |
| Boston University Goaltending | MIN | GA | 1 | 2 | 3 | Saves |
| Erin O'Neil (L, 4-2-0) | 59:57 | 8 | 9 | 16 | 12 | 37 |
| Empty Net | 0:03 | 0 | | | | |
BOSTON - Freshman Sammy Davis scored her team-leading eighth goal of the season, but the Boston University women's ice hockey team suffered a 8-1 setback against No. 2 Boston College on Saturday afternoon at Walter Brown Arena.
BU (6-5-0, 4-2-0 WHEA) tallied the game's opening goal just 6:03 into the proceedings, but BC (11-0-0, 5-0-0 WHEA) scored the final eight goals of the contest to remain undefeated. Sophomore Erin O'Neil made 37 saves for the Terriers, which matches her career high.
Senior Jordan Juron and sophomore Samantha Sutherland assisted on Davis' goal; both players now have a point in each of the last two games. The Terriers have yet to be shut out this season and have scored the first goal in three of their last four games.
BU became the first team to score a power-play goal against the Eagles. BC entered Saturday having killed all 35 power plays it had faced.
Davis' goal game after some hard work to keep the puck in the offensive zone. Juron kept the play alive along the right half-wall, and eventually worked it to Sutherland, who was below the left faceoff dot. Her shot was stopped, but Juron got a piece of the rebound and eventually Davis finished the play from the top of the crease.
BC scored twice in an 88-second span to take a 2-1 lead into the first intermission. The Eagles then added a pair of goals in the second stanza, including a shorthanded strike with less than a second remaining in the period. Four goals in the final frame sealed the result for BC.
The two teams will meet again on Tuesday night when the Terriers travel to Chestnut Hill. Puck drop is set for 7 p.m.