Saturday, January 2, 2010
VERMONT FALLS TO YALE, 3-1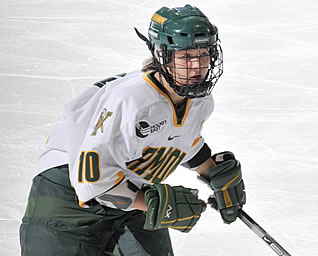 Chelsea Furlani scored a goal for the Catamounts
NEW HAVEN, Conn. - The Yale Bulldogs defeated the University of Vermont 3-1 in women's hockey action on Saturday afternoon.
The Catamounts took the lead in the first period when senior Chelsea Furlani (Colchester, Vt.) found the back of the net just seven and a half minutes into the game. The goal moves Furlani into a three-way tie for fourth all-time in points scored (45) at Vermont.
Yale's Emily DesMeules scored her first goal of the season to tie the game up with just 32 seconds remaining in the first period.
Aleca Hughes scored the game-winning goal for the Bulldogs 12:35 into the second period when she took a pass from Alyssa Zupon and beat UVM goalie Caitlin Whitlock (Westfield, N.J.) for her sixth goal of the season.
The Bulldogs added an insurance goal three minutes into the third period when Berit Johnson scored an unassisted goal.
The Catamounts (5-12-1, 1-8-1 Hockey East) outshot the Bulldogs (4-9-2, 2-7-1 ECAC Hockey) 20-18 in the game. Whitlock made 15 saves in her first action between the pipes during the 2009-10 season while Yale's Genny Ladiges made 19 saves to preserve the win.
Vermont returns to action tomorrow when it travels to Brown for a non-conference game. The game is slated to start at 3 p.m.