Saturday, January 9, 2010
VERMONT EDGES PAST WAYNE STATE, 2-1
Kristen Olychuck posts 28 saves for Catamounts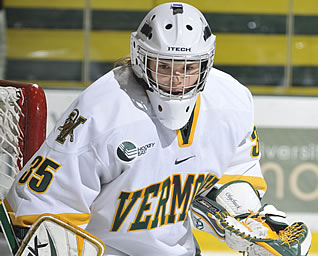 Kristen Olychuck made 28 saves for the Catamounts
DETROIT - Freshman Erin Wente (Scottsdale, Ariz.) scored with three minutes remaining in the second period to give the University of Vermont a 2-1 victory over Wayne State on Saturday afternoon.
Sophomore Chelsea Rapin (Walled Lake, Mich.) gave the Catamounts the lead in the first period with her power-play goal 8:10 into the game. Rapin was able to punch in a rebound after Wayne State goalie Lindsey Park turned away shots from Hannah Westbrook (Laramie, Wyom.) and Celeste Doucet (Memramcook, New Brunswick).
Wayne State's Chelsea Burnett was able to cut the Catamount lead to 2-1 just 56 seconds into the third period when she fired a long-distance shot under the crossbar and over the shoulder of UVM senior goalie Kristen Olychuck (Kelowna, British Columbia).
Olychuck made 28 saves, including 10 in the third period to preserve the win for the Catamounts. Park made 24 saves in a losing effort for the Warriors.
The win is the first for Vermont since a 5-1 victory at Boston College on Nov. 7. The win also marks the first decision over Wayne State in school history.
Vermont improves to 6-14-1 on the season while Wayne State drops to 6-9-3.
Vermont returns to action when it hosts Connecticut in a Hockey East weekend series at Gutterson Fieldhouse on Saturday (Jan. 16) and Sunday (Jan. 17). Both games are scheduled to start at 2 p.m.