Wednesday, February 3, 2010
WENTE SCORES LATE TO LIFT VERMONT TO 2-1 WIN OVER NEW HAMPSHIRE
Freshman Erin Wente nets game-winner with 2:28 remaining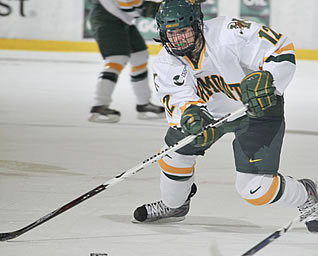 Celeste Doucet assisted on the game-winner for Vermont
BURLINGTON, Vt. - Freshman Erin Wente (Scottsdale, Ariz.) scored with two and a half minutes left in the game to give the University of Vermont women's hockey team a 2-1 victory over No. 4 New Hampshire on Wednesday night at Gutterson Fieldhouse.
Wente was able to carry the puck into the New Hampshire zone before sending a pass to fellow freshman Emily Walsh (Suffield, Conn.). Walsh then sent a pass to the back post where Wente was able to corral the puck and slam home the game-winning goal.
Wente's goal gave the Catamounts their first win in 22 tries against the Wildcats, as well as setting a school record for wins (9) at the Division I level.
"It was just a great win," UVM head coach Tim Bothwell said. "We've struggled against them for a long time and I'm just so happy for the girls. We had some luck with the hockey gods tonight, UNH hit a post and had a goal called back, but when you put all that aside I think we deserved this win against a really good team."
Sophomore Chelsea Rapin (Walled Lake, Mich.) scored four minutes into the game to give UVM the early 1-0 lead. Rapin was able to capitalize when a shot from junior Teddy Fortin (Brunswick, Maine) got lost behind New Hampshire's goalie. Rapin quickly corralled the puck and scored for the third time in four games.
New Hampshire tied the score at one in the second period when Kristina Lavoie scored a power-play goal for her 14th goal of the season.
Senior Kristen Olychuck (Kelowna, British Columbia) made 22 saves to preserve the Catamounts third win over a ranked opponent this season, while Lindsey Minton made 14 saves in the losing effort.
Vermont improves to 9-18-1 on the season and 4-11-1 in Hockey East action while New Hampshire drops to 15-5-5 and 9-4-2 in Hockey East.
Vermont returns to action on Saturday (Feb. 6) when it hosts Maine at Gutterson Fieldhouse at 2 p.m.