PROVIDENCE EARNS 2-2 TIE AGAINST YALE
Sophomore Ashley Cottrell nets her team-leading fifth goal of season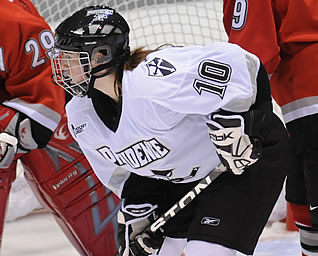 PC's Ashley Cottrell scored her fifth goal of the season
PROVIDENCE, R.I. - The Providence College women's hockey welcomed Yale to Schneider Arena on Friday and came away with a 2-2 tie. Two second-period goals paced the Friars as freshman Nicole Anderson (Jordan, Minn.) and sophomore Ashley Cottrell (Sterling Heights, Mich.) scored goals for Providence. Sophomore Genevieve Lacasse (Scarborough, Ontario) finished with 20 saves on the night.
After a scorless first period in which the Friars outshot the Bulldogs, 12-5, the Friars opened the scoring 1:35 into the second stanza. During a Friar power play, senior Colleen Martin (Woburn, Mass.) sent a pass across the blue-line where sophomore Jennifer Friedman (San Gabriel, Calif.) unleashed a slapshot towards the Yale cage. The puck took a deflection in front and fell to freshman Nicole Anderson (Jordan, Minn.) who slid in her second goal of the season. The assists were the first and third of the season for Friedman and Martin, respectively.
Yale evened the score less than two minutes later with a power-play goal at 3:21 when Bray Ketchum poked home a loose puck in front. Heather Grant assisted on the score. The Friars took their second lead of the night to go up, 2-1, at 14:05. During another PC power play, sophomore Laura Veharanta (La Verne, Calif.) sent a pass from the left corner to classmate Christie Jensen (Delta, B.C.) at the blue line. Jensen fired a low slap shot that Cottrell was able to tip through the goalie's legs for her team-leading fifth tally of the season. Veharanta and Jensen earned their third and first assists of the season, respectively.
The lead wouldn't last, however, as Yale's Aleca Hughes put home the game-tying goal 4:32 into the final period. The Bulldogs nearly came away victorious on a Ketchum breakaway just 1:00 into overtime but Lacasse was able to get her blocker out in time to preserve the 2-2 tie. Providence finished with a 37-22 edge in shots but was unable to put one past Yale goalie Jackee Snikeris in overtime.
The Friars are next in action when they host intracity-rival Brown University on Sunday, October 25 at 2:00 p.m. in the 15th annual Mayor's Cup.