Saturday, November 28, 2009
PROVIDENCE TOPPED BY WISCONSIN, 4-1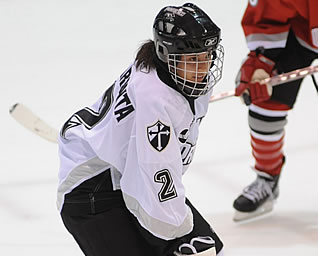 Laura Veharanta scored a goal for the Friars
PROVIDENCE, R.I. - Sophomore Laura Veharanta (La Verne, Calif.) scored to even the game at 1-1 in the second but the Providence College (4-7-6, 3-3-3-2 HEA) women's hockey team gave up three goals in the final 20 minutes and fell to No. 7 Wisconsin (9-5-2, 6-4-0 WCHA), 4-1, in Providence, R.I. on Friday. Genevieve Lacasse (Scarborough, Ontario) made 36 saves in net for the Friars.
The Badgers held possession of the puck for the majority of the period and finally broke through the Friar defense with a Brianna Decker goal at 16:07. Decker put a wrist shot over the left shoulder of Lacasse and just under the cross bar after passes from Kelly Nash and Anne Dronen.
Providence was outshot, 16-0, in the first and went 0-2 on the power play.
After being held without a shot in the first 20 minutes, the Friars picked up the action with seven attempts on frame in the second period. PC was able to draw the Badgers into several penalties, leading to three more power-play chances. At 17:17, the momentum led to Veharanta's goal. Colleen Martin (Woburn, Mass.) poked the puck up the right wall to Ashley Cottrell (Sterling Heights, Mich.). Cottrell fed Veharanta at the top of the right face-off circle before the sophomore forward sent a wrist shot just under the left arm of Wisconsin goaltender Alannah McCready for her third goal of the season. Martin earned her fourth assist on the play while Cottrell extended her point streak to a career-high seven games with her 10th assist of the season.
The Badgers had the better of the play throughout the third, outshooting PC, 13-3, but the game was still in balance through 17 minutes. Wisconsin's Mallory Deluce stuffed home the game winner from the right side of the net at 17:01 with passes from Kyla Sanders and Jasmine Giles. Decker would add her second of the night at 17:28 before Deluce tossed on an empty-net goal to finish out the game.
The Friars are next in action when they travel to No. 4 New Hampshire on Saturday, December 5. The game is set for 2:00 p.m. at the Whittemore Center.