VERMONT NOTCHES 2-1 WIN AT PROVIDENCE
Sophomore Chelsea Rapin picks up game-winner for Catamounts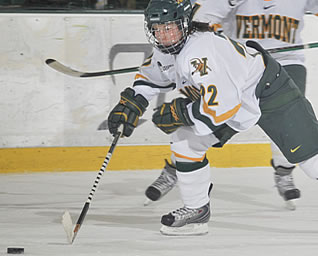 Chelsea Rapin scored the game-winner for Vermont
PROVIDENCE, R.I. - No. 9 Providence College women's hockey saw its 10-game unbeaten streak come to an end in Schneider Arena tonight as the Friars (12-8-8, 8-4-4-2 WHEA) fell to Vermont (8-17-1, 3-10-1 WHEA) 2-1. Junior Jean O'Neill (Strafford, Pa.) scored the lone goal for PC with a power-play strike to extend her point-scoring streak to eight games. Sophomore Genevieve Lacasse (Scarborough, Ontario) made eight saves in the contest. Vermont's Chelsea Rapin scored a breakaway with just under eight minutes remaining to give the Catamounts the victory.
The scoring began with the Catamounts striking first with a Peggy Wakeham goal at 15:52. As time expired on a PC penalty, Wakeham received a pass across the blue line from Maggie Walsh and sent a shot towards the PC cage. UVM had traffic in front and the puck found its way into the back of the net. The goal was Wakeham's second of the season while Walsh earned her sixth assist. The Friars held a 7-4 edge in shots but were unable to score in the first.
Providence came out for the second and dominated possession of the puck, allowing only one shot on goal in the period. The Friars went 0-2 on the power-play in the period and failed to score on five shots. UVM goaltender Kristen Olychuck came up with blocker saves on O'Neill and sophomore Jennifer Friedman (San Gabriel, Calif.) to keep UVM ahead, 1-0. After 40 minutes, UVM held a 1-0 lead with PC ahead in shots, 12-5.
Providence finally broke through at 8:40 when O'Neill tallied her fourth power-play goal and ninth overall on the season. Junior Alyse Ruff (Tualatin, Ore.) poked the puck to freshman Jessica Cohen (Anchorage, Alaska) behind the net. Cohen sent a pass through the crease to O'Neill at the right post who lifted it into the right side of the net. The assists were Cohen's 10th and Ruff's 14th.
At 12:02 UVM's Rapin put her team back on top with the game-winning goal on a breakaway finished past Lacasse's blocker. The goal was assisted by Channing Ahbe.
The Friars earned a power-play with 1:50 remaining and pulled Lacasse for the extra attacker but were unable to answer as UVM earned the victory with a final score of 2-1. Providence held Vermont to only 10 shots but failed to break the UVM defense.
Providence will travel to Cambridge, Mass. tomorrow for a 4:00 p.m. contest against No. 7 Harvard.