Saturday, October 17, 2009
PROVIDENCE DEFEATED BY SYRACUSE, 3-1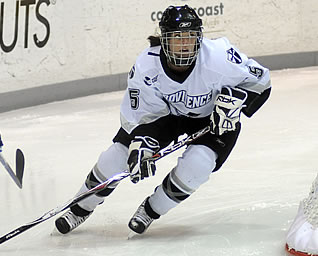 Colleen Martin had an assist for the Friars
ROVIDENCE, R.I. - The Providence College women's hockey team suffered a 3-1 defeat at Schneider Arena on Saturday, October 17. Freshman Jessica Cohen (Anchorage, Alaska) scored for Providence while sophomore goalie Genevieve Lacasse (Scarborough, Ontario) made 17 saves in the game. The Friars fell to 3-2-1 (2-0-0 HE) while Syracuse becomes 1-4-1 (0-0-0 CHA).
After a scoreless first period in which the Friars outshot the Orange, 5-4, Syracuse's Stefanie Marty scored her first of the night at 9:28 of the second when she received a pass at the right side of the net from Julie Rising and lifted her shot over the right shoulder of Lacasse. Syracuse would add another at 12:14 when Issabel Menard sent a pass from the right boards through the slot to a streaking Marty who lifted the puck under the cross bar. Providence outshot the Orange, 19-14, in the second, but found themselves down, 2-0.
Providence closed the gap to one with Cohen's goal just 2:18 into the third period. Senior captain Colleen Martin (Woburn, Mass.) possessed the puck into the Syracuse zone and dropped a pass to Cohen at the right face-off dot. Cohen ripped a shot, far post, over the goalies right shoulder for her third tally of the season. That would be as close as PC would get, however, as the Orange's Janelle Malcolm put home an empty-net goal to finish the scoring.
The Friars are next in action when they host Yale on Friday, October 23 at 7:00 p.m. before hosting Brown in the 15th annual Mayor's Cup on Sunday, October 25 at 2:00 p.m.