SULYMA STEERS NORTHEASTERN PAST YALE, 3-0
Junior Leah Sulyma posts 32 saves in shutout for Huskies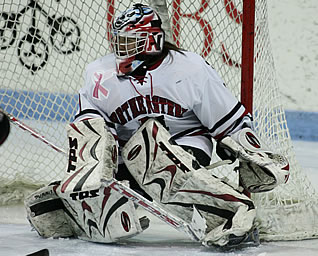 NU's Leah Sulyma made 32 saves to post a shutout
Junior Leah Sulyma made 32 saves and earned her first shutout of the season as the No. 9 Northeastern Huskies blanked the Yale Bulldogs, 3-0 on Friday at Ingalls Rink. It was the Huskies' first win over Yale since 2003. Junior Kristi Kehoe and freshmen Brittany Esposito and Casey Pickett provided the goals for Northeastern, which snapped a two-game losing streak.
Northeastern took the play to Yale in the opening period, outshooting the Bulldogs by an 8-6 margin. With just over three minutes remaining in the frame, the Huskies' hard work paid off as Kehoe buried her eighth goal of the season to put NU in front. Seniors Katy Applin and Lindsay Berman earned assists on the goal, which proved to be enough for Sulyma and the stout Husky defense.
After withstanding 15 Yale shots in the middle period, Northeastern held the 1-0 advantage until late in the third period. With 1:43 remaining, Esposito added an insurance goal off a feed from fellow freshman Rachel Llanes. Then, only 17 seconds later, Pickett fired home the Huskies' third goal of the game with Yale goalie Jackee Snikeris on the bench in favor of an extra attacker.
Sulyma, playing in her first game since Oct. 24, made 11 stops in the third period and earned the first star of the game for her efforts. The Inuvik, Northwest Territories native has won both of her starts this season and has allowed only two goals in 120 minutes of action.
The No. 9 Huskies return to action on Tuesday, Jan. 5 at Princeton at 4 p.m.