NORTHEASTERN SHUTS OUT VERMONT, 3-0
Florence Schelling posts 27 saves in shutout for Huskies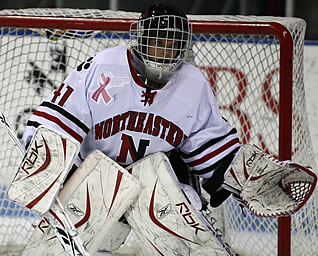 Florence Schelling made 27 saves for the Huskies
BURLINGTON, Vt. - Northeastern University used a three-goal first period to defeat the University of Vermont 3-0 in women's hockey action Friday night at Gutterson Fieldhouse.
Alyssa Wohlfeiler scored just seven seconds into the game, which proved to be the eventual game-winner for the Huskies who improve to 10-2-1 all-time against the Catamounts.
Brittany Esposito won the opening faceoff for the Huskies, which quickly went to Annie Hogan. Hogan then found a streaking Wohlfeiler who had her first shot stopped by Kristen Olychuck (Kelowna, British Columbia) before gathering the rebound and giving Northeastern a 1-0 lead.
Esposito extended the lead just seven minutes later when Kasey Cedorchuk blocked a Vermont shot and quickly turned it into an offensive chance for Northeastern. After Cedorchuk's block Julia Marty gathered the loose puck and sent it forward to Esposito. She then used her speed to beat the Vermont defense and send a wrist-shot past Olychuck for her first goal of the season.
Vermont was able to put pressure on Northeastern goalie Florence Schelling, but Schelling proved to be up to the challenge and she turned away 27 shots. During the Catamounts' first powerplay she made five saves all on Kailey Nash (Middletown, R.I.) to help preserve the shutout.
"It's a very disappointing loss for us but Northeastern deserves full credit," UVM head coach Tim Bothwell said. "They came out hard and just a few sloppy errors cost us a game early. I think we inserted ourselves later but it was too little too late. We know tomorrow we're going to have to come out ready to play 60 minutes because their goalkeeping and team play is too good not to."
Kristi Kehoe had the third goal for Northeastern when she found herself one-on-one with Olychuck and beat her to the inside post with less than six minutes remaining in the first period.
Olychuck made 10 saves in the game, while the Catamounts outshot Northeastern 27-13.
The loss drops Vermont to 4-3-0 and 0-1-0 in Hockey East action while Northeastern improves to 6-1-1 and 2-0-1-1 in Hockey East games.
The two teams will wrap up the weekend series tomorrow at 4 p.m. at Gutterson Fieldhouse.