Wednesday, November 25, 2009
NORTHEASTERN SLIPS PAST VERMONT, 1-0
Florence Schelling posts 25 saves to earn fourth shutout of season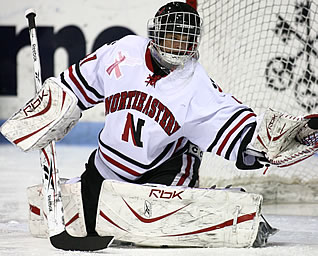 Florence Schelling earned her fourth shutout of the season
Alyssa Wohlfeiler's second period goal was all the Huskies needed on Wednesday as No. 7/8 Northeastern (10-2-2, 6-1-2-1 Hockey East) skated to a 1-0 win over Vermont (5-7-1, 1-5-1-0 Hockey East) at Matthews Arena. It was Wohlfeiler's second game-winner in as many nights and her fourth in the last seven games. Sophomore netminder Florence Schelling made 25 saves for her fourth shutout of the season and third vs. Vermont in 2009.
The Huskies' offense struggled to get going in the first period, mustering just one shot on goal on a Katy Applin point shot with 1:14 remaining in the frame. Schelling did her part to keep the game scoreless, making two saves on Vermont's Brittany Nelson to the left of the cage midway through the period.
Freshman Casey Pickett jumpstarted the offense early in the second when she intercepted a pass in the Vermont end and raced in alone on goal. The Wilmington, Mass. native then made a nifty deke to fool UVM keeper Kristen Olychuck, but her backhand attempt clanged off the crossbar and fluttered over the net.
Pickett would atone for her miss only minutes later.
Battling along the near boards, Pickett dug the puck out of the corner and laid it back to the point to senior Kasey Cedorchuk. Cedorchuk quickly snapped the puck toward the net, where Olychuck could only pad the rebound aside. Wohlfeiler, who was going hard to the net, corraled the loose puck in front and swept it past Olychuck at 13:36 to give the Huskies the 1-0 advantage.
Schelling took over from there, making several key stops to preserve the lead. Vermont freshman Emily Walsh produced the Catamounts' best chance to equalize only minutes after Wohlfeiler's goal, but her wrister from the low slot was eaten up by the glove hand of Schelling. The Huskies' defense came to Schelling's aid often, especially in the third period when Northeastern gave the Catamounts three power play opportunities in a span of 10 minutes. Vermont effectively moved the puck around the point on each power play advantage, but failed to produce a quality scoring chance.
With the win, the Huskies completed their first three-game season sweep over Vermont since joining Hockey East in 2002-03. Northeastern outscored Vermont by a 5-0 margin in three games this season, despite being outshot in two of the three contests.
The Huskies return to the ice on Sunday, Nov. 29 against No. 4 New Hampshire at Matthews Arena at 2 p.m.